Tiger Woods back atop Masters betting board
Updated April 3, 2018 - 7:42 pm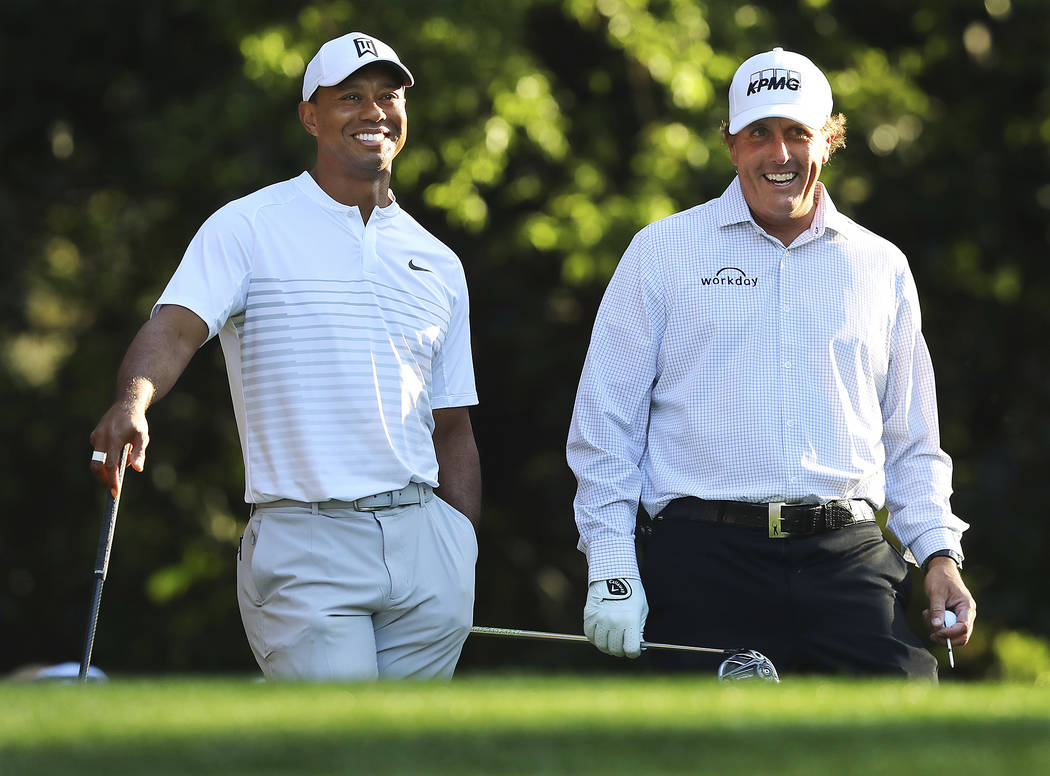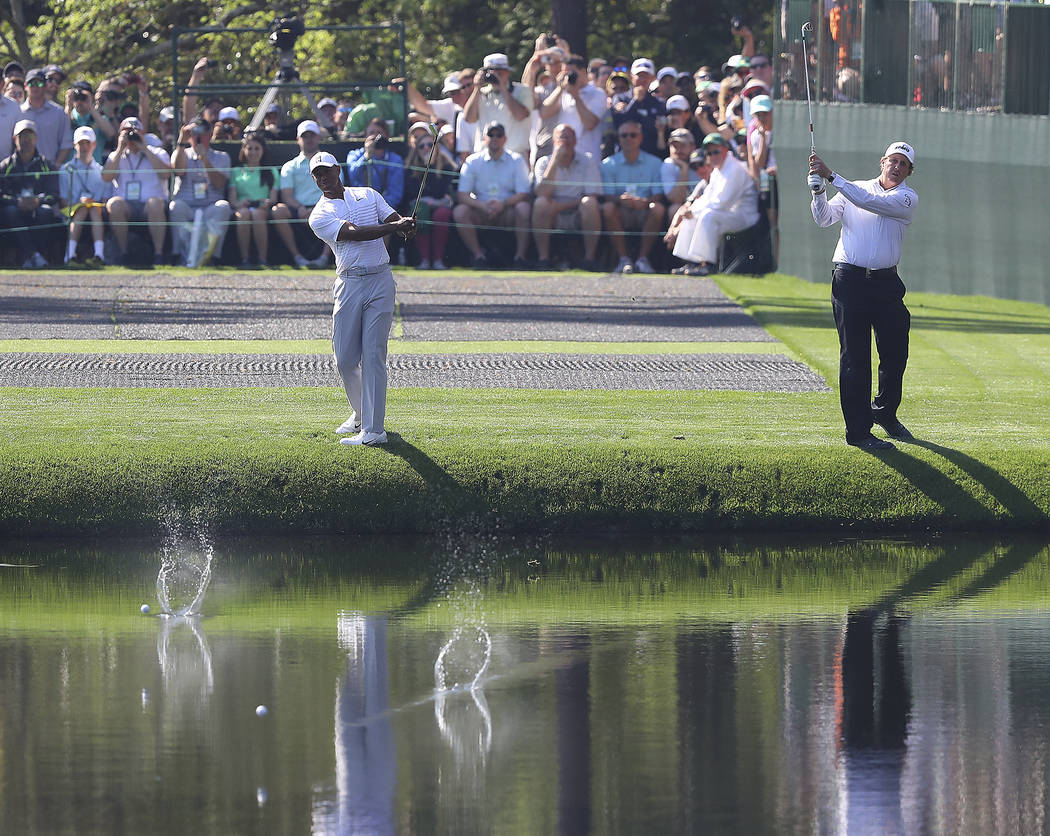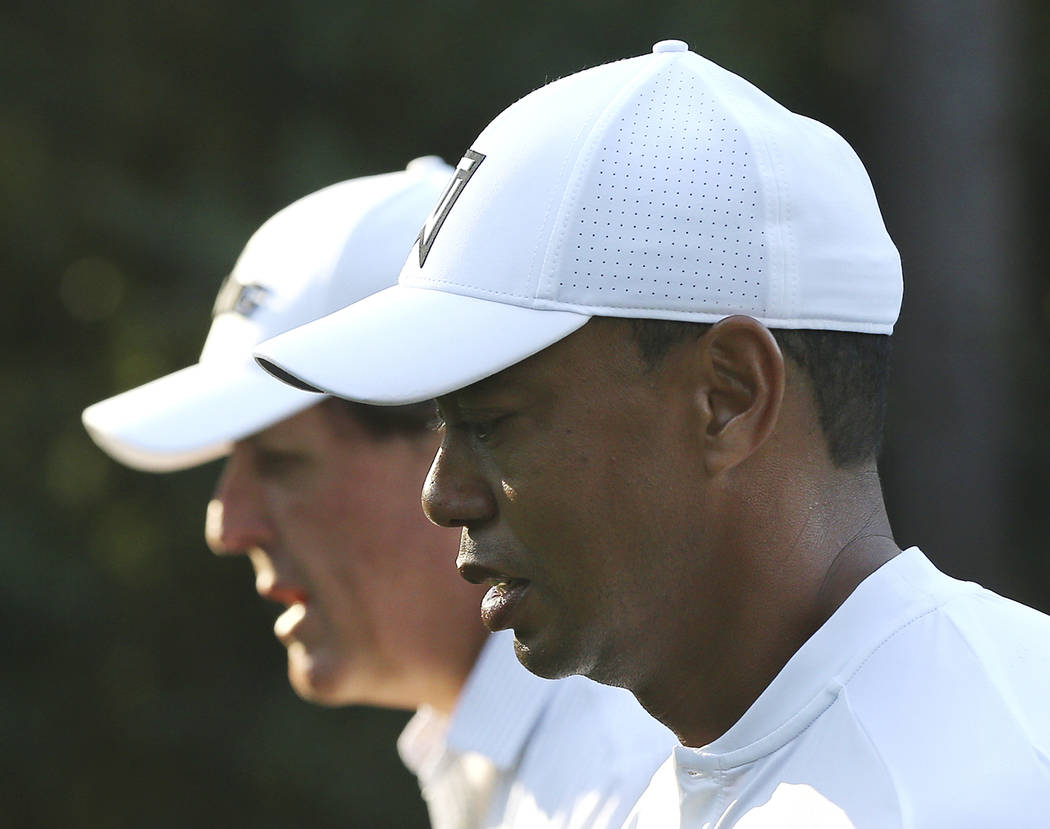 Tiger Woods is 10 years removed from his last major victory and five years removed from his last PGA Tour win.
He's less than a year removed from his fourth back surgery and a DUI arrest that left him looking closer to retirement than to being regarded as a serious threat to win another major.
But, at 42, that's exactly the spot Woods finds himself in entering the Masters. The 14-time major champion is one of the favorites to win his fifth green jacket and cash countless futures bets ranging from 100-1 to 8-1 while authoring one of the most stunning turnarounds in sports history.
"It would be one of the greatest comebacks I've ever seen," Westgate sports book manager Jeff Sherman said. "I don't expect him to win, but I do expect him to contend with the way he's playing."
Woods is the 10-1 co-favorite with Justin Thomas at William Hill sports book and the 12-1 third choice behind Thomas and Jordan Spieth at the Westgate.
Coming off top-12 finishes in his last three events, including a runner-up finish at the Valspar Championship, Woods is the money and ticket leader at William Hill, which opened him at 100-1 odds to win the Masters in August 2017.
Woods' win would cost books six figures
The Westgate and William Hill each face a six-figure liability if Woods wins at Augusta.
"If we didn't have liability, he'd probably be 20-1 or 18-1," Sherman said. "But he's our largest liability. It would be the equivalent of the Knights winning their division.
"Even if he wins, we're still ahead the last 10 years on Tiger bets. He hasn't won (a major) since the 2008 U.S. Open, and all the times he's played, whether his odds were high or low, we've taken so much support on him."
Record betting handle
Sherman said the Masters' betting handle already has eclipsed last year's and that Woods will account for a 30 percent increase. William Hill sports book director Nick Bogdanovich also expects a record-shattering handle.
"It's not even close," Bogdanovich said. "Tiger Woods is the most important factor, but there are a million other stories, too. Phil (Mickelson) is playing great. Bubba's (Watson) playing great. All the young guys are playing great. And betting is at an all-time high."
Tiger vs. Phil
There are hundreds of Super Bowl-style props on the Masters, including whether Woods' opening drive will end up in the fairway or not. Yes is a minus 140 favorite.
The most popular player matchup is Tiger vs. Phil. Woods is a minus 120 favorite over Mickelson (Even) at the Westgate, and Mickelson is a minus 115 favorite over Woods (minus 105) at William Hill.
"Everyone would love to see them battle on the back nine Sunday, but there's so many guys who've got something to say about it," Bogdanovich said. "But both those guys are super live, for sure."
Best bets
Sherman, Bogdanovich and handicapper Wes Reynolds like Paul Casey (28-1) as a sleeper to win his first major. Casey, who held off Woods to win the Valspar, has finished 6-4-6 in the last three years at Augusta.
"If you take an aggregate of the last three Masters, no one is more consistent than Casey," said Reynolds (@WesReynolds1). "He has been slowly returning to his late 2000s form when he was as high as No. 3 in the world."
Sherman and Reynolds also like Justin Rose (12-1), who lost in a playoff to Sergio Garcia at the 2017 Masters and tied for second in 2015.
For a longer shot, they recommend Matt Kuchar (40-1), who has four top-eight finishes in his last six Masters.
Reynolds is betting on Kuchar to finish in the top 10 (plus 300) as well.
Sherman and Reynolds said former UNLV standout Ryan Moore (100-1) is worth a shot, and Bogdanovich also likes Alex Noren (40-1).
"I'm looking for a little long shot," Bogdanovich said. "I throw the 10-1s out and go to the next tier of players."
Reynolds also is backing Jason Day (16-1), Hideki Matsuyama (30-1), Henrik Stenson (30-1) and Louis Oosthuizen (60-1), and he likes the lowest score by any golfer to be under 65½ (minus 160).
"There are so many guys," Sherman said. "Nothing would surprise me who wins."
Contact reporter Todd Dewey at tdewey@reviewjournal.com. Follow @tdewey33 on Twitter.