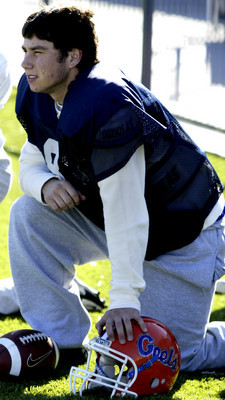 It's the way a championship game is supposed to be.
The state's final two unbeaten Class 4A football teams meet today when Palo Verde (12-0) visits Bishop Gorman (12-0) at 1 p.m. for the Sunset Region championship.
"That's the way you want it," Gorman coach Bob Altshuler said.
The Gaels spent most of the season atop the local rankings with Palo Verde at No. 2.
"It's kind of the game everyone's been waiting for," Palo Verde coach Darwin Rost said. "Two undefeated teams, and they've moved out to Summerlin now in their new facility. It's just going to be a good matchup."
The winner not only claims the Sunset title, but advances directly to the state 4A final against the winner of today's semifinal between Las Vegas and McQueen.
"This is the game that gets you to state," Palo Verde running back Chaz Thomas said. "This game means everything. We feel that we can win state this year."
Palo Verde is no stranger to the state semifinals, playing in them for the sixth consecutive year. The Panthers have won the Sunset four of the last five years. Gorman last won the Sunset in 2000.
Gaels quarterback Dylan Barrera said he and his teammates aren't focused on their opponent's undefeated status.
"We're just really preparing ourselves and not really looking into all the hype," Barrera said. "We're just going to play our game and hope for the best."
Barrera knows Gorman will need to start faster this week. The Gaels fell behind 16-0 against Cheyenne last week, before a second-half outburst led then to a 43-16 victory.
Gorman could be in trouble if it falls behind Palo Verde. The Panthers like to chew up yards and time with their ground game. They didn't attempt a pass last week in a 52-12 victory over Western and have thrown 37 passes in 12 games.
"We need to get a jump on these guys and not fall back like we did last week, or we're going to be in some trouble," Barrera said. "But I know we'll come out strong and we'll be ready to play."
Palo Verde makes no secret about its game plan. The Panthers will run, run and run some more with their double wing offense.
"We don't do anything better than that," said Rost, whose team has completed just 15 passes all season. "We'll try to do our three plays and a cloud of dust."
Thomas, who leads the Panthers with 924 rushing yards and 18 touchdowns, said the team is content to take a series of reasonable gains and move the football. But then he or Sidney Hodge (872 yards, nine touchdowns) or Tyrone Blake (848 yards, 12 TDs) might just break a big run.
"We've just got to play Panther football and pound it and the big plays will come after that," Thomas said. "We'll take the small chunks, and eventually it'll just pop. Almost every game, that's what happens."
Gorman definitely has a big-play offense. The Gaels average 43.3 points, led by running back Keola Antolin (1,177 rushing yards), who has 23 total touchdowns, including six on returns.
"If we play physical, we'll have a good game," Palo Verde linebacker Dave Castro said. "If we come out flat, it won't be a very good game.
"That's the fun of it. Testing ourselves."
Contact Prep Sports Editor Damon Seiters at dseiters@reviewjournal.com or (702) 380-4587.
Preps Central