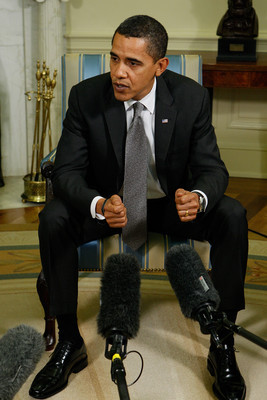 Don't be surprised if Terrible Towels are waved inside the White House on Sunday. Vice President Joe Biden, who was born in Scranton, Pa., will cheer for the Steelers, and so will President Obama.
"I wish the best to the Cardinals," Obama told reporters. "They've been long-suffering; it's a great Cinderella story. But other than the Bears, the Steelers are probably the team that's closest to my heart."
Steelers coach Mike Tomlin supported Obama during the campaign, as did team owner and lifelong Republican Dan Rooney. The latter campaigned for the Democrat in Maryland, Ohio and West Virginia as well as Pennsylvania.
• MAKING A CASE — Arizona quarterback Kurt Warner wasn't a serious Hall of Fame candidate until this season.
Now he probably has played his way into Canton regardless of what happens Sunday. He will be making his third Super Bowl appearance — he has one championship — and is a two-time NFL Most Valuable Player.
Jason Whitlock, columnist for FOXsports.com and the Kansas City (Mo.) Star, said the debate shouldn't be whether Warner belongs in the Hall — he does — but where he sits historically.
"If the Cardinals win on Sunday, Warner enters the discussion as one of the 10 greatest QBs of all time," Whitlock wrote. "He'll be ranked higher on my list than Peyton Manning and Brett Favre."
• THAT'S WHY THE STEELERS LET HIM GO — Whether Plaxico Burress' accidental self-inflicted shooting kept the Giants from defending their Super Bowl title never will be known, but it obviously didn't help.
"If we have Plax on our team, we go 15-1 and we win the Super Bowl," Giants running back Brandon Jacobs said. "I'm not afraid to say that, and I'll say it to anybody on any team. We had a different identity with him, and we didn't have enough time to change our identity to be effective at what we wanted to do — try to play a team differently.
"Teams — I'm not going to say stopped the run — but they did a little better each week because they had that eighth guy in the box."
Jacobs, soon to be a free agent, wants to return to the Giants. But he wants Burress back with him.
"If I'm here, I need 17 on that roster," Jacobs said.
• YEAH, IT'S FOR THE KIDS — The Pittsburgh school system is delaying Monday's classes by two hours to allow kids extra time after they go to bed late Sunday night.
A statement said the decision was based on safety reasons for the kids. Right. It has nothing to do with adults wanting to sleep in.
• SAY WHAT? — The Super Bowl broadcast will be in 34 languages covering 230 countries and territories.
Among the languages are Albanian, Icelandic, Montenegrin and Taiwanese Mandarin.
That's a lot of different ways to say, "Go Steelers!"
Or "Go Cardinals" if you happen to be a certain publisher of this newspaper.
COMPILED BY MARK ANDERSON LAS VEGAS REVIEW-JOURNAL