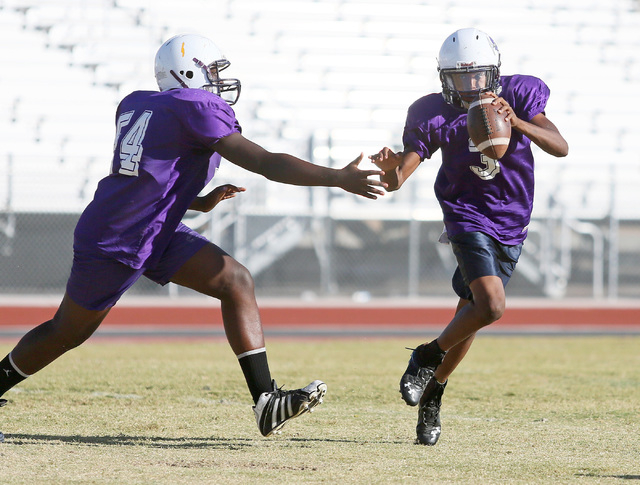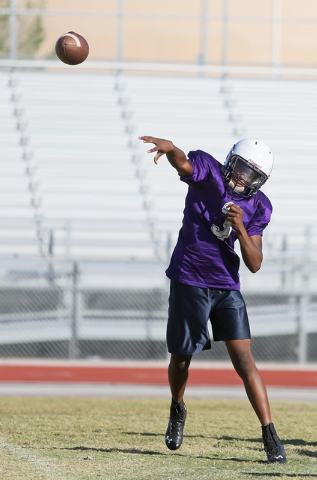 For some schools, winning football games comes regularly each Friday night.
Others aren't so lucky.
Going into last Friday night's game, Sunrise Mountain and Rancho were riding 12- and 26-game losing streaks, respectively, so something had to give. The Miners' 21-20 victory — just the school's third win in five years — could eventually turn out to be program-changing.
"It was exciting," first-year coach Chris Sawyers said. "Our kids aren't really used to winning, so we kind of didn't know how to act. Everybody was excited. I was; our coaches were. It's not a lot of fun to come out here and put in all this time and not see results. Winning is definitely better than losing. We're pretty excited about the win, but more importantly we're excited where the program is going."
Behind senior Wanya Calahan, who rushed for 189 yards and a touchdown, the Miners got their first win since Sept. 12, 2013. Before that, Sunrise Mountain had only beaten Western twice since the school opened in 2009.
"You could feel it in our kids that it was a different evening," Sawyers said. "They were fighting until the bitter end, no matter what the results were. In the last couple of weeks, we've really turned the corner. We're not saying we're going to light the world on fire any time soon, but the program is headed in the right direction. When you're doing my job, that's what it's all about."
Sunrise Mountain lost a double-overtime thriller at home to Boulder City on a two-point conversion, 49-48, the week before traveling to Rancho.
"The bad thing about those close games is that somebody has to lose and somebody has to win," Calahan said. "We carried that momentum from (the Boulder City game) because we knew we could put the ball in the end zone. It felt great to finally win. The clock was ticking down, and we all just came together."
Calahan credits Sawyers for turning around what has been one of the weaker programs in the valley.
"We bond more this year," he said. "The camaraderie of the team is way better and just the execution of the plays is better. We allow ourselves to be coached, instead of being defensive."
Said Sawyers: "There was this real culture of giving up. We were fighting through it this year as well. I don't care what the scoreboard says anymore, per se. … In the whole scheme of things, this one win is not that big a deal. But the most important thing to us is that we're learning football and getting better and that these guys are learning to be good citizens and good men. They're rubbing off on the younger kids so that the program can go in the right direction."
Sunrise Mountain (1-6, 0-4 Division I-A Sunrise) hopes to check off one more goal Friday when it faces Del Sol (3-4, 1-4). The Miners have yet to win a league game in school history and will have two more opportunities this season to do so.
"(A league win) would mean a lot because it would only be a testament to what we've been through and how hard we've worked," Calahan said.
Contact reporter Ashton Ferguson at aferguson@reviewjournal.com or 702-383-0430. Follow him on Twitter: @af_ferguson.