TCU remains fourth in BCS
November 16, 2009 - 10:00 pm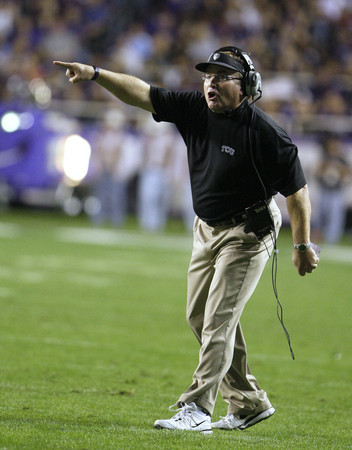 Texas Christian's big victory wasn't enough for the Horned Frogs to make a move up in the Bowl Championship Series standings.
TCU (10-0) on Sunday remained behind Florida, Alabama and Texas in the race to the national title game.
The Horned Frogs defeated Utah 55-28 on Saturday night in what figured to be the most difficult game left on their schedule. But they remained stuck in fourth place in BCS standings.
TCU, from the Mountain West Conference, last week became the first team from a league without an automatic BCS bid to break into the top five of the standings this late in a season.
If the Horned Frogs can beat Wyoming and New Mexico to finish a perfect regular season, they will earn their first BCS bid and cross off another achievement on the pyramid of goals coach Gary Patterson has on display for his team.
"If we win two games, we have an opportunity to color in a box higher than we've ever colored in in this program, to go to a BCS (bowl)," he said Sunday. "That's about as far as I take it."
Unless Alabama, Florida or Texas slip up, that's about as far as TCU will be able to take it.
Florida has been in first since the standings initially were released last month. Alabama is second and Texas third.
The Gators and Crimson Tide meet in the Southeastern Conference championship on Dec. 5. If they both can reach that game undefeated, a spot in the BCS title game on Jan. 7 would be guaranteed to the winner.
If Texas can win its remaining two regular-season games and the Big 12 championship game, it's a virtual lock to play for the national championship at the Rose Bowl.
Undefeated Cincinnati is in fifth place in the latest BCS standings, and unbeaten Boise State is sixth.
• AP POLL — After another humiliating loss, Southern California tumbled to its worst ranking since Pete Carroll's Trojans began their run as one of college football's best programs in 2002.
USC was No. 22 in The Associated Press Top 25, dropping 11 spots after losing 55-21 to Stanford. The Trojans have been ranked in 128 consecutive media polls dating to the start of the 2002 season — but never this low.
The Trojans haven't been ranked lower than No. 13 since October 2002.
Meanwhile, Stanford soared to No. 14, its best showing since being No. 11 in the last regular-season poll of 2001.
Florida remained No. 1, and Alabama leapfrogged Texas into the No. 2 spot.
The Gators received 36 first-place votes. Alabama received 14 first-place votes after its most convincing victory — 31-3 at Mississippi State — in more than a month.
Texas got 10 first-place votes. Five points separate the Crimson Tide and Longhorns.
The other three undefeated major college teams were next, with TCU at No. 4, Cincinnati at No. 5 and Boise State No. 6 for the second consecutive week.
• STANFORD — Coach Jim Harbaugh is close to completing a contract extension with the school.
Athletic director Bob Bowlsby said in an e-mail that a formal announcement of a new deal was expected to come shortly. The two sides were close to announcing an extension after last season, but talks were put on hold in February because of the poor economy.
Harbaugh has done an impressive rebuilding job at Stanford since taking over a one-win team from Walt Harris after the 2006 season.
• SAN JOSE STATE — Spartans coach Dick Tomey will retire after the season.
San Jose State officials said Tomey, 71, would hold a formal news conference today to discuss his decision.
The Spartans, 1-8 after Saturday's 24-9 loss to Utah State, have struggled, and their only win came against non-Football Bowl Subdivision school Cal Poly on Sept. 26.