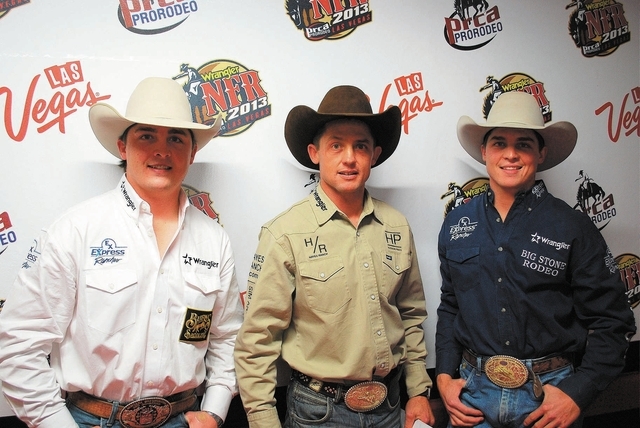 Wilbur and Orville aren't the only Wright brothers well-known for catching big air.
One of the worst-kept secrets at this year's Wrangler National Finals Rodeo is that a fifth of the saddle bronc riding field is made up of a trio of Utah cowboys who share the same last name.
Cody, Jesse and Jake Wright aren't just taking up spots in the field, they're battling each other for the coveted gold buckle that goes to the world champ.
Cody, the eldest of the seven Wright brothers, is a two-time world champion (2008 and 2010) and led the PRCA World Standings heading into Friday's Round 2. Jesse, the reigning world champion, was second, and Jake, Jesse's twin brother, was third after pocketing $18,630 for winning Round 1.
The Wrights are no strangers to big-time publicity. A documentary crew followed Cody during his world championship season in 2008 and produced an award-winning film called "Born to Ride," and the New York Times is sending a reporter to cover the gold-buckle race this year.
The famed Etbauer brothers (Robert, Billy and Dan) finished in the top five in the world standings in 1991 when Robert won the world, Billy was second and Dan fifth, and the Wright brothers have a chance to better that lofty achievement.
"It's pretty awesome to be in the same category of the Etbauers," Jake said. "They were great bronc riders and great people, and we try real hard and all want to be No. 1."
Their competition is not exactly a heated sibling rivalry, but they each love to get one up on the others.
"Trying to beat them — I love it," said Jake, who is riding in his second consecutive Wrangler NFR. "It's way better than trying to beat somebody else, and they feel the same way."
The brothers enjoy watching each other ride and pull for one another every time out.
"It's a sweet and sour combination," said Jesse, a four-time Finals qualifier. "If you don't ride well, you're kind of upset that you should have done some things different, but all in all, it's all going to go well."
Cody set the bar high before the twins broke out on the scene, and they feed off each other when competing at the same rodeo.
"The energy is way high, and it's always higher when everybody's doing great," Jesse said.
"You're just that much more jacked, and it makes it more fun each night when you're all doing great."
His twin brother agrees.
"Oh yeah," Jake said when asked if his brothers' exploits get him charged up. "They show you the potential you've got when you see them jump out and are 90 or 91. You know you can do that."
Thanks to Jake's exploits in the opening round — which came via an 85.5-point ride on Carr Pro Rodeo's Wise Guy — the Wrights are in the mix at the top of the world standings. They were all bucked off their horses in Round 2's "eliminator pen," but Cody retained the No. 1 spot in the standings.
Jesse is fourth, while Jake is sixth heading into today's third round.
The impressive nature of their ascension to the top is not lost on the brothers.
"I knew we were stacked in there pretty close, but to be 1, 2, 3 is awesome," Jake said.
"I'm just excited and hope I'll keep doing well and the week goes well. If we finished 1, 2, 3, that'd be even better."
Cody is thrilled to share the limelight with his siblings.
"It's exciting when you can all be on top, especially when it's your brothers," he said. "I try to help them when I can, and seeing them ride well definitely helps me ride better."
If one of the Wrights is able to triumph this year, it would mark four gold buckles in the past six years for the friendly Utah family. That would be just fine for Cody, who helped Jesse and Jake along the way during their careers.
"I definitely want to win, but if I can't, it's awesome to see family win," said Cody, an 11-time Wrangler NFR saddle bronc rider. "I want to see them do well even when I have a good night. Hopefully, I'm just a little better.
"If I don't, there's nobody I'd rather see win than Jake and Jesse. As long as (the world title) goes home to Utah, I'll be happy."
Regardless of how things play out next Saturday, the family will be happy with what transpires.
"It doesn't matter, we always have a good night when one of us is winning," Jake said.
There have been many good nights for the Wright family in recent years, and there are no signs that will change anytime soon.
A freelance writer based in Colorado Springs, Colo., Neal Reid spent six years as editor of the ProRodeo Sports News. His writing has appeared in USA Today, Newsday, Western Horseman, American Cowboy and the Denver Post, among other publications. Follow him on Twitter: @NealReid21.