UNLV hockey club continues to chase varsity status
August 21, 2016 - 12:38 pm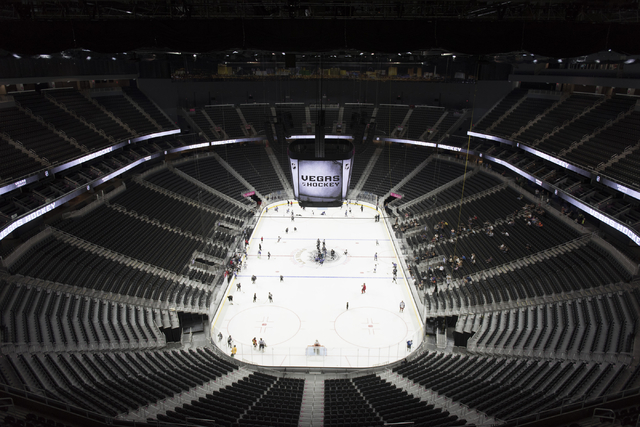 The ice was being chewed up and pucks were reaching the net at an alarmingly fast rate. Everything was up-tempo, and 42 players were put through their paces in businesslike fashion.
UNLV's men's ice hockey is a club team, but it acts more like an NCAA Division I program, which it aspires to be within three years.
"We're creating the culture now," general manager Zee Khan said. "We don't want to wait until we go D-1. Now's the time to act like a D-1 program."
Half the players participating in last week's development camp at Las Vegas Ice Center won't wear a UNLV jersey when the Rebels open their American Collegiate Hockey Association season Sept. 16 at home against San Diego State. Those who do make the cut will pay $2,000 for the privilege.
In that respect, UNLV is still very much a club sport. But Khan, coach Anthony Vignieri Greener and assistant Nick Robone are working hard to change that. The level of play appears higher than last year's team, which had an 18-7-0-2 record and reached the ACHA Division II nationals. This year's nationals are March 15 to 19 in Columbus, Ohio.
Fans can get their first look at the team at 8 p.m. Sept. 9 at the team's intra-squad scrimmage at LVIC.
The schedule is also tougher this season. UNLV will host Arizona State's club team at T-Mobile Arena at 12:30 p.m. Oct. 9, a first for the program. Tickets, priced at $25, go on sale at 10 a.m. Monday at the arena box office.
"It's unique and it should be a lot of fun," Khan said of the game against the Sun Devils' club team (Arizona State also is entering its first full season as a Division I program). It's a great recruiting tool for us to tell our guys they're playing in an NHL rink."
But Khan also is looking at the bigger picture. The club has met a couple of times with UNLV athletic director Tina Kunzer-Murphy, and she has thrown her support behind the attempt to go varsity provided the necessary funding is in place, both for men's hockey and for a women's lacrosse team in order to satisfy Title IX laws.
"We're going to need about $12 million," Khan said. "We're creating a foundation that will do the fundraising for the varsity project and we've got some people in the community who are interested in getting involved."
Khan said UNLV has reached out for advice from Arizona State and Penn State, which also recently added varsity hockey. In both schools' cases, major donors wrote huge checks to fund the move to Division I.
"We need to find our Terry Pegula," Khan said, referring to the Buffalo Sabres owner who bankrolled Penn State's move.
Khan said Bill Foley, owner of Las Vegas' NHL expansion team, is supportive of UNLV's efforts. Khan has talked with Murray Craven, the team's senior vice president, on various topics, including playing and practicing in the NHL team's practice facility when it opens in the fall of 2017.
"We're running along parallel lines," Khan said. "There's the future with the plans to go varsity which is very important. And there's also the current season, which is also important. We need to build on the success of having gone to nationals last year. Our goal this year is to get one of the two automatic bids to nationals and that means we need to win more games."
Contact Steve Carp at scarp@reviewjournal.com or 702-387-2913. Follow on Twitter: @stevecarprj