UNLV senior delivers veteran leadership to team on five-game win streak
December 28, 2013 - 9:34 am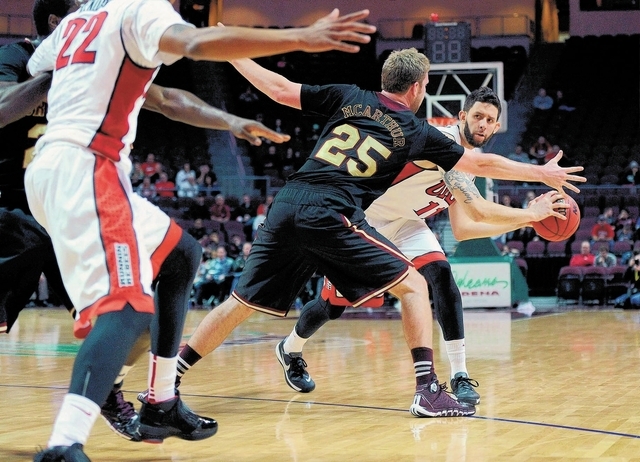 A majority of what Carlos Lopez-Sosa does to help UNLV win basketball games is not showing up on a stat sheet. The senior forward is getting fewer opportunities than he ever imagined.
He has seen his minutes decrease for a fourth consecutive season, and he has not sniffed a double-figure scoring game this season.
On the practice floor, however, he's a major contributor for the Rebels, banging his 6-foot-11-inch body in the post with starting forwards Khem Birch and Roscoe Smith on a regular basis. He plays with emotion and stays positive.
"I practice hard. I bring it every day," he said. "I'm still here to help my team and keep this team together."
Lopez-Sosa's all-out effort was on display again Friday as UNLV (8-4) prepared to host Cal State Fullerton (5-7) at 7 p.m. today at the Thomas &Mack Center. His practice habits are consistently strong, even while his playing time is not.
Lopez-Sosa does everything but fill up the box score. On Dec. 17, he walked in graduation, earning a Bachelor of Arts degree in interdisciplinary studies with his mom and two younger brothers in attendance after traveling from Puerto Rico.
"To me, it was huge to get that degree," he said. "It was a big day for me and my family. It was an emotional day."
It was a major reason he returned to UNLV for his fifth year. Playing a bigger role in the team's success was the other half of the equation for Lopez-Sosa, who has adapted to his situation to become an ideal leader-by-example player.
"I'm proud of the fact he graduated," coach Dave Rice said. "I have a lot of confidence in him moving forward. He has come to practice every day and worked hard. He's always ready, and he's a great team guy."
Still, Rice can't find much quality time for Lopez-Sosa, a Findlay Prep product who is averaging career lows of 2.1 points and six minutes per game as a backup to Birch, Smith and emerging freshman Chris Wood.
"I do everything I can. I bring energy and talk on the court," Lopez-Sosa said. "People can tell. People who know about basketball know what I do on the court and they appreciate what I do."
In October, he predicted the Rebels' new-look roster was material for a surprisingly good season. In November, after home losses to UC Santa Barbara, Arizona State and Illinois, that forecast appeared cloudy.
Finally, with UNLV on a five-game win streak that followed a five-point loss at No. 1 Arizona, Lopez-Sosa sees a team turning the corner.
"People might think we're not really that good. There's going to be a lot of opinions out there," he said. "Absolutely, we're getting better. Every guy is getting to know his role a little better. It's a big, slow process for most teams.
"It's not easy to start with a young team. We're getting there. It's still a young season. We still have a lot of time to get better and do our thing."
The Titans, who have won three of their past four games, offer the Rebels their final tuneup before opening Mountain West play at Fresno State on Wednesday.
"We just need to make sure that we keep the edge that we've had. League play is just one game away," Rice said.
"Our defense has been good and kept us in games all season. Now, we're making shots and executing much better on the offensive end."
Junior point guard Deville Smith, the offensive catalyst for UNLV during its four-game run to the Las Vegas Classic championship on Monday, will move back into a starting role today. Rice said he made the switch not due to performance but because freshman starter Kendall Smith returned late for a post-Christmas practice.
At the end of last season, when Rice and Lopez-Sosa met to determine what he would do with his fifth year, Lopez-Sosa quickly decided to finish what he started by being a leader and a graduate.
"This team needed an older guy," Lopez-Sosa said, "someone to show them how to focus and how to work hard every day in practice."
Contact reporter Matt Youmans at myoumans@reviewjournal.com or 702-387-2907. Follow him on Twitter: @mattyoumans247.