Mountain West to split into two football divisions
January 22, 2013 - 12:20 pm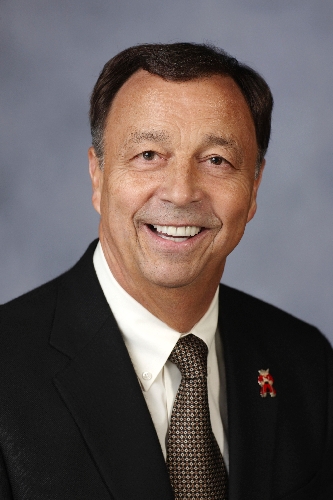 UNLV football coach Bobby Hauck has mixed feelings about the Mountain West's decisions to split into two six-team divisions.
He understands the reason behind Tuesday's announcement but ideally would love to face all 11 conference opponents – though he realizes that's not realistic.
"I coached in the last year in the Big Eight, and we went to the Big 12 and had the same format," Hauck said. "At the time in the north, it was much stronger than the old Southwest (Conference) schools. Things flip all the time."
The Mountain West will split into divisions for football only and create a conference championship game at the site of the highest-ranked team in the Bowl Championship Series standings. This year, the game will be played Dec. 7.
UNLV will be in the West Division with UNR, Fresno State, Hawaii, San Diego State and San Jose State. Air Force, Boise State, Colorado State, New Mexico, Utah State and Wyoming will make up the Mountain Division.
Each team will play every divisional opponent and meet three schools from the other division. UNLV athletic director Jim Livengood said a team would meet the same cross-divisional teams two years in a row.
"I think it makes sense," Livengood said of the new setup. "It puts us in much stronger geographical boundaries."
The Mountain West will not split into divisions in basketball. Each school will play an 18-game conference schedule, with single games against two schools and home-and-home matchups with the other eight.
To be worked out is the format beginning in 2014 for the conference basketball tournament.
Coaches for Olympic sports will provide input regarding their scheduling formats to the conference office.
As for UNLV's football team, the Rebels know which teams they face each season in divisional play but will learn later the cross-divisional opponents they go against the next two seasons.
Hauck said he especially was interested to know those three opponents. He was an assistant coach at Colorado, when it was in the Big 12 North and played Texas, Texas A&M and Texas Tech from the South.
With eight Mountain West games overall, the Rebels retain flexibility in scheduling nonconference opponents.
"I think leagues that play more than eight league games don't do right by having teams that could benefit from the hype of those (nonconference) games," Hauck said.
Contact reporter Mark Anderson at manderson@reviewjournal.com or 702-387-2914. Follow him on Twitter: @markanderson65.