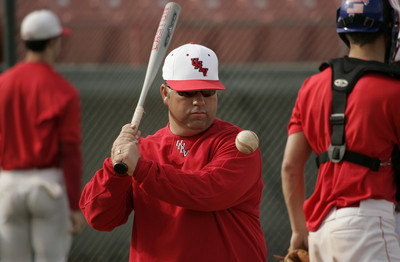 Most college baseball programs face a high turnover rate.
UNLV typically brings in eight to 12 new players each year.
But when the Rebels open the season against Central Michigan at 6:30 p.m. today at Wilson Stadium, their squad will include 22 newcomers.
Part of the influx is out of necessity. The NCAA condensed the season by three weeks, forcing teams to play up to five games a week and go deeper into their rosters.
But UNLV coach Buddy Gouldsmith also didn't want his returning players getting too comfortable following a disappointing 24-36 season.
"You don't perform well, you come back and evaluate your needs at each position," Gouldsmith said. "In this case, we felt like we needed to get better and try to become more talented and get some guys in positions where they're more natural at those positions."
Senior catcher Braden Walker said he welcomed the new additions.
"It took a little while to get used to all the new players, but I think we're going to benefit from it," said Walker, one of just four Rebels seniors. "We have a lot of new guys coming in that are really good."
Among the newcomers are two outfielders who transferred from Pacific-10 Conference schools.
Sophomore left fielder Scott Berke, a Sierra Vista High School graduate, played for two-time defending national champion Oregon State. Junior center fielder J.J. Sferra played two seasons for traditional power Arizona State.
"In my freshman year at ASU, in 2005, UNLV was in our regional," Sferra said. "I've always known UNLV's always had a good baseball program. It was exciting to come here and try to help out some more."
Gouldsmith knew changes were needed after last season. He made them throughout the lineup, on the mound and among the coaching staff.
Gouldsmith fired hitting coach and recruiting coordinator Scott Malone and pitching coach Nate Yeskie. He replaced them with Mike Kirby (third-base coach, catchers, baserunners) and David Martinez (pitchers, recruiting).
"I thought (Malone and Yeskie) put forth great effort and gave everything they had to our program," Gouldsmith said. "I just felt like our program wasn't going in the right direction and we needed a change."
There also is pressure on Gouldsmith, entering his fifth season with the Rebels, to turn the team back into a winner. Last year was their second consecutive losing season, following a 29-30 record in 2006.
"I feel like I have to win every year," said Gouldsmith, who was named Mountain West Conference Coach of the Year in 2005, when he led UNLV to its second consecutive conference tournament title. "I don't know that there's an inherent pressure this year more than there's been in any other year. … We haven't achieved the things I've wanted to achieve over the last couple of years."
The Rebels still will play their share of tough opponents — including two games at Arizona and three at Cal State Fullerton — but nothing like the difficult schedules UNLV has faced in recent seasons.
The Rebels also will play 12 of their first 14 games at home.
UNLV was picked fifth in the league poll, but the players think they can compete for a conference title.
"I think this year we've got great pitching, which should help us through the tournament," Walker said. "And we've got the hitters this year who will put runs up on the board."
Contact reporter Mark Anderson at manderson@reviewjournal.com or (702) 387-2914.