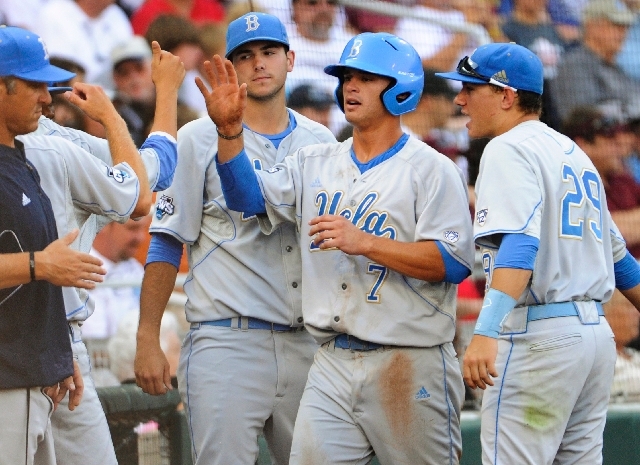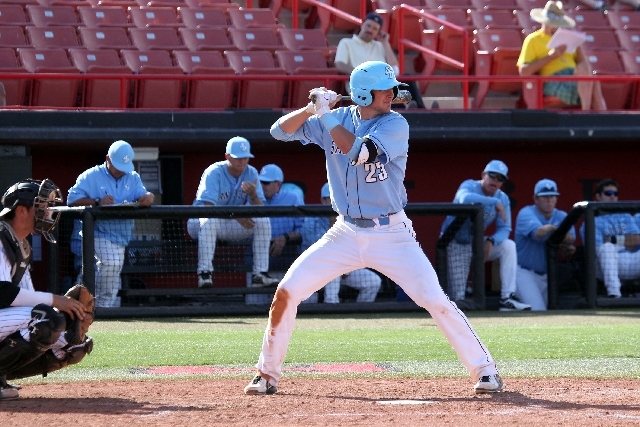 The seal reads BBCOR. It stands for Batted Ball Coefficient of Restitution. It is described as something that "focuses on how much of a trampoline effect the barrel of a bat has on a ball."
Basically, it means the sweet spot of a baseball bat is deadened.
Basically, it has changed the college game for the better on a historic level.
Your champion of the NCAA this season couldn't get a hit most at-bats if you placed the ball on a tee, and yet UCLA has proved to be a program that best understands the new-age way to win.
This was college baseball in 2013: A sacrifice bunt might have been the game's most exciting play.
The Bruins won the College World Series with a team batting average of .227, worst of all participants. They scored just 19 runs and had a slugging percentage of .193 in Omaha. They didn't hit a single home run over the series, a first for a champion since 1966.
Punch and Judy would have been embarrassed to be associated with that lineup.
It's a beautiful thing.
"I'm not sure people who aren't personally involved with the game like players and coaches really understand what they did to those (BBCOR) bats," UNLV coach Tim Chambers said. "They stink, man, and I love it.
"We play real baseball now — bunt, drag, push, hit-and-run, take the extra base. UCLA made no mistakes. None. They pitched. They played defense. They moved runners when they had to. They didn't walk people. They didn't hit people.
"That's how you win in this time of the new bats. I told my lead recruiter (associate head coach Stan Stolte), 'Go get me fast guys who can handle the bat, because no runs are being scored anymore.' Less and less, teams are going after the big dog that used to hit 30 home runs. Now, that guy is going to hit like 10."
What does that say for Bonanza High alumnus Kris Bryant, who led the nation with 31 home runs this season at the University of San Diego and was drafted No. 2 overall by the Cubs?
"That he's awesome," Chambers said.
But for most, the familiar ping when a ball makes contact with the bat has been gone for a few years now.
In 2011, a BBCOR bat reduced the sweet spot from 5 inches to 3 and the exit speed of a ball by 5 percent. What was once a home run measured at 400 feet is now a fly-ball out at 375.
Scoring in college is down 20 percent, and at no point has a championship game produced at least 10 runs by one team since the change.
In 13 seasons before the new bats, eight times a team in the final scored at least 10.
Fifteen years ago, 62 home runs were hit by the eight teams in the College World Series. This year? Three.
There is also this: College baseball games used to take longer than receiving an income tax refund check. Not anymore. Not when line drives that once crashed off outfield walls now hang in the air like they are soaked in humidity. Games fly by now.
"Who wants to watch 4½-hour games?" Chambers said. "It's much better this way. Many games last two hours now. It's great. Unless your pitchers walk or hit a bunch of guys, you're always in the game.
"You will have coaches in the South or a conference like the Big 12 say these bats are taking away from the college game, that the game is less exciting. Sorry, I don't want to coach 4½ hours every night."
His idea of a perfect world in the Division I game would be all players swinging wood bats, a suggestion that, while not as unrealistic as it seems, probably won't happen.
The new BBCOR bats act as a compromise, given switching to wood could seriously damage those relationships built between programs and aluminum bat companies, ones that have helped fatten many athletic department budgets and, often, kept some teams alive.
As wooden bats break, the expense of them would rise over the course of seasons. It's just not a feasible idea at the college game's highest level.
So you have the BBCOR bats and UCLA winning its first national title in baseball with five extra-base hits in five games at a TD Ameritrade Park that's bigger than some small countries.
You have an entirely different game, a better game, a purer game.
"We were playing USD at the end of this season and the wind was blowing straight out and it's 8-8 in the third inning," said Chambers, whose teams at College of Southern Nevada swung wood bats. "So I look at (Stolte) and say, 'Damn, Stanley, what was it like with the other bats?' And he said, 'Timmy, we had no idea some days if we would get anyone out.' With the old bats and the wind, the score might have been 20-20 that day.
"Just don't give anyone free bags. If you can avoid that, you have a chance every time out."
It's the BBCOR way. And the right thing for college baseball.
Las Vegas Review-Journal sports columnist Ed Graney can be reached at egraney@reviewjournal.com or 702-383-4618. He can be heard from 11 a.m. to 2 p.m. Monday through Friday on "Gridlock," ESPN 1100 and 98.9 FM. Follow him on Twitter: @edgraney.