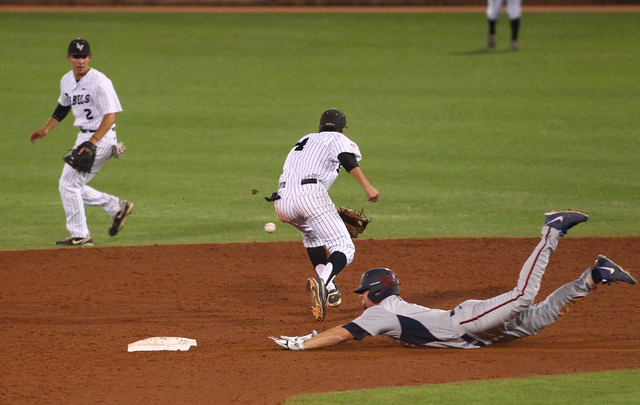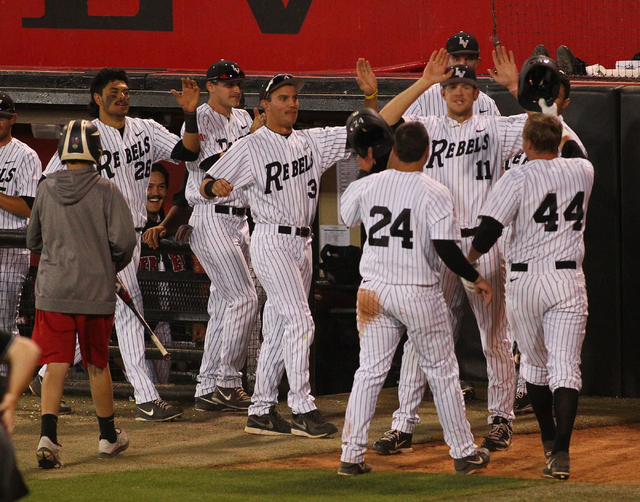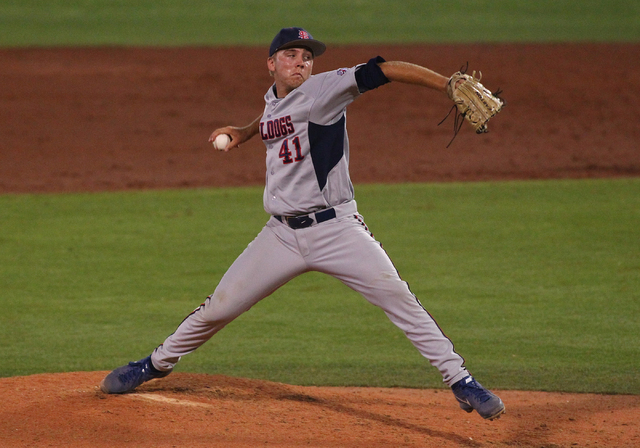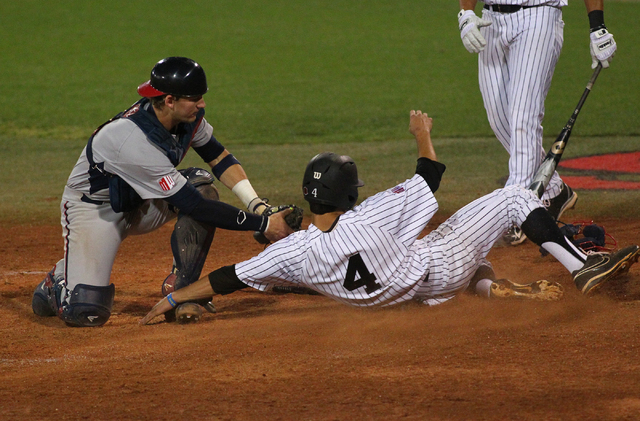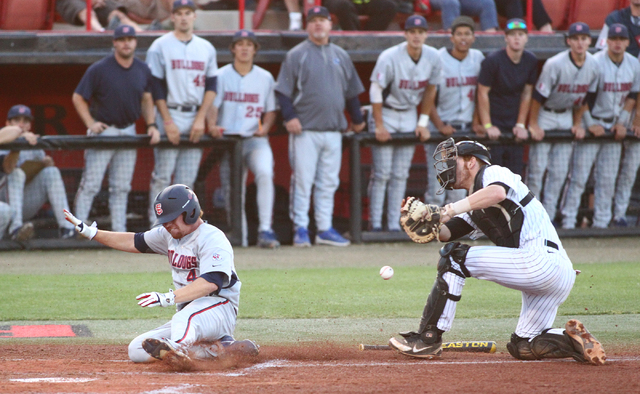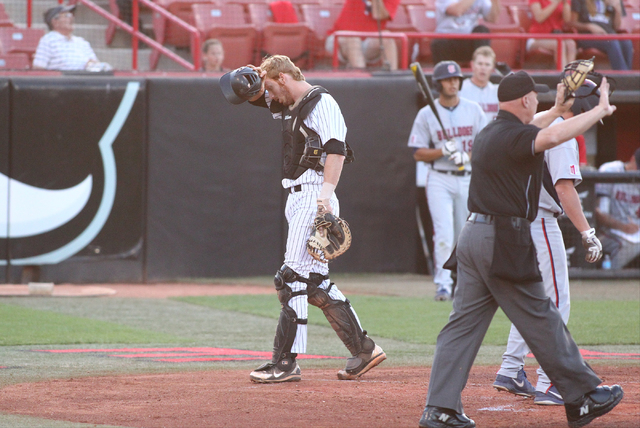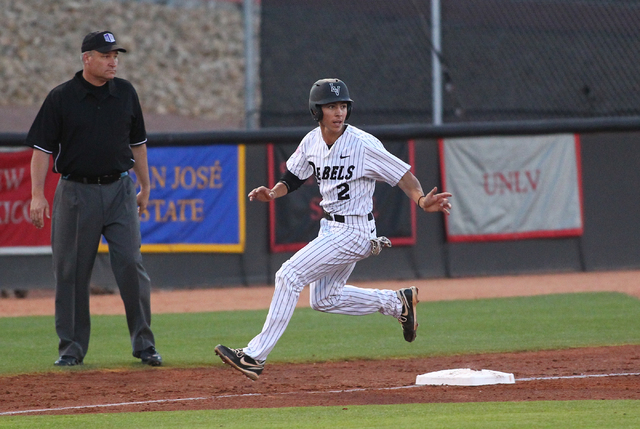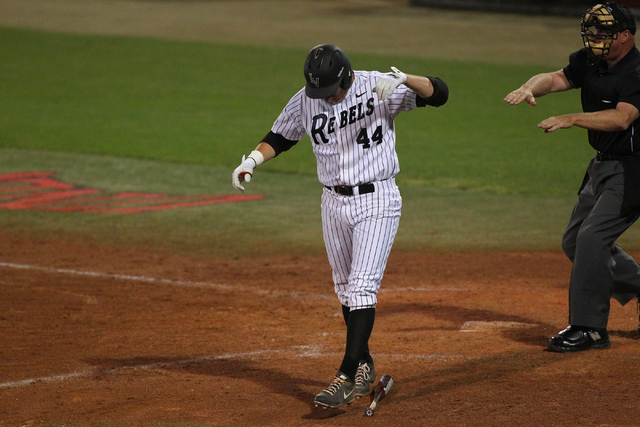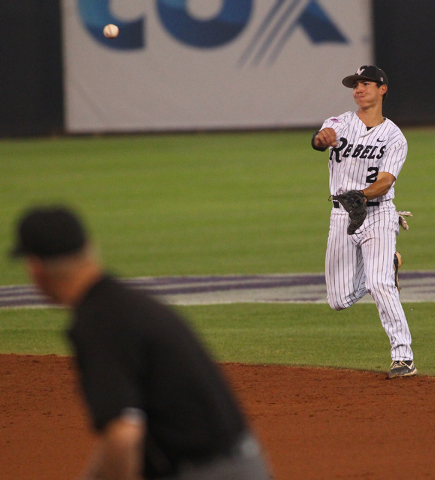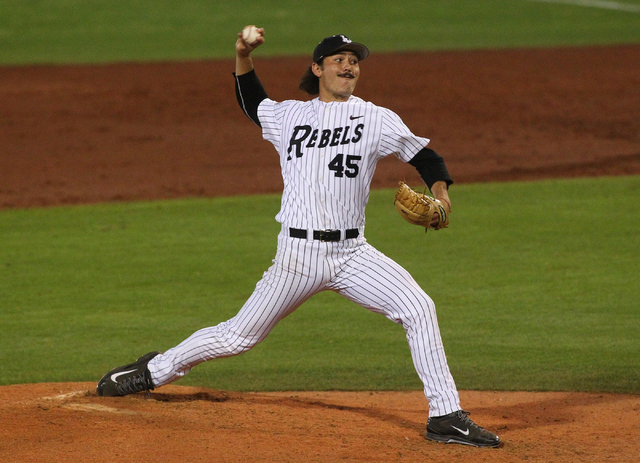 UNLV's players were honored before Thursday night's game by the Mountain West, with eight receiving all-conference awards. Erick Fedde also received his Pitcher of the Year award, and Tim Chambers was given his Coach of the Year honor.
The conference also handed UNLV the trophy for being the regular-season co-champion.
Out in left field stood Fresno State's players watching the scene, looking intently and ready to spoil the Rebels' good times.
They nearly did, giving UNLV all it could handle, but the Rebels held on to win 5-3 and advance in the conference baseball tournament at Wilson Stadium.
The top-seeded Rebels (34-21) play No. 3 San Diego State (39-18) at 7 p.m. today, with the winner advancing to Saturday's championship game. No. 4 UNR (29-26) meets fifth-seeded Fresno State (28-28) in an elimination game at 11 a.m. The winner then plays No. 2 New Mexico (37-19-1) at 3 p.m.
UNLV had to fight to get to tonight's game, with junior John Richy (11-3) repeatedly pitching out of trouble despite striking out a career-high 12 batters. His previous high was 11 on April 5 at Fresno State.
"This possibly being my last start at UNLV, it means a lot to come out here and put on a good show," Richy said.
Richy also pitched well in that April meeting, but lost 2-0 on an even better game thrown by the Bulldogs' Tim Borst (4-5), who shut out the Rebels 2-0. Borst was on the mound again Thursday, and he was handed a 2-0 lead in the first inning.
"I knew my teammates were going to pick me up," Richy said.
He was right.
The Rebels didn't waste any time, either, tying the game in the bottom of the inning on a fielder's choice groundout by Patrick Armstrong and a single by Morgan Stotts.
With the bases loaded and two outs in the fourth, Joey Swanner — who missed the two previous games with a left hamstring injury — came through with a two-run single to put UNLV ahead 4-2.
"I wasn't trying to do too much," Swanner said. "It's been about a week-and-a-half since I've seen live pitching, so the last thing I wanted to do was try to pop it up into the infield trying to swing for the fence. So I went back to basics, and it's about time I came through with something clutch. I had been dreaming about that moment, and it finally came true."
The Rebels nearly added to the lead when Justin Jones followed with a single, but Matt McCallister was thrown out at the plate by Fresno State right fielder Jordan Luplow.
Fresno State scored a run in the fifth to trim UNLV's lead to one, but Richy pitched well enough to last one out into the eighth, when he was removed after throwing 111 pitches. He was given a standing ovation as he walked to the dugout, doffing his cap to the announced crowd of 1,156.
"The neat thing is he said on the mound, 'This is probably my last time pitching on this mound,' " Chambers said. "I said, 'When you got here, there were like 75 people in the stands, and look at what happens when you walk off right now.' He looked at me and started to tear up."
UNLV added a run in the eighth on A.J. Hernandez's double to give the Rebels a little breathing room at 5-3.
"This is the funnest team I've ever been around, and I've been doing this a long time — 27 years," Chambers said. "They're all good friends. They all hang out together. There are no cliques. It's just a fun team."
And a winning one.
Earlier in the day, San Diego State broke a 3-3 tie by scoring eight runs in the top of the seventh inning to beat New Mexico 11-5. Steven Pallares' grand slam with two outs keyed the big inning.
Greg Allen and Tim Zier each with 2-for-5 with two RBIs and a run for the Aztecs, who trailed 3-1 after the fourth inning.
In the day's first game, UNR eliminated seventh-seeded San Jose State 4-0 behind pitcher Jason Deitrich's complete-game performance. Deitrich (3-2) threw 128 pitches while scattering 10 hits.
Ryan Teel led the Wolf Pack by going 3-for-4 with two runs and an RBI.
San Jose State's season ended at 19-38.
Contact reporter Mark Anderson at manderson@reviewjournal.com or 702-387-2914. Follow him on Twitter: @markanderson65.
MW Baseball Championship
Watch the Mountain West baseball championship live.