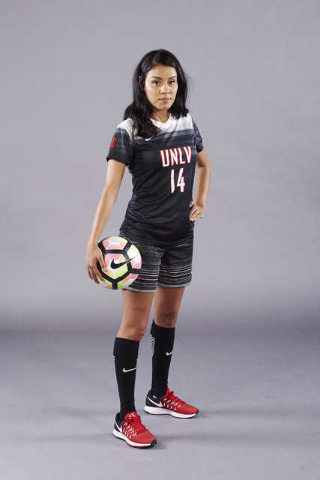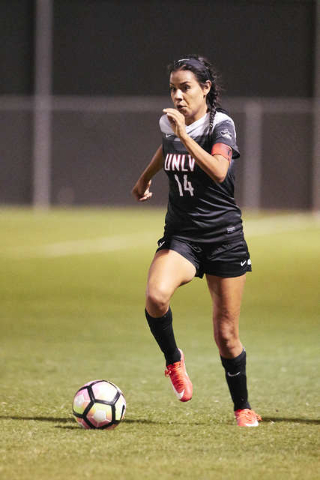 Coming back from a torn anterior cruciate ligament is never easy, and UNLV soccer standout Susie Bernal had an especially difficult time after tearing her left ACL in 2014, taking more than a year to return from the injury.
"My rehab wasn't smooth," Bernal said. "I wasn't as disciplined as I should've been. I wasn't playing. I wasn't with my team. I wasn't really in it."
When she did get back on the field last season, Bernal still had to pass the test of trusting her knee and knew she had no choice when faced with a tackle in an early-season match. Though she received a scar on her left shin that still exists, Bernal passed the test and went on to play without fear of reinjury.
Coach Chris Shaw knew how difficult a recovery it was for Bernal, a senior who went to Clark High School, because he went through his own ACL rehabilitation a year and a half ago.
"I've dealt with players that have had ACLs my whole coaching career," Shaw said. "But until you've actually gone through it, you don't really understand what it entails, not only the physical impact but the psychological impact as well. I think that's where Susie had a hard time with dealing with not being involved, not playing, watching her teammates play a full season.
"But I think she grew from that and is a stronger person now mentally."
And Bernal is closing in on UNLV's career assists record. She is four shy of the mark.
"It would be pretty cool to get it," Bernal said. "I think this is the strongest I've started since I've been here with the four assists so far. When people started mentioning there were records, that's when it came to my attention. And when people bring it to my attention, then I'm like, 'OK, I want it.' "
As much as Shaw would like to see Bernal get the record, which is a mark of unselfishness, he would like to see her a little more aggressive as well as the Rebels prepare to enter Mountain West play. They play San Jose State at 7 p.m. Friday and Fresno State at noon Sunday at Peter Johann Memorial Field.
"She in the spring was banging in goals for us left and right," Shaw said. "I'd like her mentality to be more like, 'Hey, why not go for the single-season goal record as opposed to the assist record?' Ultimately, whether she's setting them up or scoring them, she's being effective and helping us win games. I'd love to see her break that (assists) record, but to me, the records aren't what she's all about. Whether she breaks that record or not, she's been fantastic for us."
The assist record is one way Bernal has made a name for herself. Her older brother, Salvador, also starred at UNLV, earning All-American honors in 2014 as well as the Western Athletic Conference Offensive Player of the Year. He now plays for Toronto FC II of the United Soccer League.
The siblings speak on a daily basis and regularly provide each other with advice.
"I know what was expected of me, even more because he was my brother," Bernal said.
VOLLEYBALL
The Rebels head into Mountain West play with games at Cox Pavilion against Boise State at 6 p.m. Thursday and Air Force at 3 p.m. Saturday. UNLV was picked by the coaches to finish tied for fifth in the conference, but the Rebels are off to a 11-1 start.
MEN'S TENNIS
Senior Jakob Amilon is No. 124 in the Oracle ITA Division I Men's National Singles Rankings. He was All-Mountain West in singles and doubles last season. In singles, Amilon went 21-7, including 16-6 at the No. 1 spot in dual matches.
WOMEN'S TENNIS
Senior Carol Zi Yang is No. 103 in the women's version of the national singles rankings. Last season, she went 21-8 in singles and was all-conference.
Contact Mark Anderson at manderson@reviewjournal.com or 702-387-2914. Follow on Twitter: @markanderson65
UPCOMING EVENTS
Cross country: Aztec Invitational; San Diego; 8:30 a.m. Friday
Men's golf: William H. Tucker Intercollegiate; Albuquerque, New Mexico; Friday-Saturday
Men's soccer: vs. San Diego; Peter Johann Memorial Field; 7 p.m. Tuesday; at Gonzaga; Spokane, Washington; 6 p.m. PDT Friday
Women's soccer: vs. San Jose State; Peter Johann Memorial Field; 7 p.m. Friday; vs. Fresno State; Peter Johann Memorial Field; noon Sunday
Women's tennis: UNLV Invitational; Fertitta Tennis Complex; Sunday-Sept. 27
Volleyball: vs. Boise State; Cox Pavilion; 6 p.m. Thursday; vs. Air Force; Cox Pavilion; 3 p.m. Saturday