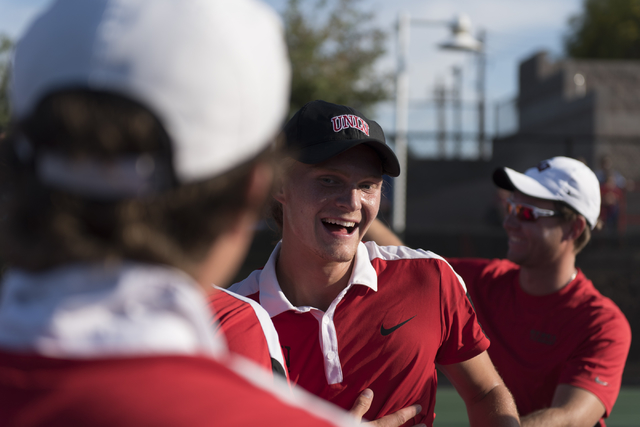 The UNLV men's tennis team had two singles players and two doubles teams advance through the opening day of the annual Easley Memorial Classic at Fertitta Tennis Complex.
Players from three other Western programs — UCLA, San Diego State and Northern Arizona — are competing in the individual event, which runs through Sunday.
Richard Solberg downed Tim Fisher of NAU 6-1, 6-2, and Courtney Lock defeated Lucas Taylor of NAU 6-4, 6-4.
In doubles, Solberg and Kevin Chau beat Taylor and Fisher 8-6, and Lock and Eric Samuelsson downed Connor Rapp and Bryce Pereira of UCLA 8-4.
Also in singles, Mario Aguayo lost 6-0, 6-1 to Ignacio Martinez of San Diego State, Chau lost 4-6, 6-4, 6-2 to Felix Schumann of NAU, and Samuelsson lost 6-4, 6-0 to Pereira.
The annual event was renamed in 2010 in honor of Larry Easley, who coached the UNLV men's tennis team from 1993 to 2002 and died in 2005 at age 57. The Hall of Fame coach produced five All-Americans and two NCAA champions with the Rebels.