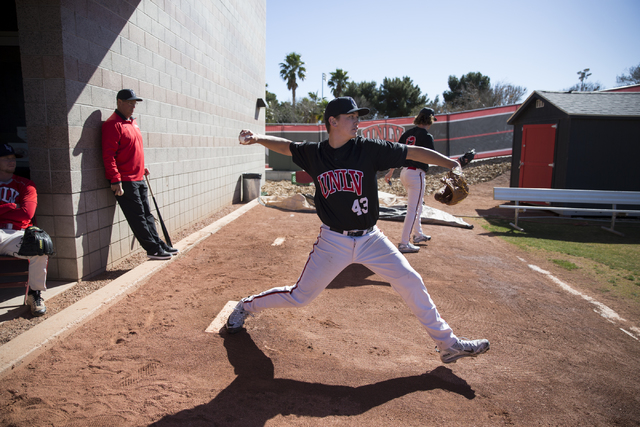 Paul Richy pitched seven strong innings Wednesday to lead UNLV to a 4-1 win over Portland to cap a two-game nonconference baseball sweep at Wilson Stadium.
Richy (2-3) held the Pilots (8-32-1) to one run on five hits and no walks and struck out two. Justin Jones and Payton Squier each went 2-for-4 with an RBI for the Rebels (16-28), who had an 8-6 edge in hits.
Ernie De La Trinidad went 1-for-2 with two walks, two stolen bases and two runs, and Bryson Stott had a triple, a steal and a run.
Mike Hicks went 2-for-3 with a seventh-inning home run for Portland.
Blaze Bohall pitched a perfect eighth inning with one strikeout for UNLV, and Bryan Menendez worked around a hit and a walk in the ninth to post his fourth save.
WOMEN'S TENNIS
Senior Carol Yang and sophomores Aiwen Zhu and Anna Bogoslavets each were named to the All-Mountain West team for the second straight season, and Zhu and freshman En-Pei Huang were selected as a doubles team, the league announced.
Yang, a native of Shenzhen, China, is the Mountain West's highest-ranked player at No. 48 nationally. She had two wins over players ranked in the top 15 as part of her 24-10 mark.
Zhu, a native of Wuxi, China, last year's league freshman of the year, is 21-6, including 4-1 against league opponents.
Bogoslavets, from Kiev, Ukraine, is 18-6 after going 6-0 against Mountain West opponents for the second straight season.
Zhu and Huang, from Kaohsiung City, Taiwan, are 8-6 in doubles.