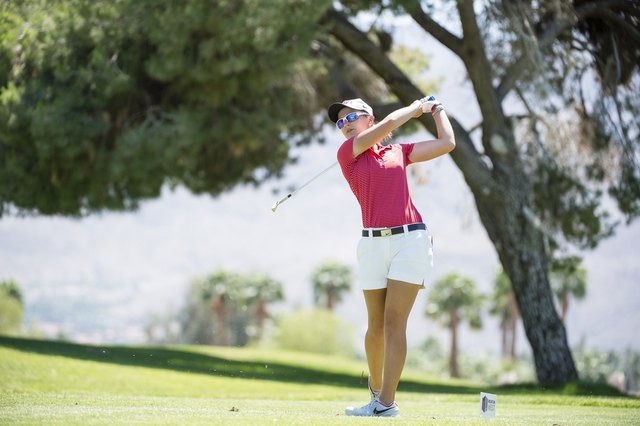 Junior Elizabeth Prior fired a 6-under-par 66 on Monday for an 11-under 133 total and a two-stroke lead, helping the UNLV women's golf team soar to a seven-shot edge after two rounds of the Las Vegas Collegiate Showdown at Boulder Creek Golf Club in Boulder City.
The Rebels, aiming to win their home tournament for the second time in three years and fourth time overall, shot 10-under 278 on Monday for a 21-under 555 total. They were two shots off the pace after Sunday's opening round.
San Jose State (562) is second in the 16-team field, followed by first-round leader Missouri (563), Idaho (570) and Portland State (571).
Also for UNLV, freshman Polly Mack is fourth in the 96-player field at 8-under 136, senior Mackenzie Raim is tied for 10th at 4-under 140, junior Alyssa Getty is tied for 36th at 2-over 146, and sophomore Nastasia Kossacky is tied for 39th at 3-over 147.
Playing as individuals for the Rebels, junior Texie June Petchel and freshman Cathy Liu are tied for 30th at 1-over 145, and junior Shannon Oh is tied for 78th at 8-over 152.