West Virginia sends Rebels to fourth baseball loss in five games
February 28, 2016 - 12:23 am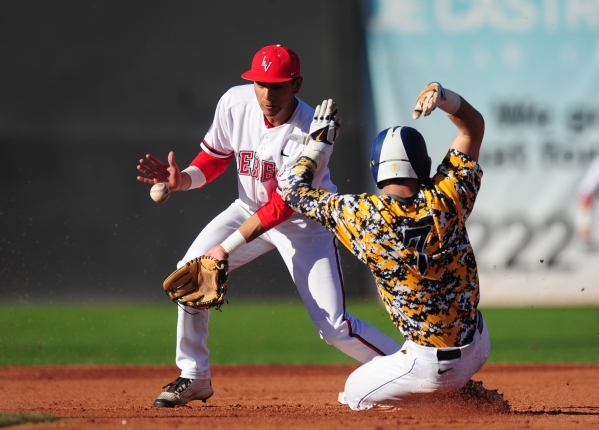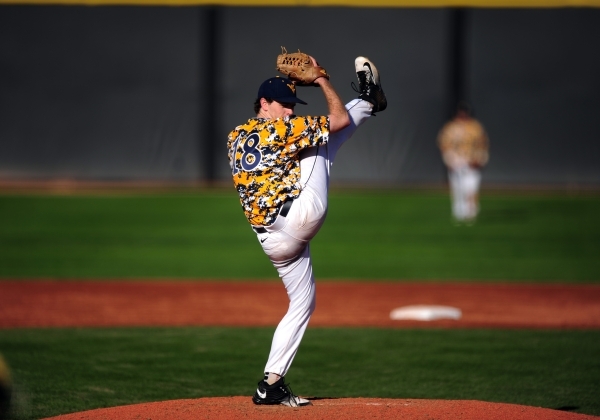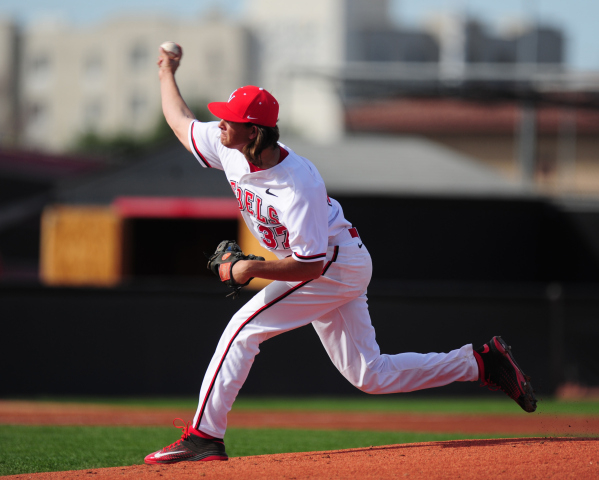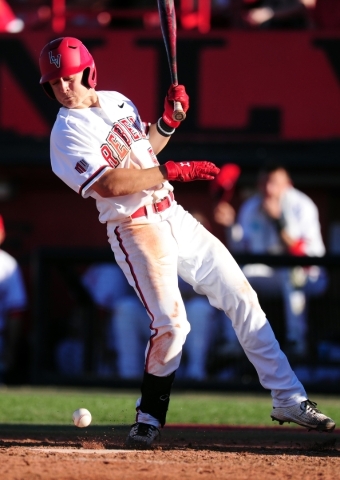 Take it home, country roads. The UNLV baseball team has had its fill of West Virginia.
After spoiling the Rebels' home opener in Friday's 9-6 win at Wilson Stadium, the Mountaineers dominated UNLV in a 13-1 romp Saturday afternoon to clinch the series victory.
West Virginia (4-1) scored six runs off Rebels sophomore starter Dean Kremer and seven more off four UNLV relievers, including three freshmen.
Cole Austin and Kyle Davis each homered for the second straight day, and Darius Hill had three hits and three RBIs and is 6-for-10 with seven RBIs in the series.
"Once we got Dean out of there, the bullpen came in and it just got away from us and they just beat us up pretty good," Rebels coach Stan Stolte said. "We left balls up all weekend, and they make you pay. I have a lot of respect for that team. It's a very good team."
UNLV (1-4), which has lost four straight since its season-opening win at No. 23 Texas, mustered only four hits against the Mountaineers and has scored only 13 runs in its first five games.
West Virginia starter Ross Vance (2-0), a crafty left-hander, held the Rebels to a run on three hits in seven innings, with eight strikeouts and a walk. He retired the first nine batters, striking out six, before surrendering a leadoff homer in the fourth to Justin Jones.
"It's tough when there's not a lot of adjustments being made. That goes for myself, too," said Jones, a team captain who's 2-for-20 this season from the leadoff spot. "I had a homer, but I had other at-bats where I didn't make enough adjustments, and that's what we're doing as a whole right now.
"It's still early in the season, so we're not going to sweat it too much, but we've got to stick to a plan every time there's a certain pitcher on the mound. We just didn't stick with the plan we had before the game."
Making his home debut for UNLV after throwing 5 2/3 scoreless innings in the win at Texas, Kremer allowed eight hits in 5 1/3 innings with seven strikeouts and a walk. He retired the first six batters before running into trouble in the third, when West Virginia loaded the bases on two singles and a walk and went ahead 2-0 on a single by Hill.
The Mountaineers, who scored in each of the final five innings, added two in the fifth on a solo shot by Davis and back-to-back doubles by Hill and Austin. They chased Kremer in the sixth, when Shaun Corso doubled off the top of the left-field wall and KC Huth followed with an RBI single to make the score 5-1.
"He just got tired there at the end. It was by no means a bad outing for him," Stolte said of Kremer. "These guys just had a really good approach. They just kind of wore him down a little bit, and we stayed with him a hitter or two too long."
In West Virginia's five-run eighth, UNLV freshman Chase Maddux surrendered a leadoff homer to Huth that bounced off the scoreboard in left field and freshman Corey Wilson gave up a three-run shot to Austin.
Senior right-hander Kenny Oakley, the Rebels' only preseason All-Mountain West pick, will try to stop UNLV's slide in today's 1:05 p.m. series finale.
"We've got plenty of confidence in Kenny," Jones said. "I told the guys earlier today, 'It's about that bounce-back ability. Let's finish strong on a Sunday, send them home and let's go strong into conference (play) with some confidence.'"
— Contact reporter Todd Dewey at tdewey@reviewjournal.com or 702-383-0354. Follow him on Twitter: @tdewey33