Aztecs brace for Washington State's potent spread offense
September 14, 2011 - 12:59 am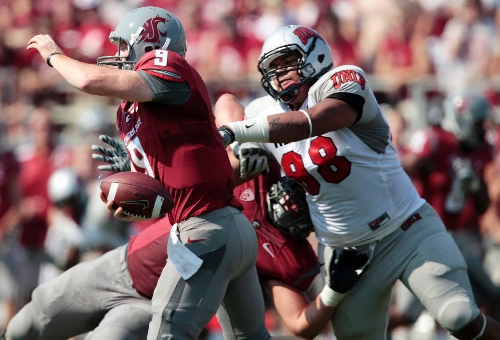 UNLV saw up close the strides Washington State appears to have made in its football program.
The Rebels entered Saturday's game as 14-point underdogs and failed miserably to meet even those expectations in a 59-7 defeat in Pullman, Wash.
Now it's San Diego State's turn to face the Cougars, but the Aztecs are a touchdown favorite for Saturday's home game.
Coach Rocky Long's squad now faces the challenge of going from beating two wishbone teams to trying to stop Washington State's spread offense.
"They go at a fast pace," Long said Tuesday. "They get a lot of plays in."
Washington State backup quarterback Marshall Lobbestael has thrown for 591 yards and seven touchdowns in two games while filling in for Jeff Tuel, who is out with a broken collarbone.
"I think (Lobbestael) throws better than the starter," Long said. "He's not as athletic as the starter."
But in the spread offense, Lobbestael is difficult to reach. UNLV's few blitzes were met with screen passes, and Lobbestael was sacked just once.
"Any time you blitz, you take the chance with the screen pass," Long said. "Also, they throw fade routes that let the receiver outjump for the ball. It doesn't matter if you rush three, four or five if you can't get pressure on the quarterback."
AROUND THE MWC
Oklahoma, according to ESPN.com, is heavily interested in applying for admission into the Pacific-12 Conference. But the Sooners aren't completely sold, ESPN reported, possibly because the Pac-12 isn't necessarily sure it wants to accept Oklahoma and Oklahoma State, which would be part of the package. Orangebloods.com reported Texas is giving the Atlantic Coast Conference a strong look. The Big 12 breakup seems inevitable, which could benefit the Mountain West, but the Big 12 also looked finished last year. …
UNLV cornerbacks Quinton Pointer (leg) and Ken Spigner (back) are doubtful for Saturday's game against Hawaii. … Colorado State's Mychal Sisson, one of the Mountain West's top linebackers, is out because of a broken right ankle. "He might get back late in the season," Rams coach Steve Fairchild said. … A decision on whether Texas Christian running back Ed Wesley (shoulder) or linebacker Tanner Brock (foot) play this weekend will be made Friday.
RANKING THE TEAMS
1. No. 4 Boise State (1-0) at Toledo (1-1), Friday. Broncos quarterback Kellen Moore is working on a streak of 14 games with multiple touchdown passes.
2. No. 23 Texas Christian (1-1) vs. Louisiana-Monroe (1-1). Horned Frogs coach Gary Patterson goes for his 100th career victory.
3. Air Force (1-1, 0-1 MWC), off. The Falcons have scored at least one rushing touchdown the past 23 games.
4. San Diego State (2-0) vs. Washington State (2-0). The Aztecs are coming off a 23-20 victory over Army, giving them wins over all three service academies in a 12-game stretch. Notre Dame in 2006 is the last team to accomplish that.
5. Colorado State (2-0) vs. Colorado (0-2) at Denver. The Rams have lost six of the past eight meetings.
6. Wyoming (2-0) at Bowling Green (2-0). Cowboys running back Alvester Alexander has rushed for at least one touchdown in six consecutive games.
7. New Mexico (0-2) vs. Texas Tech (1-0). After allowing nine sacks in their opener against Colorado State, the Lobos didn't give up any against Arkansas.
8. UNLV (0-2) vs. Hawaii (1-1). The Rebels are 27-16 in home openers.
GAME OF THE WEEK
Washington State at San Diego State. It was only last season that a victory over Washington State wasn't regarded as a quality win, but it now would be — given the Cougars' apparent improvement. But they also should discover playing San Diego State is different than playing UNLV.
TRENDING
Mountain West teams are finding success on the ground. Four teams rank in the top 30 nationally in rushing, with Air Force's usually powerful attack leading the way at No. 7. The Falcons average 320 yards per game.
ON THE HORIZON
Colorado State and Wyoming are each 2-0, but that's deceiving. The Rams opened with New Mexico and Northern Colorado, and the Cowboys with Weber State and Texas State. Expect both teams to soon rejoin UNLV and New Mexico in the lower half of the conference.