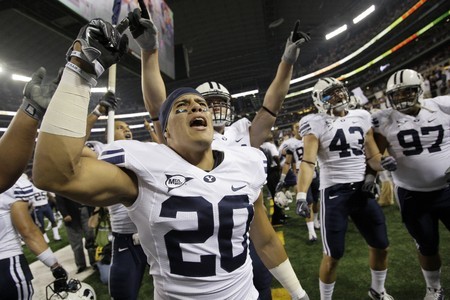 If the spotlight on Brigham Young was intense entering last season, it's nothing compared to the laser beam pointing at the Cougars now.
The talk in 2008 was that BYU was a candidate to break into a Bowl Championship Series game. Now the buzz is about a chance for the national title, something considered unthinkable for a team from a conference without an automatic BCS bid.
But the Cougars put themselves in that spot by upsetting then-No. 3 Oklahoma 14-13 on Saturday at the new Cowboys Stadium in Arlington, Texas. BYU zoomed to No. 9 in The Associated Press poll, gaining 11 spots, and to No. 12 in the coaches poll, rising 12 spots.
Coach Bronco Mendenhall didn't directly address BYU's chances of winning the national title, but said he hopes a non-BCS team — read: a Mountain West Conference team — soon would get the opportunity.
"I think that's what we're all hoping for, we're all fighting for," Mendenhall said. "I think it's what the public wants. I know it's what (President Obama) would like.
"Whether we're the team or another team is the team, I'm not sure is the point. But eventually it has to get to that point, and the sooner the better."
The danger for the Cougars is repeating what happened last season. After a 6-0 start, they lost at TCU, then lost again in the regular-season finale at Utah before losing the Las Vegas Bowl to Arizona to finish 10-3.
After that letdown, Mendenhall wants his players to stay more even-keeled, but that isn't going to be easy in light of Saturday's victory. About 2,000 fans showed up to meet the Cougars' plane when it arrived at 1:45 a.m. Sunday.
BYU plays at Tulane this week.
"Every place these kids are going, they're being told how wonderful they are," Mendenhall said. "And they are, they played a fantastic game, and they're great kids. But at some point they'll realize we are preparing for another football game, and the longer they dwell on those things, the worse our chances are."
• REACTION AROUND MWC — BYU's victory was especially good timing in light of the strong offseason push for BCS inclusion by Mountain West commissioner Craig Thompson.
His campaign was prompted by Utah's 31-17 victory over Alabama in the Sugar Bowl to go 13-0. The Utes, though, did not have a realistic shot at playing for the national championship.
While Thompson wasn't immediately successful, perhaps he pushed the issue forward enough to help BYU or any other conference school.
"We've had a lot of people speaking on our platform in the offseason," Texas Christian coach Gary Patterson said. "The biggest thing for us as coaches is to go out there and back it up."
Air Force coach Troy Calhoun said the Cougars not only backed it up against Oklahoma, but it was no fluke.
"I thought BYU was the bigger football team, and they played bigger," Calhoun said of the Cougars' willingness to go right at the Sooners.
• QUICK RETURN — So much for any concerns UNLV wide receiver Rodelin Anthony wouldn't play against Oregon State. Anthony (sprained right foot) practiced Tuesday.
Linebacker/end Jason Beauchamp (sprained right ankle) didn't practice. His status won't be known until at least Thursday.
• OVERSHADOWED — Just about any other week, Colorado State's 23-17 victory at big brother Colorado would have received major attention.
"Utah, BYU and TCU constantly beat BCS opponents," Rams coach Steve Fairchild said. "We certainly aren't there yet. It's our aim to bring the program up to that level."
• A THIRD WIN? — After BYU and Colorado State beat Big 12 Conference schools, now Wyoming gets its chance when No. 2 Texas visits Laramie on Saturday.
But Cowboys coach Dave Christensen, previously the offensive coordinator at Missouri of the Big 12, brushed aside the idea of any additional pressure.
"I don't think it will have any bearing on us," he said. "We've got a game this week with Texas. It doesn't matter what conference they're from."
Contact reporter Mark Anderson at manderson@reviewjournal.com or 702-387-2914.