Decker looks like UNLV's starting quarterback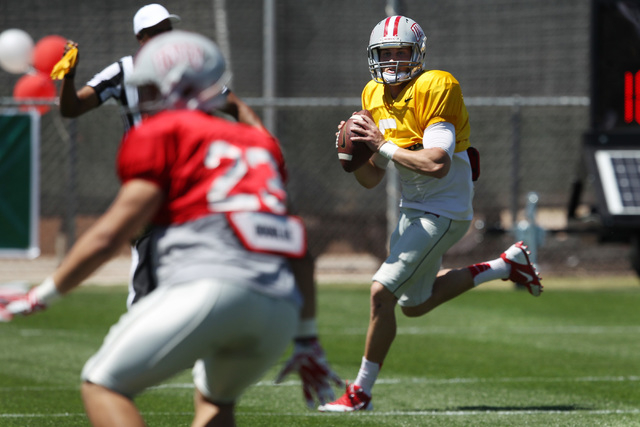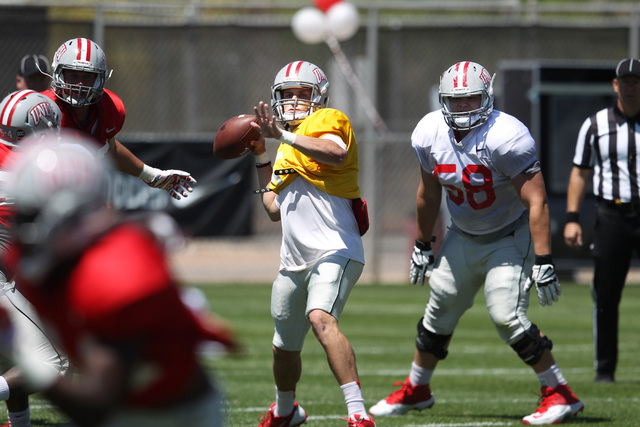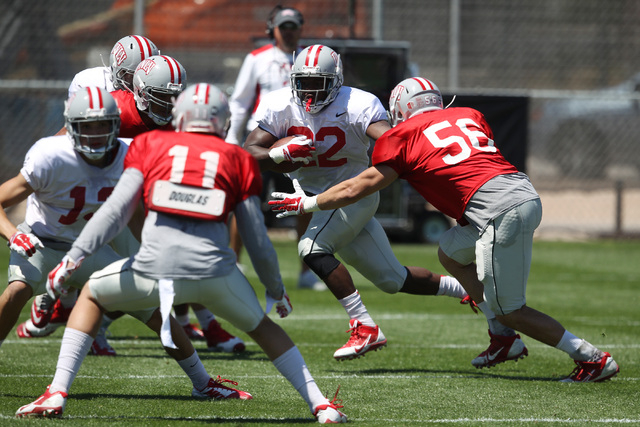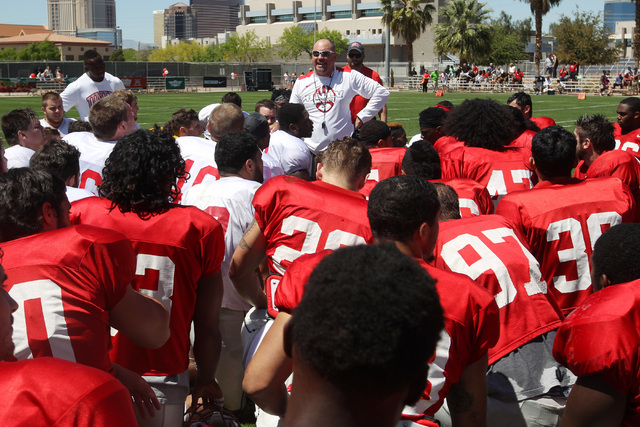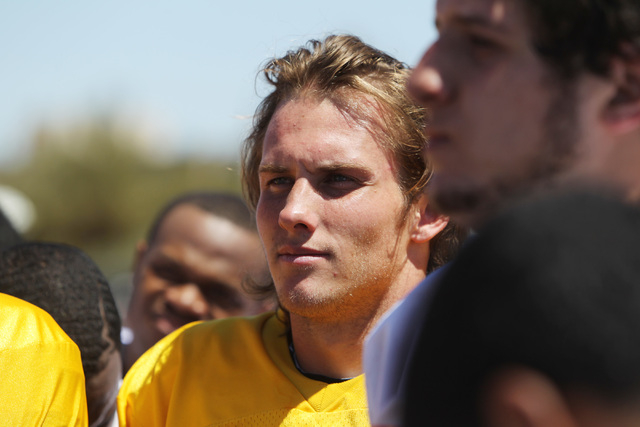 The play call was for an inside run, but quarterback Blake Decker read the coverage and knew he had to audible to a pass.
He then hit wide receiver Devonte Boyd in stride down the right sideline for a 55-yard touchdown.
That one play illustrated the strides Decker has made this spring in picking up the new offensive system, and it's why first-year UNLV football coach Tony Sanchez could name him the starter as early as Monday when he meets with the media.
"I think right now, if we had to play, we'd give the nod to him," Sanchez said. "He did a really good job. He kind of separated himself.
"We'd like to have that (position) settled and done pretty quick. We need to go back as a staff and talk about it."
Decker led the first-team offense to touchdowns on all three of his drives in Saturday's spring game at Johann Memorial Field. He also completed all five of his passes for 166 yards and three touchdowns.
The main question with Decker is whether he can cut down on mistakes. He showed plenty of promise as a junior last season in passing for 2,886 yards and 15 touchdowns, but he also threw 18 interceptions.
It didn't help that he was banged up, playing with a bad hip and neck late in the season. Decker also lost 15 pounds off his 6-foot 2-inch frame, dropping to 197. He now is up to 210 pounds and hopes to play at 215 next season, which begins Sept. 5 at Northern Illinois.
Decker has the look of a senior leader, someone who pulled away from sophomore Kurt Palandech and redshirt freshman Kevin Thomson in the final week of spring practices, putting the lessons learned under Sanchez and offensive coordinator Barney Cotton literally into practice.
"You've got to know their tendencies and what they want you to do in certain situations," Decker said. "As I started to move along and do that and understand what they wanted from me in certain down and distances, I think that helped in terms of my checks, my audibles and the way we moved the ball down the field. As of last week, I started to feel really comfortable."
He and Boyd, a sophomore from Basic High School, looked quite comfortable in the spring game. Boyd caught four passes for 132 yards and three touchdowns, with one of those TDs on a pass from Palandech.
"It's never a bad option throwing to No. 83, right?" Decker said. "We'll take that."
The two developed a chemistry last season when Boyd caught 65 passes for 980 yards and four touchdowns. He was named Mountain West Freshman of the Year and a freshman All-American by the Football Writers Association of America.
"I know when Blake's going to throw me the ball," Boyd said. "He winks at me before we even leave the huddle. It's to the point I know how he thinks."
Now with spring practices completed, Sanchez and his staff have plenty to consider as they plan for training camp in August.
"We definitely have improved, and I think everyone that's been around has seen that," Sanchez said. "I think the kids feel that and the coaches feel that. There are some things we need to go over and we need to adjust.
"At the end of the day, we've got to figure out, what does this team need to do to win football games, not survive. We don't want to manage it. We want to win football games, so we've got to sit back and now evaluate everything we've done.
"How do you eat an elephant? One bite at a time. We're chewing our tail off right now. It's a big elephant."
■ NOTES — Palandech led a touchdown drive on his one series with the first-team offense. He quarterbacked the first- and second-string units, completing 4 of 9 passes for 39 yards and a TD. Thomson was 2 of 11 for 55 yards. … Anthony Williams caught one pass, but it was for a 60-yard touchdown. … Martaveous Holliday led all rushers with 29 yards on seven carries. The one rushing touchdown came from Keith Whitely on a 5-yard gain, and he finished with 28 yards on five attempts. … The estimated crowd of 3,000 was about 1,000 more than for last year's spring game. It also was noisier, with music played throughout. "You come out here, it's 81 degrees, the Strip's right there, Elvis is cranking and we're playing football," Sanchez said. "It doesn't get better than that. People are excited. They want us to win. We've got to give them something to get excited about."
Contact Mark Anderson at manderson@reviewjournal.com or 702-387-2914. Follow him on Twitter: @markanderson65.