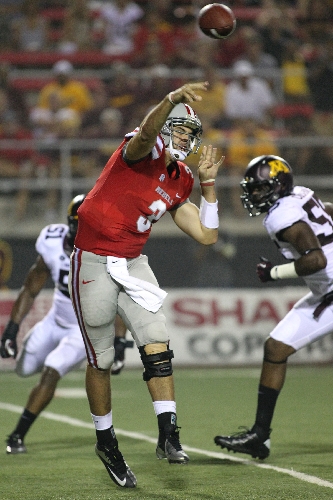 The day after his team started the season with a three-overtime game, Bobby Hauck watched the video and came away mostly pleased.
Even the negatives had a positive side as the third-year UNLV football coach viewed Thursday night's 30-27 loss to Minnesota at Sam Boyd Stadium.
"We're not proud of the result, but I was proud of the effort," Hauck said Friday. "I'm encouraged by a lot of things I saw on the film. Obviously, we've got a ton of things to correct, which is always the case with first games. But all of our issues for the most part are correctable, which is different than maybe the past couple of years.
"We're more about improving and fixing things we didn't do well rather than trying to figure out how to survive."
Missed tackles topped his list of concerns, with Hauck saying he was surprised at how often his players didn't wrap up.
They also left a lot of receivers wide open, but UNLV was fortunate that Minnesota quarterback MarQueis Gray was more inaccurate than statements made at a political convention.
Hauck, though, said he wasn't concerned about the pass coverage because so much focus was placed on stopping Gray's running ability and the Golden Gophers' ground game in general.
Minnesota rushed for 209 yards, and Gray gained 68 yards on 17 carries. But the Rebels didn't allow Gray the sort of long runs that athletic quarterbacks have broken against them in past seasons.
"I think we're improved, but we've got to do some things better," Hauck said. "That's a Big Ten football team, and I would say they did not shove us around."
UNLV's running attack was as strong as expected, with Tim Cornett rushing for 127 yards and two touchdowns on 25 carries. That output is roughly what he needs to average to reach his goal of 1,600 yards.
The surprise was how often the Rebels relied on the arm of redshirt freshman quarterback Nick Sherry, who made his first start. He passed 35 times, completing 16 for 116 yards, with a touchdown and three interceptions.
"We're going to insist on being able to throw the ball," Hauck said. "Last year, when we got to the point when we couldn't throw it, we were running it very, very well, but it was three yards and a cloud of dust. That's not what we want to be. We want to be balanced.
"We do have a freshman quarterback. We have to let him throw it, and we have to let him grow up."
Sherry made some rookie mistakes, such as throwing into coverage. His final interception, a pick in the end zone, occurred in the third overtime and led to Minnesota's game-winning field goal.
But Hauck said he thought Sherry didn't get flustered and smoothly managed facets of the position such as avoiding delay-of-game penalties and handling substitutions.
"Everything that Nick did wrong last night is correctable," Hauck said.
UNLV's offensive line, which returned all five starters, didn't give Sherry much time to throw. That unit gave up 35 sacks last season, tied for last in the Mountain West Conference.
Sherry was sacked only twice, but was hit numerous other times and seemed to spend as much time on his back as a mechanic under a car.
As a team, the Rebels, who next play Northern Arizona on Sept. 8 at Sam Boyd Stadium, were what they appeared to be in training camp after consecutive two-victory seasons – bigger, more athletic and better.
Just how improved remains to be seen, but Hauck said he was pleased by his team's composure.
"I just really like our team," he said. "It's fun to be around them; it's fun to coach them. One thing I thought was really cool last night is we're in triple overtime with a Big Ten team, and our sideline was very calm. I looked them all in the eye, and they looked like they felt like they belonged there."
Contact reporter Mark Anderson at manderson@reviewjournal.com or 702-387-2914. Follow him on Twitter: @markanderson65.