Leevel Tatum, three-star defensive lineman, commits to UNLV
January 19, 2016 - 11:51 pm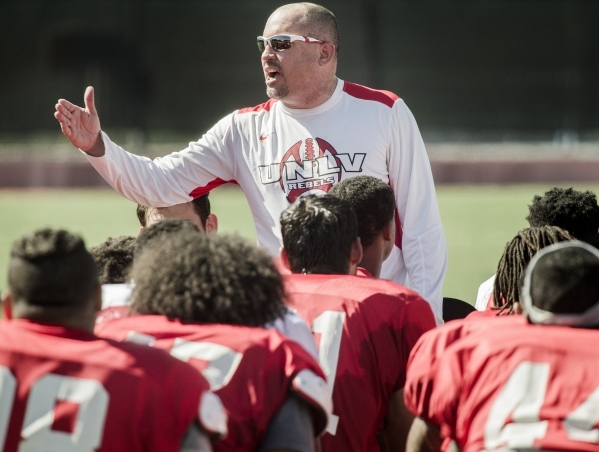 UNLV's 2016 recruiting class just keeps getting better.
With the addition of three-star defensive lineman Leevel Tatum, who orally committed to UNLV on Tuesday, the Rebels' recruiting class is now ranked No. 2 in the Mountain West conference by Rivals.com and No. 64 in the country.
Tatum, the 6-foot-2-inch, 270-pound nephew of late Oakland Raiders great Jack Tatum, is UNLV's ninth three-star recruit, including three junior college midyear signees.
"I like how the football team is coming together now," Tatum said. "I see myself going there and being part of the rebuilding stage and being on top of the Mountain West."
Tatum is the third three-star recruit from Fresno, California, to commit to the Rebels, joining linebacker David Tate, his Edison High teammate, and running back Charles Williams from Bullard High.
Tatum, who had 104 tackles, 12 sacks and four forced fumbles in his senior season, has a five-star pedigree. Besides Jack Tatum, whom Leevel Tatum said he "really didn't know" before he died in 2010, Leveel's uncle, Jarvis Tatum, played for the California Angels in the 1970s, and his father, Lavelle Tatum, played free safety for Fresno State alongside UNLV cornerbacks coach J.D. Williams, who helped recruit Leevel.
Tatum also had scholarship offers from UNR, Fresno State, Colorado State, New Mexico, Idaho, Texas-El Paso, Wyoming and Northern Arizona.
"We thought about (Fresno State), but I got a bad taste in my mouth from Fresno State and a good taste from UNLV," he said. "I thought it was the best fit for me."
Tatum was impressed by UNLV last weekend during his official visit to the school.
"There was a lot more than I expected. Vegas and their football is a lot different than the casinos and the Strip," he said. "It was comfortable. They've also given me multiple positions I can play."
Tatum said he looks like a defensive lineman but moves like a linebacker. He expects to play defensive end, defensive tackle and "a little bit of linebacker" for the Rebels.
"I also might get some fullback action, too," he said.
Contact reporter Todd Dewey at tdewey@reviewjournal.com or 702-383-0354. Follow him on Twitter: @tdewey33