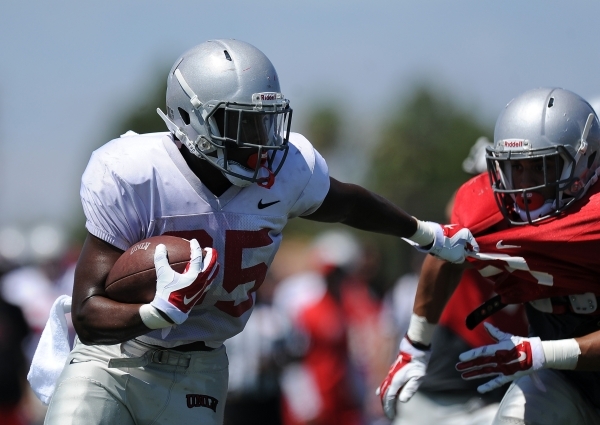 Five players to watch when UNLV's football team plays Idaho State at 6 p.m. Saturday at Sam Boyd Stadium:
1. UNLV's running backs: It's not just one back, but the combination of Keith Whitely, Lexington Thomas and Xzaviar Campbell will be important to establishing a run game still trying to find its way.
2. Xavier Finney, RB, Idaho State: Like UNLV, the Bengals are trying to get their ground game in gear. Finney rushed for 1,495 yards and 14 touchdowns last season, but he has only 186 yards and a TD this year.
3. Peni Vea, S, UNLV: He is strong against the run and the pass, and the Rebels need him to defend both in what probably will be a balanced Idaho State attack.
4. Tyler Kuder, DE, Idaho State: He leads the Bengals with 5½ tackles for loss, putting the onus on right tackle J'Ondray Sanders and tight end Jake Phillips to keep him out of the UNLV backfield.
5. Devonte Boyd, WR, UNLV: The Rebels need to be aggressive and stretch the field, and Boyd is just the man to do it. He averages 20.6 yards per catch.
Contact Mark Anderson at manderson@reviewjournal.com or 702-387-2914. Follow him: @markanderson65
Check our GameDay page for all the news leading up to the UNLV-Idaho State game.