Prep recruit Wily helps Rebels beef up defensive line
August 10, 2015 - 8:10 pm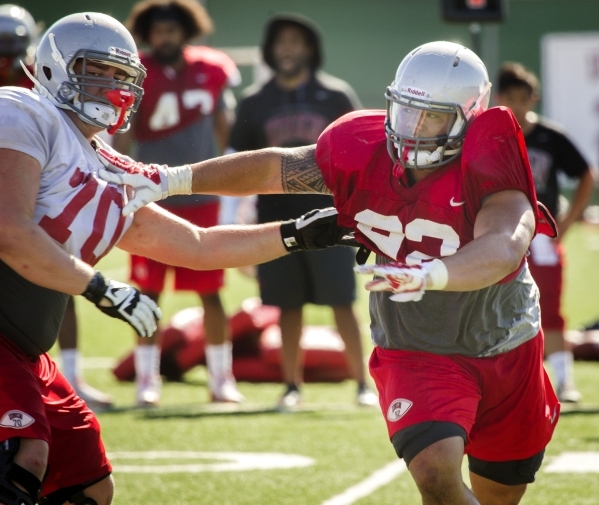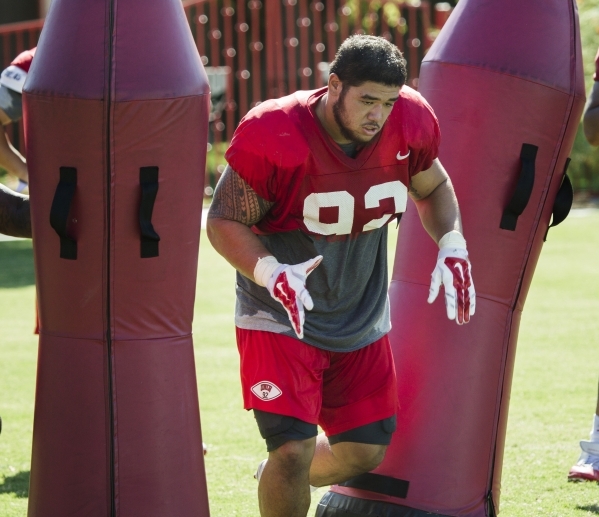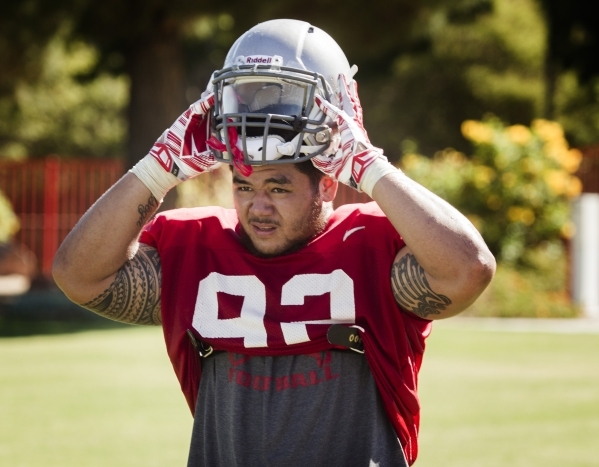 Defensive tackle Salanoa-Alo Wily was set to stay home and play football for Hawaii.
But just because he had committed to the Rainbow Warriors didn't mean he would sign with them. Young minds change often during the recruiting process.
Plus, UNLV coach Tony Sanchez can be persuasive. Sanchez took defensive line coach Joe Seumalo, a Hawaii graduate who played there in the 1980s, to Oahu's North Shore shortly after getting hired in December.
"The first thing (Sanchez) told me was, 'I hate to lose. All I know is winning,'" said Wily, who went to prep power Kahuku. "That made me start looking. That's the same mentality I have. I hate losing so much."
Now Wily (6 feet, 285 pounds) is a key part of the Rebels' efforts to improve their defensive line for this season, which begins Sept. 5 at Northern Illinois.
UNLV not only landed Wily on signing day, but after the ink was dry on the letters of Sanchez's first recruiting class, the Rebels added defensive tackles Jason Fao (6-0, 300) and Nick Dehdashtian (6-1, 290). Fao and Dehdashtian joined the team as walk-ons with the idea of receiving scholarships.
"The depth has helped a lot," Sanchez said. "They're a lot more productive because we have a lot more bodies rotating in there than we did in the springtime. I like the group. They're progressing great."
Seumalo said his approach is to look for 10 starters on the line and work toward making that a reality. Ten players obviously can't start at one time, but the point is to make 10 players such a major part of the rotation, it's like they're all starters.
"I think we're heading in that direction, but there's a lot more work to do," Seumalo said. "But I'm excited by what I've seen so far. I like our progress. I like what we're doing. I like the growth and development of what's going on."
Seeking 10 starters was Seumalo's approach when he oversaw Oregon State's defensive line the past nine seasons, and the Beavers regularly played strong defense and turned out quality players up front.
UNLV, though, came out of spring practices with barely a starting unit, forget using a double-digit rotation. Senior end Sonny Sanitoa (6-3, 270) was the only returning starter, and the other first-teamers on the depth chart had never started.
Not that there isn't talent in that group. Sanitoa, for example, has 14½ career tackles for loss, including 9½ sacks. Mike Hughes Jr. (6-2, 310) played as an incoming freshman last season out of Palo Verde High School, and he shows signs of being a standout player.
But the lack of overall experience as well as close to no depth had the coaches concerned. Getting Wily was the first step in easing those jitters. He was rated as the nation's No. 98 defensive tackle by 247Sports.com.
Now Wily is pushing for significant playing time, and on Monday morning at Rebel Park, he worked with the second team.
"The first day, the heat was getting to me, but every day (I'm) adjusting more and more," Wily said. "It's nice to get to the point where 97 (degrees) is cool to me."
As important an addition as Wily was for the Rebels, they still needed more players for the line. UNLV picked up commitments from Fao and Dehdashtian within a week of each other in May.
Fao has three seasons of eligibility after transferring from Long Beach (Calif.) City College, where last season he made 14½ tackles for loss, including six sacks. He originally signed with Texas-El Paso before heading to Long Beach.
Dehdashtian is a freshman who went to Midwestern Preparatory Academy in Orland Park, Ill. He had committed to UNR in November 2013.
"They're picking up (the system) real fast," Sanitoa said of his new teammates. "Once we're all on the same page and get everybody going, we'll be ready for the season."
It's easy to be optimistic in mid-August, but for the Rebels, now there is reason for hope regarding their defensive line.
A hope that didn't exist in the spring.
"One of the biggest things we feel better about right now than we did in the spring is the defensive line," Sanchez said.
Contact Mark Anderson at manderson@reviewjournal.com or 702-387-2914. Follow him on Twitter: @markanderson65.