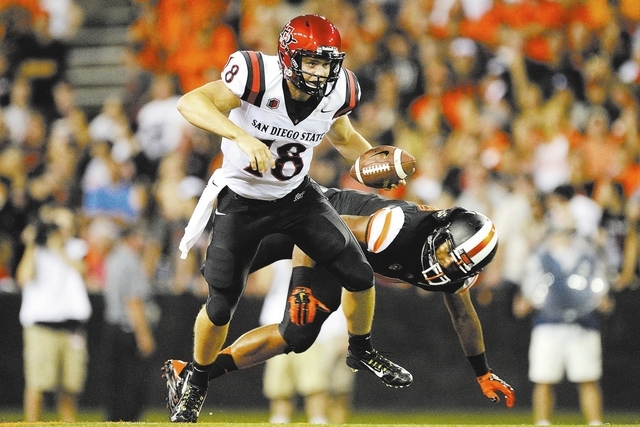 SAN DIEGO — UNLV went into the football season with high hopes of building on last year's bowl appearance, but rather than make progress in the first four weeks, the Rebels have regressed.
They still have goals to achieve, however, and their Mountain West opener against San Diego State at 5 p.m. today at Qualcomm Stadium represents a chance for a fresh start. ESPN3 will televise the game online.
"It's kind of like a new season," UNLV offensive tackle Brett Boyko said. "Winning conference is one of our goals."
UNLV (1-3) returns to conference play in a league that never has been more down in its 16 seasons. So the opportunity is there to at least contend in the West Division.
But winning tonight won't be easy.
San Diego State (1-2) is one of the top teams in the West, and the Aztecs are 18-point favorites to beat UNLV. The Rebels haven't emerged with a victory at Qualcomm since 2000, and they take far from a healthy team into the game.
Their injury report listed 31 players, including 14 who are out. UNLV has been so devastated by injuries that it couldn't conduct the kind of hard-hitting practices this week that coach Bobby Hauck would prefer, especially preparing for a physical opponent such as San Diego State.
The Aztecs have issues, too. They are coming off a 28-7 loss at Oregon State in which quarterback Quinn Kaehler passed for 106 yards and an interception. Kaehler, though, has proven he can play, last season throwing for 3,007 yards and 19 touchdowns.
Aztecs coach Rocky Long said his team's offensive line had something to do with Kaehler's struggles.
"I think he needs help," Long said. "I don't think it's the quarterback. You can't put everything on the quarterback. It's hard not to throw interceptions when people are hitting you as you throw."
UNLV certainly needs to get to the quarterback, but the Rebels' chief defensive weakness is stopping the run. They give up 305.2 yards per game on the ground and now face San Diego State running back Donnel Pumphrey. The Canyon Springs High School graduate averages 100 yards per game.
UNLV's troubles aren't limited to the defensive side.
The Rebels average just 18.5 points, and first-year quarterback Blake Decker has thrown at least one interception in every game. He has been picked off seven times overall.
Decker has shown promise at times, though, throwing for 397 yards against Northern Illinois and 252 at Arizona. But Decker will have a beaten-up receiving corps in this game as well as an injury-ravaged set of running backs that only puts more pressure on him to produce. Projected running back starter Keith Whitely is questionable with a leg injury, and if he plays, he will have to put the ground game on his shoulders.
UNLV will try to get its offense going against what looks to be a typical Long-coached defense. San Diego State allows 22.0 points and 359.3 yards per game.
"They've proven that they can beat the good teams in our conference," Boyko said. "We want to go out there and show everyone else UNLV's right there, too."
If the Rebels are going to do that, they need to make such a statement soon.
Their chances aren't good, not with all the injuries, but maybe the Rebels will rally together and find a way to get it done. They need to find a spark somewhere.
"I've got to do a better job and put these guys in a better position," Hauck said. "And then we've got to execute better, which means we've all got to do a better job."
Contact reporter Mark Anderson at manderson@reviewjournal.com or 702-387-2914. Follow @markanderson65 on Twitter.