Rodriguez helping to make football a priority at Arizona
September 5, 2013 - 8:38 pm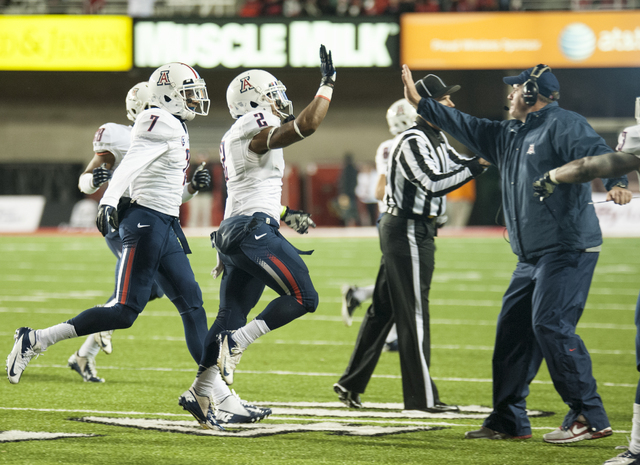 The commitment was in place before Rich Rodriguez agreed to become Arizona's football coach in November 2011.
Whether he accepted the job offer or not, the Wildcats — traditionally a basketball school — were making football a priority.
When Rodriguez interviewed for the position, athletic director Greg Byrne told him about plans for a $72 million upgrade to Arizona Stadium.
"I think that played in a major factor (in accepting the job) because everybody wants to be at a place where football is thought of, and this shows a commitment," Rodriguez said.
UNLV will get to check out those facilities when the Rebels open next season at Arizona. The Wildcats visit Sam Boyd Stadium to play the Rebels at 7:30 p.m. Saturday, competing in a venue that could use a substantial upgrade.
If UNLV officials get their way, the Rebels eventually will play in a state-of-the-art on-campus stadium that will house other events as well. Nothing guarantees the stadium ever will be built, but by including the casinos in the planning process, UNLV hopes to increase the chances of shovels eventually going into the ground.
Top-of-the-line facilities are key to winning vicious recruiting battles, which only have intensified with the introduction of the big-time TV money to the power conferences. Arizona is in such fights within the Pac-12 Conference, each league school receiving an astonishing $21 million to $30 million per year of TV revenue.
It's little surprise the Pac-12, with programs such as Oregon, Stanford and Southern California, is a powerful and deep conference. The conference's strength heightens the urgency for schools such as Arizona, which never has appeared in the Rose Bowl, to commit heavily to football.
"The Pac-12 is better all the way through than it's ever been because the money spent is larger," Rodriguez said. "There's a commitment to football in the Pac-12 that's never been there before."
Rodriguez understands commitment and what it can mean to whether a program succeeds.
He had that backing at his alma mater, West Virginia, turning what had been a solid program into a great one with his run-first, spread offense. The Mountaineers went from 3-8 in his first season in 2001 to posting three consecutive double-digit victory seasons from 2005 to 2007.
That 2007 team nearly made the Bowl Championship Series title game but shockingly lost to Pittsburgh 13-9 in its regular-season finale. West Virginia went into that game as about a four-touchdown favorite.
Rodriguez then left for Michigan but never received the support, even within the athletic department, that he probably needed. He seemed like an odd fit from the start, not the "Michigan man" people crave in Ann Arbor, and wound up going a 15-22 in his three seasons there.
He doesn't have to worry whether he receives the proper backing at Arizona.
"I think it's huge wherever you go to have the support of the program, with people truly pulling for you and wanting you to win," Rodriguez said. "If you have that momentum, it's something that makes it easier to build a program the way you want to build it. I've felt that from day one."
Rodriguez's first Wildcats team went 8-5, ending last season by scoring two touchdowns in the final 46 seconds to beat UNR 49-48 in the New Mexico Bowl.
He said he's not close to having the program where he hopes to take it, but the university's financial commitment helps him get off to a strong start.
Included in the stadium upgrades are features such as underwater treadmills in the training room and a high-end lounge on the north end of the stadium with a buffet table and alcohol service.
The improvements quickly have helped Rodriguez feel at home, and he said his family didn't need much time to adapt to their new surroundings.
In years past, however, even a big name like Rodriguez would be working in the shadows of Arizona's basketball program. And much like in Las Vegas, football would serve as a diversion until October.
Times could be changing.
"It's a lot of fun to come to work," Rodriguez said, "and watch it build."
Contact reporter Mark Anderson at manderson@reviewjournal.com or 702-387-2914. Follow him on Twitter: @markanderson65.