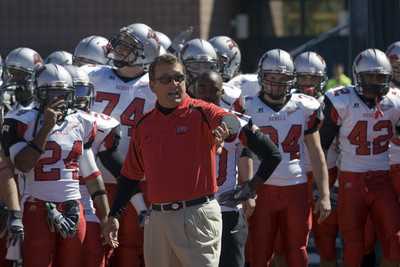 Sprints, bear crawls, skull crushers.
Even the innocent parties among the UNLV football team have gotten the message from the post-practice punishment doled out to four teammates who committed personal foul or unsportsmanlike conduct penalties in the Rebels' last game.
The guilty had the unfortunate timing to commit the infractions — in UNLV's 29-24 loss at Wyoming on Oct. 27 — before a bye.
As the Rebels prepare for Saturday's 8 p.m. game against San Diego State at Sam Boyd Stadium, the four players have for 15 to 20 minutes after practice since last week endured physical drills, including skull crushers, in which they wear helmets and walk for 100 yards "using your head like a wheel barrel," safety Daryl Forte said.
"It was tougher than camp, to me," safety Shane Horton said. "(Teammates) saw it, and we let them know, too.
"They didn't like the way we looked, so they know it's the real deal. It's going to help us in the long run. It's going to help us win ballgames."
Personal fouls have been a season-long problem for UNLV. Center Joe Hawley and wide receiver Casey Flair each sat out a quarter of play because of multiple infractions.
Hawley has said he thinks officials singled him out.
"I don't have any proof of that, but I would guess that that's the case because they all watch the tape," Sanford said. "And I think that's something Casey Flair had to fight because it would appear they were watching him."
Sanford, who has not suspended players for the San Diego State game, stepped up the post-practice punishment.
"We need to end it," he said. "The only way you change something is by making it a miserable thing to do it."
Sanford reached his breaking point in the Wyoming game. Earlier attempts to get his players' attention didn't work, as that game illustrated.
Forte, Hawley, Horton, linebacker Starr Fuimaono, cornerback Mil'Von James and special teams player Rusty Worthen were flagged for personal fouls. Tight end Chris Butler drew an unsportsmanlike conduct penalty.
Coaches elected not to punish Hawley, Fuimaono and James. Hawley's penalty was for hands to the face rather than a flag after the whistle that could have been more easily prevented. The Mountain West Conference agreed with UNLV that penalties should not have been called on Fuimaono and James.
Regardless, such flags are an issue, and Sanford hopes these two weeks of after-practice work more than made an impression.
"We're not going to commit any more penalties," Forte said.
• NOTES — Linebacker Beau Bell was selected to play in the Senior Bowl on Jan. 26. … Wide receiver Ryan Wolfe (ankle) is expected to play against San Diego State, and a decision on Fuimaono (shoulder) will be made Friday or Saturday. Offensive left tackle Richie Plunkett is out for the season after back surgery Thursday. Also, offensive left tackle Mario Jeberaeel (knee) will play, and tailbacks Chris Brogdon (ankle) and David Peeples (foot) are questionable. … Linebacker KC Asiodu has left the team.
Contact reporter Mark Anderson at manderson@reviewjournal.com or (702) 387-2914.
UNLV Football