UNLV ends bad year with big rivals
November 22, 2014 - 7:41 am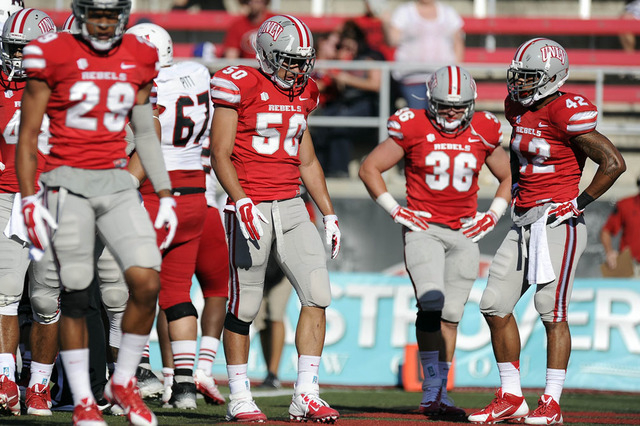 HONOLULU — The football season became a lost cause weeks ago, the coach's job is anything but secure, and the stability of the program is again in question.
So if UNLV's players were going to check out on what little remains of the season, it wouldn't be a big surprise.
Except the Rebels finish against opponents that should get their full attention.
They play their two biggest rivals, beginning with today's 8 p.m. PST game against Hawaii at Aloha Stadium. UNLV returns home next weekend to face UNR.
And in Hawaii, the Rebels go against what is the hometown team for many of its players.
"This is kind of like our bowl game," said safety Peni Vea, who is from Hawaii. "The last two games, both these teams are rivals to us, so we're going to treat it the same way as we do any other game, but even more. We don't have anything to play for except for our own pride, and against our rivals, we don't want to go out (losing).
"Plus, we're playing in front of people (at Hawaii) we know, we grew up with. We want to represent the team as well as ourselves."
How the Rebels (2-9, 1-5 Mountain West) finish should go a long way in determining whether coach Bobby Hauck returns for a sixth season. If they lose to Hawaii (3-8, 2-4) and UNR (6-4, 3-3), that will be their fourth two-win season under Hauck. Even a clean sweep of those two games isn't a guarantee he would return, though the chances would figure to increase significantly.
For now, though, the focus for UNLV is on beating Hawaii, and that is not an easy task. The Rebels are 10½-point underdogs, and they have lost their previous three trips to Hawaii by an average score of 50-15.
"We've gotten the best of them over the past couple of years here in Las Vegas, but when we've gone over there, they've beaten us and beaten us pretty soundly," Hauck said. "We have to be tuned in to them to what's going on and be ready for them to come after us."
In hopes of putting the previous struggles at Hawaii in the past, Hauck altered UNLV's travel plans to make this more of a typical get-in, get-out trip.
The Rebels also are staying in tourist-heavy Waikiki Beach as opposed to the usual digs in the more remote North Shore.
The last time they stayed at Waikiki, in 2000, the Rebels won 34-32.
If they repeat history tonight, it probably will be because of their running game. The ground game, in fact, should be the path to success for both teams.
For UNLV, running the ball could be out of necessity. Quarterback Blake Decker might not start because of several injuries, including to his hip and neck. Even if he's a go, he won't be at full strength.
"He's banged up head to toe, pretty much," Hauck said.
Backup Jared Lebowitz has come off the bench the past two games, and he might be in the starting lineup this time.
With such uncertainty at quarterback, this could be another opportunity for running back Shaquille Murray-Lawrence, who has rushed for at least 125 yards in two of the past three games.
Hawaii is susceptible against the run, giving up 183.5 yards per game.
But UNLV is even worse, allowing 278.5 yards. Given the Rainbow Warriors' weakness in the passing game — quarterback Ikaika Woolsey has completed just 49.2 percent of his throws — that is even more reason to count on a heavy dose of Hawaii running back Joey Iosefa.
Much was expected of Iosefa before the season, but he missed four games to a foot injury and was suspended for three others. He has rushed for 329 yards in his four starts and leads the team with six touchdowns.
Trying to salvage something of the season wasn't what the Rebels envisioned when in August they went through double-practice sessions in Ely. They were hoping to become the first UNLV team to make back-to-back bowls, and optimism was high.
But the Rebels have reached this low point, and they at least go out against Hawaii and UNR.
Before they can think about keeping the Fremont Cannon red next week, the Rebels must figure out a way to beat the Rainbow Warriors in a place that has been anything but a tropical haven for them.
"The five- or six-hour flight for anyone is pretty jet-lagging," said wide receiver Maika Mataele, who like Vea is from Hawaii. "At Hawaii, their fans are really, really great, especially at home. But for us, we've had a difficult time. We've got to execute when we go down there.
"We can get the win."
Contact reporter Mark Anderson at manderson@reviewjournal.com or 702-387-2914. Follow him on Twitter: @markanderson65.
Check our GameDay page for all the news leading up to the UNLV-Hawaii game.