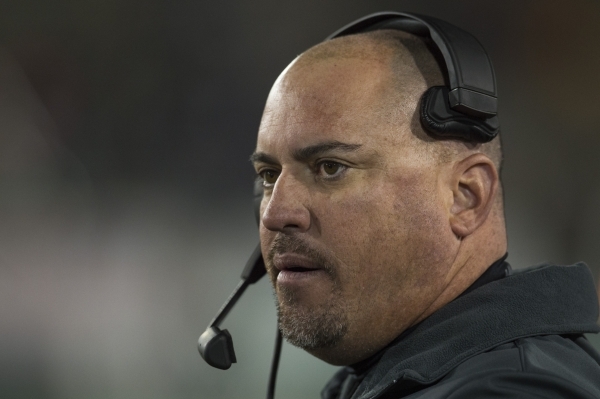 This is the last weekend before the early signing period, so UNLV continues to go hard after junior college football players.
Seven players are scheduled to take official visits this weekend, and six of them are junior college players.
The exception is Isaiah Bean (6 feet 4 inches, 210 pounds), a defensive end at Summer Creek High School in Humble, Texas. He also has reportedly been offered scholarships by Fresno State and Tulsa.
The early signing period begins Wednesday.
One player the Rebels are bringing in this weekend already has committed to them — cornerback Robert Jackson (6-3, 210) of College of the Sequoias in Visalia, Calif.
Two have committed elsewhere. Tight end Darneail Jenkins (6-5, 245) of Laney College in Oakland, Calif., committed to Colorado State in June. Linebacker Brian Keyes (6-2, 240) of Scottsdale (Ariz.) Community College said on Nov. 22 that he would play at Alabama-Birmingham.
Also visiting the Rebels are offensive lineman Michael Chevalier (6-4, 280) of San Diego Mesa College, linebacker Anthony Gutierrez (6-2, 230) of Santa Monica (Calif.) College, and punter/kicker Evan Pantels (5-10, 175) of Georgia Military College in Milledgeville.
— Contact Mark Anderson at manderson@reviewjournal.com or 702-387-2914. Follow him on Twitter: @markanderson65