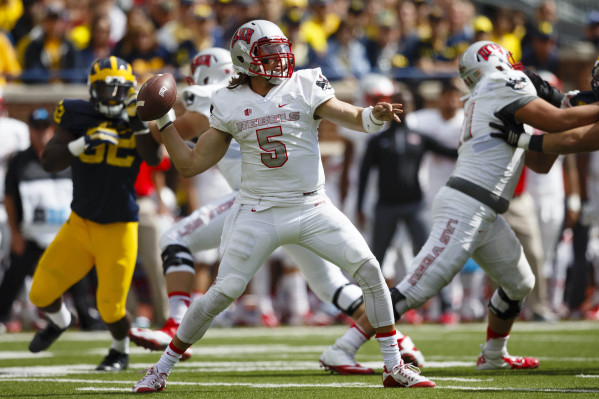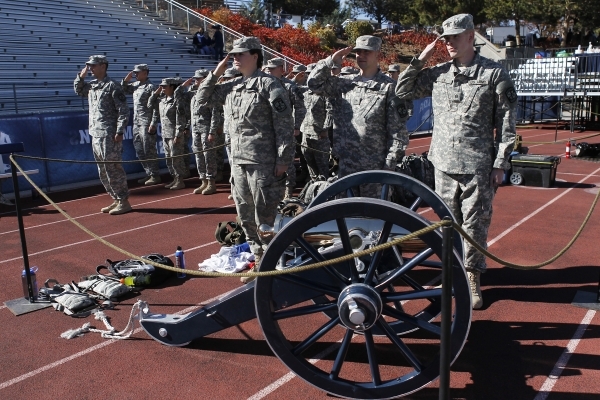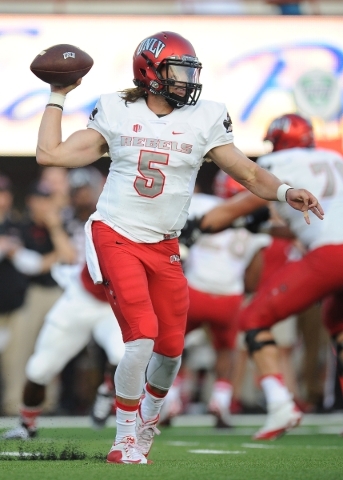 UNLV's annual football game against UNR is big enough by itself, with both teams desperate to own the Fremont Cannon and bragging rights for a year.
There's even more at stake this season.
Both schools would prefer this game be played at the end of the season — and beginning next year it will be — but because it's the Mountain West opener, each team is trying to establish momentum and take advantage of a weak West Division.
A victory over the Wolf Pack (2-2) in Saturday's 4 p.m. game at Reno would make UNLV (1-3) a team to watch moving forward.
"It's a tough opponent opening up in the Mountain West, but it's an opportunity for us to go out and show we're ready to compete in our division and compete in the Mountain West," UNLV quarterback Blake Decker said. "That's one of our goals is we want to win the Mountain West, and it starts with this Saturday."
The West is wide open, with its teams a combined 2-13 in nonconference games against opponents from the Football Bowl Subdivision.
TeamRankings.com uses a computer-based model to project a team's chances, and it predicts UNLV mostly likely will finish 5-7, but lists the Rebels as at least 59.4 percent favorites in five of their eight remaining games, which if they win them all would make them 6-6.
The site gives UNLV a 40.9 percent chance of beating UNR, a 6½-point favorite.
"It's huge," Rebels coach Tony Sanchez said of facing the Wolf Pack. "That's what it's all about. You go out there with the mindset to win every single game, but the first goal is to win the West Division and then try to win the Mountain West. That's going to be tough to do, but it starts with Reno."
Here's a breakdown of how the division stacks up and why the Rebels have real hope of contending this season:
FRESNO STATE (1-3, 0-1)
After opening with a 34-13 victory over Abilene Christian, the Bulldogs haven't been able to stop anyone. They have given up at least 45 points against all three FBS opponents, and none of those three games was close.
Fresno State was beaten 73-21 by Mississippi, 45-24 by Utah and 49-23 by divisional rival San Jose State, which means the Bulldogs already are in a major hole in the West.
They are last in the league in scoring defense, giving up 45 points per game.
HAWAII (2-2, 0-0)
The Rainbow Warriors' two victories were by eight points over Colorado and 20 over UC Davis, and Hawaii's two losses were by a combined 66-0 at Ohio State and Wisconsin.
Quarterback Max Wittek, a Southern California transfer, could give the Warriors a fighting chance in the division. But Wittek is off to a slow start, completing less than 50 percent of his passes with a touchdown-to-interception ration of 5-to-4.
Hawaii is too one-dimensional, averaging 97 yards rushing, worst in the conference. So it's no surprise the Warriors are last in time of possession, averaging only 22:51 per game.
SAN DIEGO STATE (1-3, 0-0)
The Aztecs were the odds-on favorite to win the division, but they are 1-3, with one of the defeats a 34-27 overtime loss at home to South Alabama. The Aztecs' victory was 37-3 over San Diego.
They have been competitive, but suffered costly end-of-half meltdowns in all three defeats.
San Diego State has other problems, too, averaging 294.2 yards per game, second to last in the conference. Donnel Pumphrey, a Canyon Springs High School product who rushed for 1,867 yards and 20 touchdowns last season, has been held to 305 yards and three TDs.
SAN JOSE STATE (2-2, 1-1)
The Spartans pounded Fresno State, and their other victory was 43-13 over New Hampshire. Their losses were 37-16 to Air Force and 35-21 to Oregon State.
This is a team that can move the ball. San Jose State averages 32.2 points and 448.2 yards per game. The Spartans also have the conference's top rusher in Tyler Ervin, who has 641 yards and nine touchdowns.
San Jose State, which needs to prove it can beat a quality opponent, could have a say in how the division plays out.
UNLV (1-3, 0-0)
The Rebels' record isn't impressive, but they were largely competitive in losing 38-30 to Northern Illinois, 37-3 to UCLA and 28-7 to Michigan. Then they blew out Idaho State 80-8.
UNLV, though, hasn't proven it can be competitive in the Mountain West, finishing sixth or worse in every season but one since 2003. With the Rebels, it's believe it when you see it.
Sanchez is trying to establish a new standard, and though the early results are promising, the game against UNR will be telling whether he is making the proper inroads.
UNR (2-2, 0-0)
UNR is an improving team. After opening with a 31-17 victory over UC Davis and a 44-20 loss to Arizona, UNR gave Texas A&M a competitive game before losing 44-27 and most recently traveled across the country and beat Buffalo 24-21.
Just as it is for UNLV, this is an important weekend for the Wolf Pack. They would establish themselves as a contender in the division with a victory, and TeamRankings.com lists them as the favorite in the West, with UNLV second.
UNR, which averages 210.5 yards, has the run game to compete with any divisional team, but the Wolf Pack don't have an effective passing attack and are shaky on defense in allowing a 479.8-yard average.
Contact Mark Anderson at manderson@reviewjournal.com or 702-387-2914. Follow him: @markanderson65
Check our GameDay page for all the news leading up to the UNLV-UNR game.