UNLV receives commitment from juco QB
December 13, 2010 - 12:00 am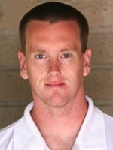 UNLV's quarterback battle in the spring just got more interesting.
Sean Reilly, out of Saddleback College in Mission Viejo, Calif., committed to the Rebels on Sunday, and he will sign Wednesday.
By signing during the early period, Reilly (6 feet 4 inches, 210 pounds) will be able to enroll in January and then go through spring practices. He will compete against future sophomore Caleb Herring and future redshirt freshman Taylor Barnhill.
"Being able … to go through spring ball is a huge advantage, and by coming now, I'll be here all summer," Reilly said. "I can come in and learn the system. It's definitely a (position) I'm going to work hard for."
He completed 60.6 percent of his passes this season for 2,323 yards and 20 touchdowns, with six interceptions. Reilly said he also considered Kansas, North Texas and Louisiana Tech, and rejected early interest from Virginia.
It was more than the lower-level interest he received coming out of Mission Viejo's Trabuco Hills High School. So Reilly headed to junior college, and now gets his wish of playing for a Football Bowl Subdivision team.
Reilly said he did more than look at UNLV's program. He also checked out coach Bobby Hauck's impressive seven-season, 80-17 record at Montana.
Then Reilly said he was even more impressed meeting Hauck and his assistants in person.
"Obviously, they've figured out how to win," Reilly said. "I think they know how to make winners."
Hauck is still trying to find the formula at UNLV, going 2-11 in his inaugural season.
Reilly could be a key player going forward. He led Saddleback to an 8-3 record this season, and had performances of 405, 391 and 382 yards as well as one five-touchdown game.
Now Reilly will look toward the spring when he competes against Herring and Barnhill. The opportunity is there to claim the job, but he said that wasn't his primary motivation for choosing UNLV.
"I love competition, but it's more the coaching staff," Reilly said. "But it's definitely a big deal the QB situation being what it is at UNLV."
Reilly, who visited over the weekend, is the Rebels' first commitment of this recruiting season.
"I really liked it when I visited," he said. "I liked the players. I liked the coaching staff. I was really impressed with the facilities. I was impressed with everything."
Contact reporter Mark Anderson at manderson@reviewjournal.com or 702-387-2914.