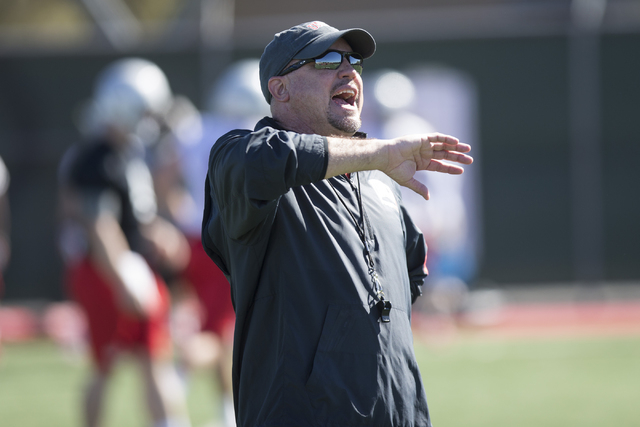 UNLV has had only two spring football practices, but one area is clearly not up to the standards of second-year coach Tony Sanchez. That would be the music playlist that can be heard loud and clear at Rebel Park throughout the team's two-hour-plus morning practice sessions.
Thus far, it has been almost exclusively hip-hop, with a token classic rock song thrown in for good measure. But nothing for Sanchez, who's a country music fan.
"We've got a new film coordinator. He came in from (Florida International). I told him to go ahead and DJ it, so I've got to give him more specific instructions," Sanchez said with a laugh. "We haven't had one country song yet and we have no Elvis or older stuff. That will be fixed.
"We've got to have a minimum of three or four country songs for me, and to honor old Vegas, we've got to have at least one Elvis or Sinatra, or something. And a practice isn't a real practice without Johnny Cash. And once in a while, for the old guys, throw in a Too Short or something like that from old rap music."
Here's a recap of Wednesday's practice, the second of 15 spring sessions at UNLV.
HIGHLIGHTS
The defense won the day as 6-foot-6-inch, 260-pound senior defensive end Jeremiah Valoaga went up high to bat down a pass by Dalton Sneed early on and redshirt freshman defensive back Jericho Flowers intercepted a pass by Kurt Palandech late in practice. Senior defensive back Jay'Onn Myles also broke up a couple of passes.
NOTES
* Former Rebels team captain and tight end Jake Phillips took a break from training for the school's Pro Day, which is scheduled for March 17 at Rebel Park, to drop by practice.
"I miss this, being out there with the guys. It's a feeling you can't mimic," he said. "Just the camaraderie. No matter what happens, you knew some guys had your back."
The 6-6 tight end, who has slimmed down from his playing weight of 265 to 258, has been working with UNLV strength coach Keith Belton and Rebels track coach Yvonne Wade to prepare for Pro Day.
"It's been going really well. I feel like I'm getting stronger and faster," he said. "Coach Belton knows his stuff. These guys are in good hands. I dropped some weight and that's helped with my speed and with my explosiveness."
* Linebacker Brian Keyes, a junior college midyear transfer, returned to practice after spraining his ankle Monday during a drill.
QUOTES
* Sanchez on the second day of practice: "Day two, it's better for all of us. Day one, the biggest thing is you've got to shake some of the rust off. We met today and talked to the defense about doing a better job of running to the football and pursuit and angles and stuff like that, and to the offense about doing a better job of finishing."
* Sanchez on the second day of practicing without pads: "It's hard, even when we get after it on Friday, we're not going to be full live tackle. But we're going to do a lot more thudding. It's just an easier game to play in shoulder pads. Things will look a lot cleaner. But we're better, as far as where we are on the install, the way guys are flying around, recognition and technique. We have a long ways to go, but we are a lot further ahead than where we were last year at this time."