UNLV spring practice opens with quarterback competition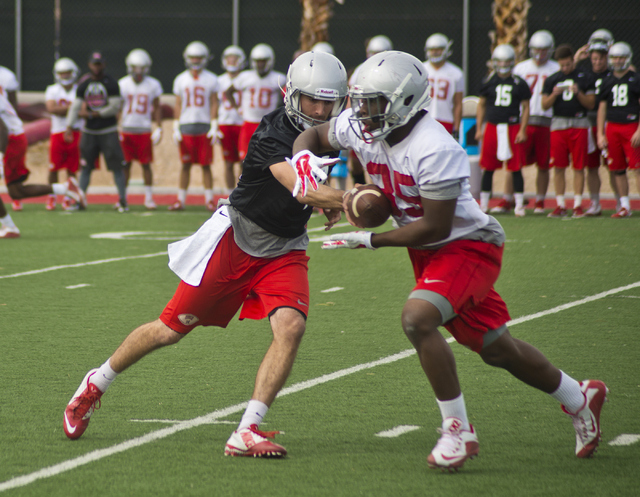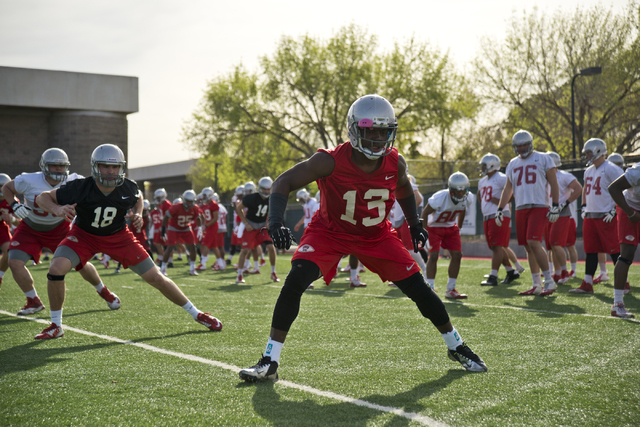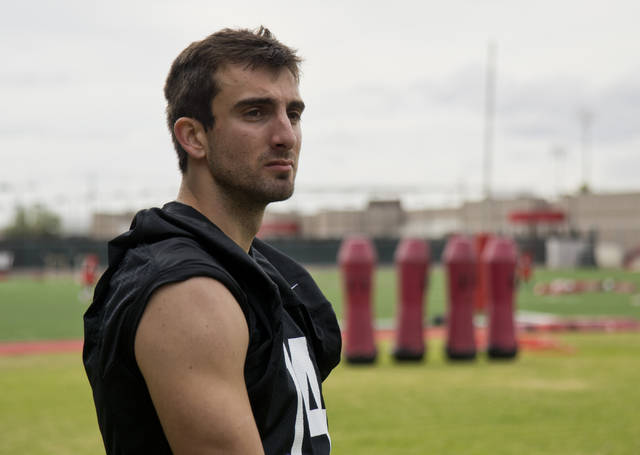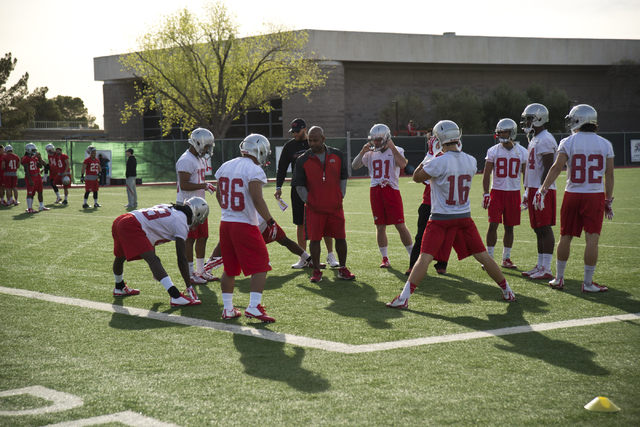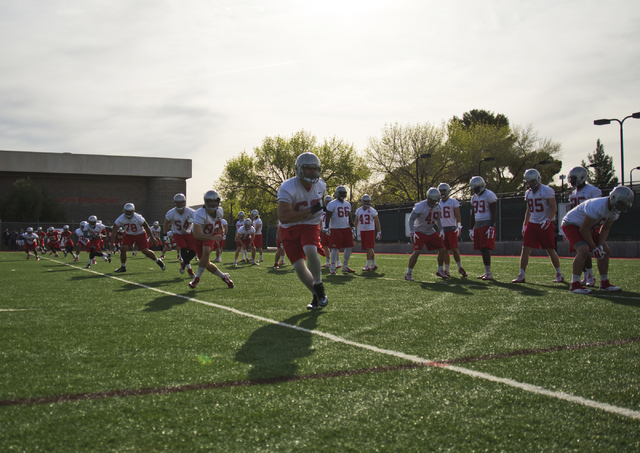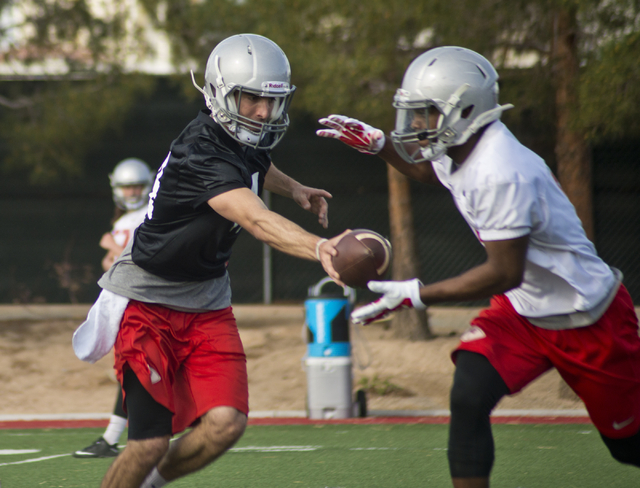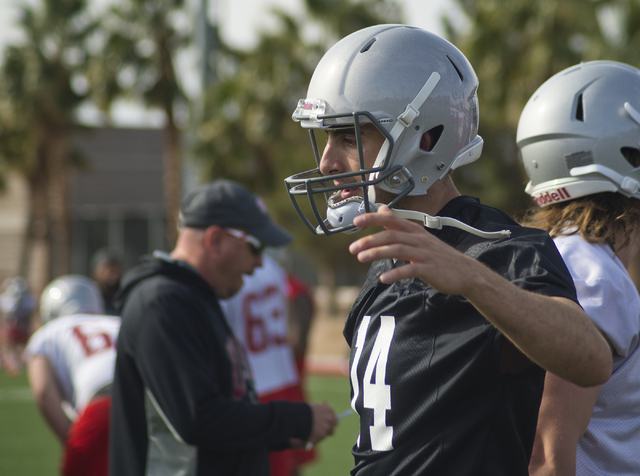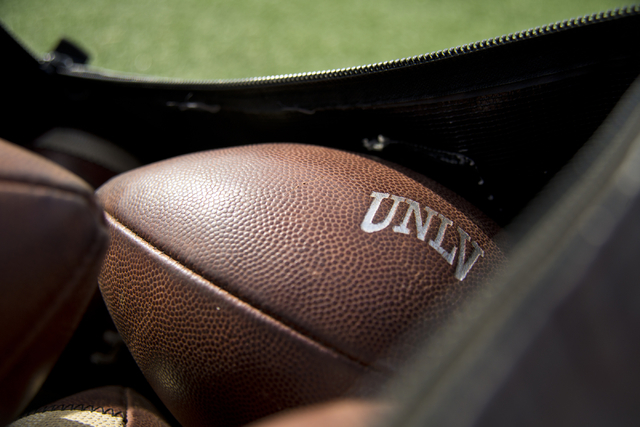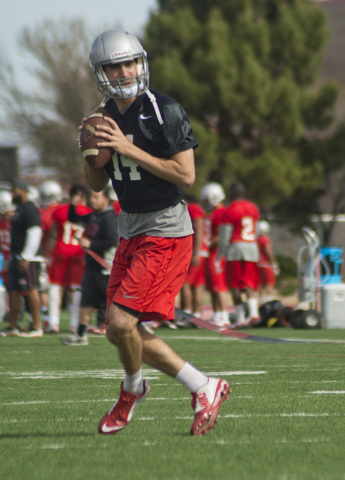 Technically, Kurt Palandech is UNLV's incumbent starting quarterback. But unless the junior can improve his passing technique, he'll probably be passed over for the starting job before the Rebels' Sept. 1 season opener by junior college midyear transfer Johnny Stanton or another quarterback on the roster.
Palandech, who was more adept at running the ball than throwing it last season in relief of injured starter Blake Decker, split first-team reps with Stanton and redshirt freshman Dalton Sneed on Monday during UNLV's first day of spring football practice at Rebel Park.
"If we talk about creating a culture of competition, then we have to truly let them compete," second-year coach Tony Sanchez said. "We can't say 'culture of competition' and one guy gets the job on Day One. You've got to earn it."
If the quarterback battle was based on physique alone, Stanton — at 6 feet 2 inches and a solid 245 pounds — would win it, hands down, over the 6-2, 190-pound Palandech and 6-foot, 195-pound Sneed.
"(Stanton) adds depth to that competition. He pushes Kurt, Kurt pushes him and you've got Dalton behind them," Sanchez said. "It just brings a big, physical guy in that makes that whole group more competitive."
After completing less than half his passes for UNLV last season (75-for-152, 794 yards, nine touchdowns, five interceptions), Palandech is determined to redeem himself as a passer this year and retain the starting job.
"Last year, I was inconsistent but I learned a lot from it," he said. "I went back and watched the film and saw what I needed to work on footwork-wise and ball placement-wise.
"This spring, I feel like I'm in position to show the coaches and the players that I can be that leader, I can run this offense and I can execute it. I think this year is going to be a different story."
The team's fourth-leading rusher last season with 419 yards and four TDs, the fleet-footed Palandech said he spent a lot of time in the offseason working on his passing technique.
"I worked on everything from footwork to throwing to trying to get a little heavier in the weight room," he said. "I do have the ability to run and I'll keep that. I'm just going to show this year that I can throw the ball.
"This spring, you'll see as I'm progressing, I'll be a different player out there. I'll be more complete instead of being one-dimensional."
Palandech said he worked with the team's receiving corps in the offseason on passing routes and in 7-on-7 drills to try to improve his timing.
"Just being on the same page with the receivers is huge," he said. "I knew where I was going with the ball (last season) but sometimes the connection wasn't always there. There's a lot of timing in our offense and being in rhythm and getting more reps will help."
Sanchez is impressed with Palandech's running ability, but said his passing must improve.
"We don't want to have a guy that's just a runner," Sanchez said. "We have got to be able to throw the ball first and run second, and he's doing a good job developing that passing ability."
Stanton produced the highlight of practice when he lofted a 50-yard touchdown pass to Brandon Presley during a 7-on-7 drill.
"I don't really worry about anyone else. I just focus on what I can control," Palandech said of the quarterback competition. "I'm definitely getting my fair share of opportunities. I've just got to make the most of them. I'm excited and I definitely feel I can be the guy this year."
Contact reporter Todd Dewey at tdewey@reviewjournal.com or 702-383-0354. Follow him on Twitter: @tdewey33