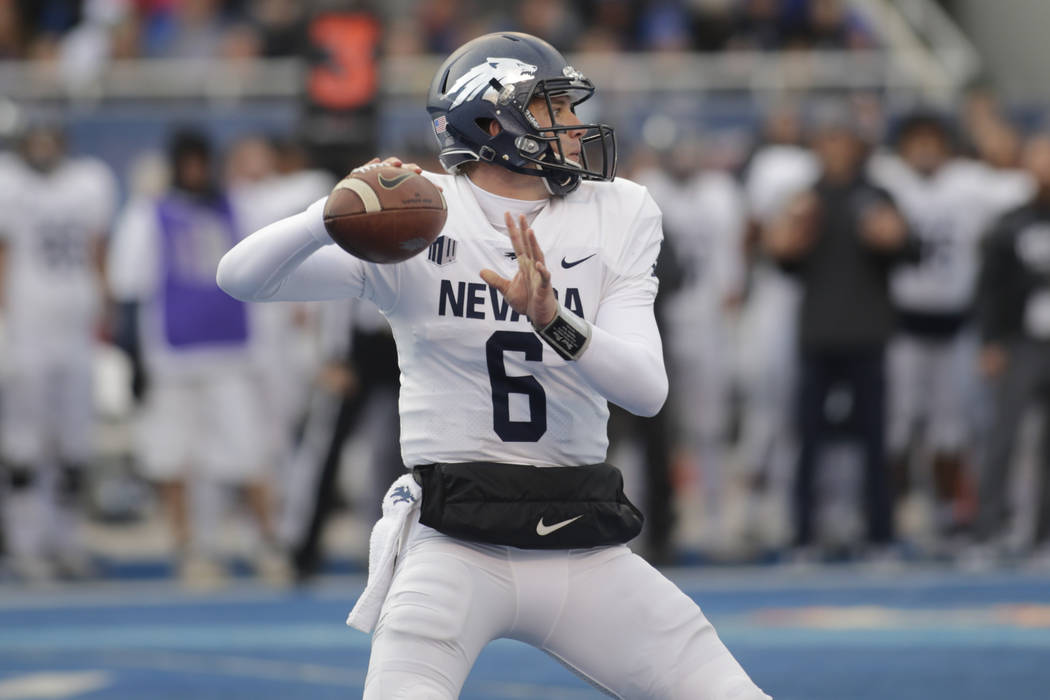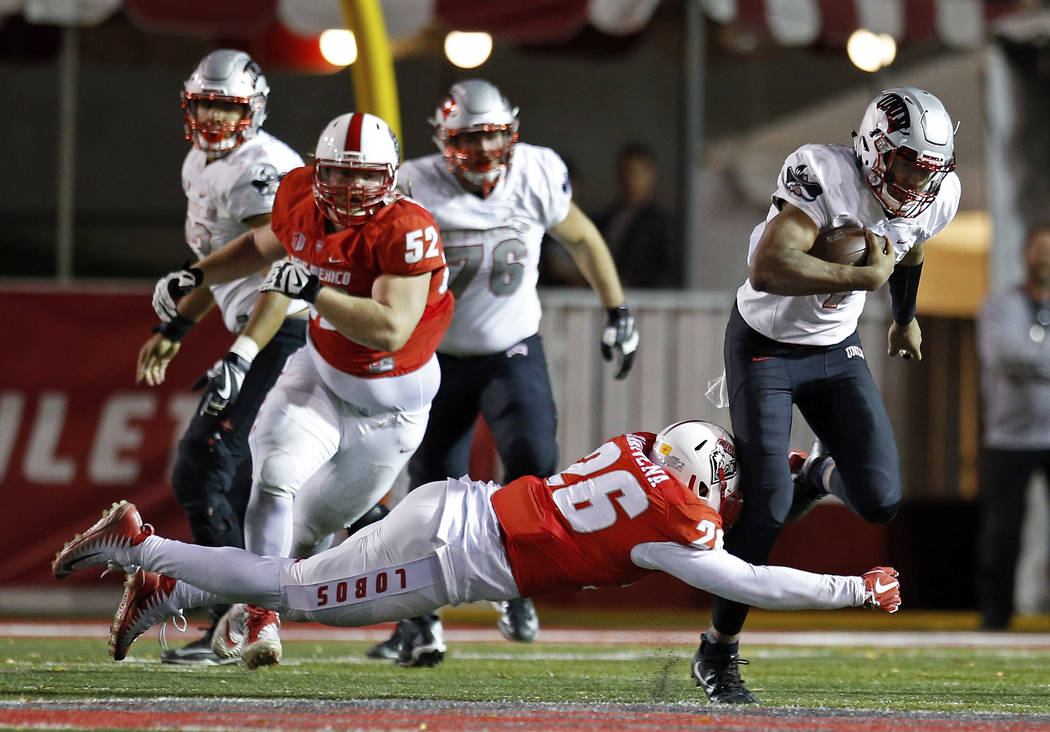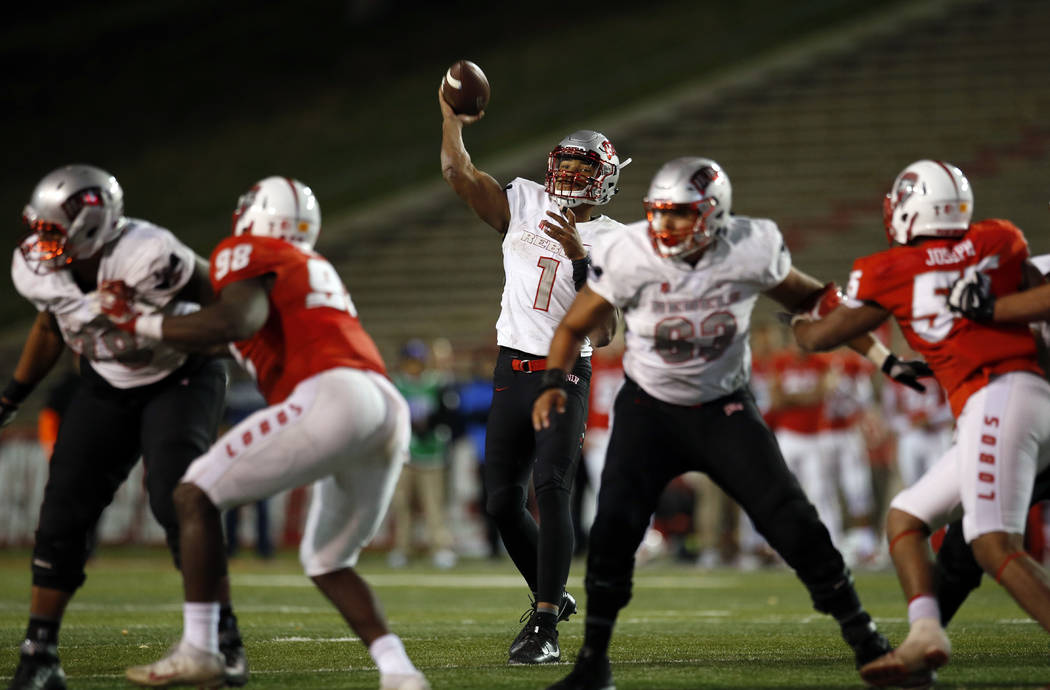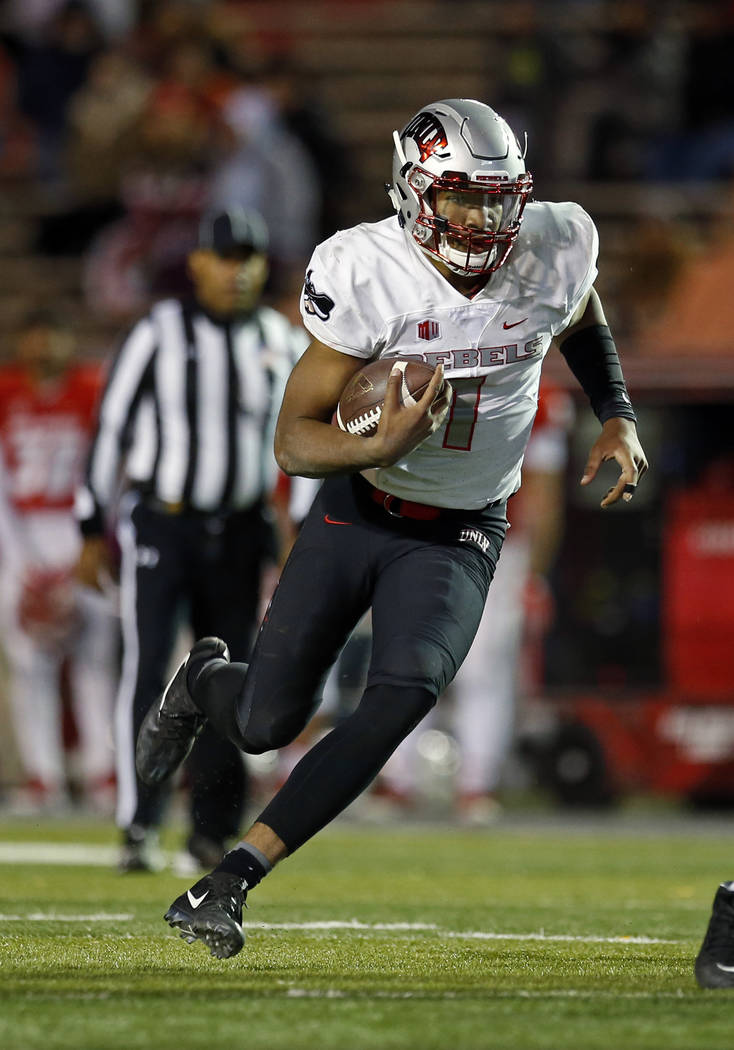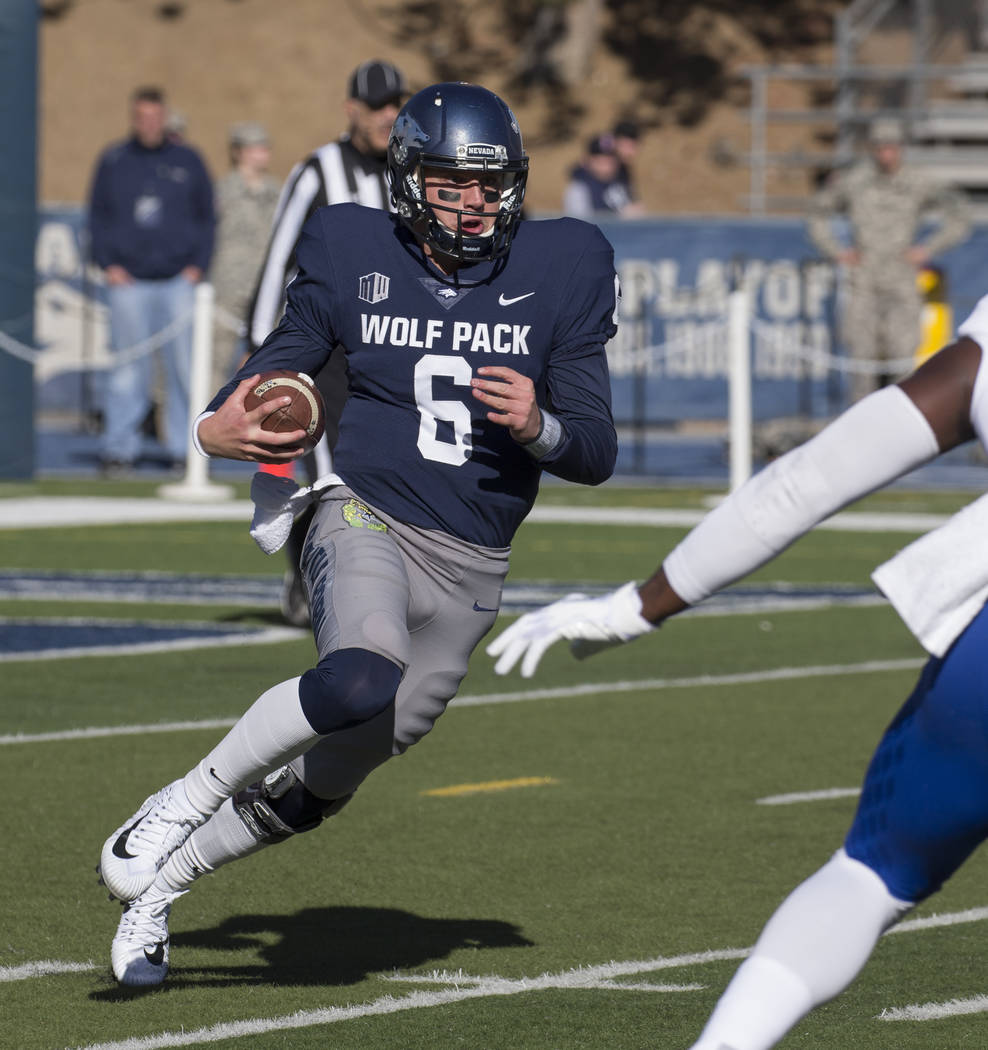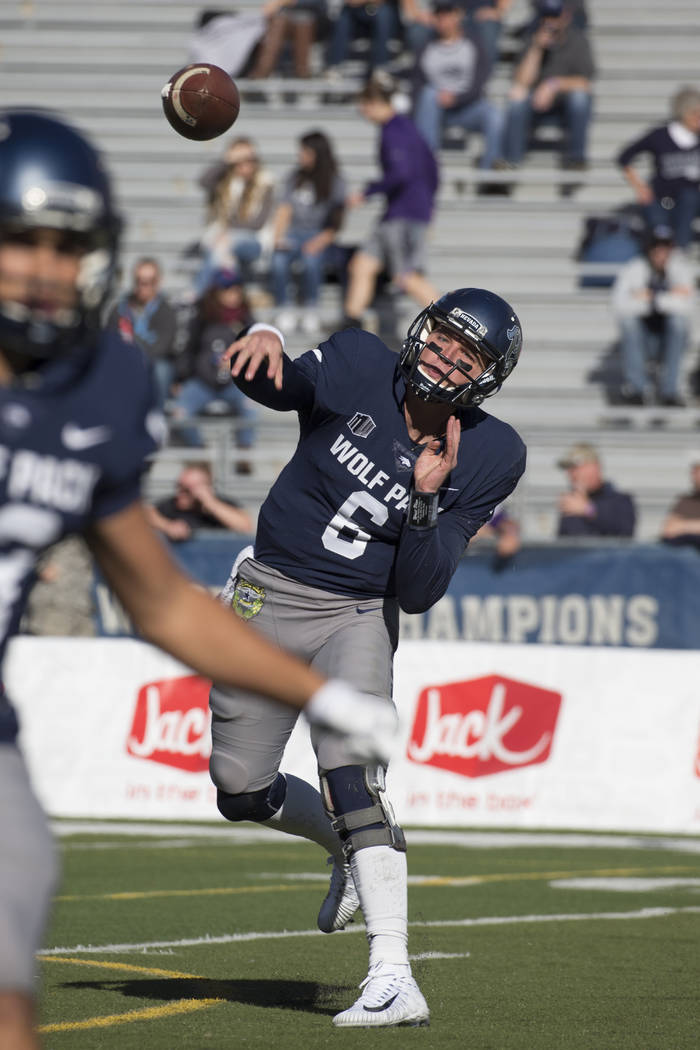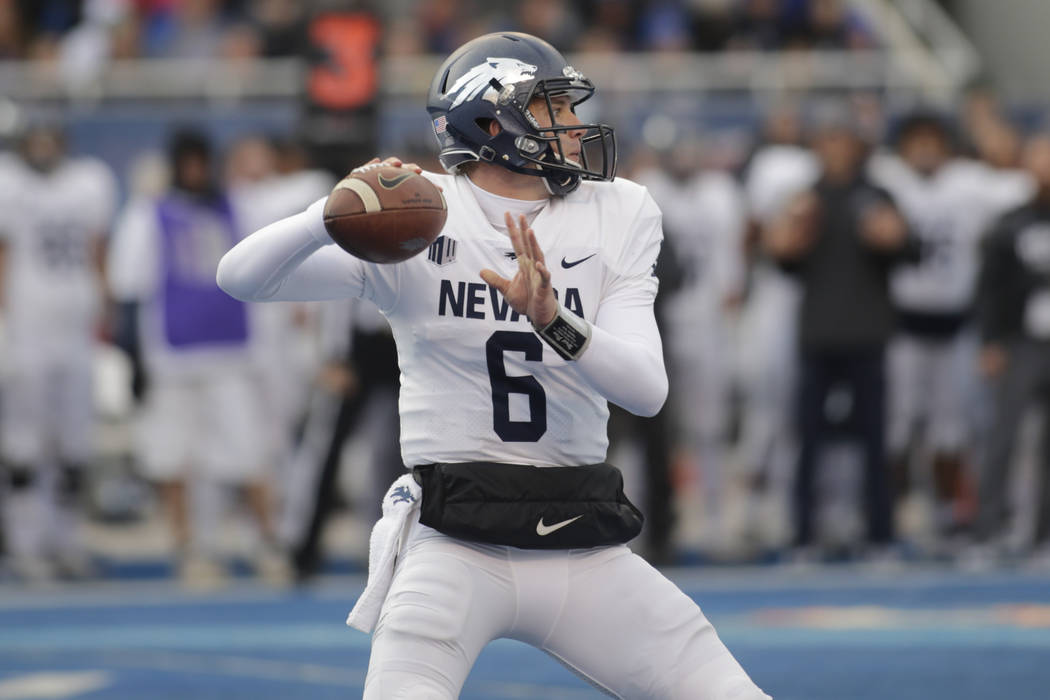 A look at who has the advantage at each position when UNLV heads to UNR for a noon game Saturday in Reno.
QUARTERBACKS
Freshman Armani Rogers is coming off perhaps his best game at UNLV, accounting for 404 total yards in a come-from-behind win at New Mexico. It was a star-making performance, but Rogers hasn't had the consistency of UNR junior Ty Gangi (23 TDs, 10 INTs).
Advantage: UNR
RUNNING BACKS
Sophomore Kelton Moore is having a solid second season with the Wolf Pack, with 746 rushing yards on 141 carries. His production is dwarfed by Rebels star Lexington Thomas, who ranks 17th nationally in rushing yards per game (115.7).
Advantage: UNLV
RECEIVERS
UNR boasts a triumvirate of receivers in Wyatt Demps (844 yards), McLane Mannix (669) and Brendan O'Leary-Orange (579). UNLV is trying to get to a bowl game and extend the college career of senior Devonte Boyd (579 yards), one of the best receivers in program history.
Advantage: UNR
OFFENSIVE LINE
The Rebels' rushing attack is far more efficient than the Wolf Pack's, averaging 5.69 yards per carry compared with UNR's 4.23. UNLV has allowed five more sacks than the Wolf Pack on 31 more pass attempts.
Advantage: UNLV
DEFENSIVE LINE
The Rebels are close to finishing in the bottom five in the FBS in rushing yards allowed per game (250.45) and fewest sacks (11). UNR is not good at stopping the run, either (212.27 yards allowed per game), but it at least has 20 sacks.
Advantage: UNR
LINEBACKERS
Wolf Pack senior Austin Paulhus ranks sixth in the Mountain West with 102 tackles to go with 13 tackles for loss. UNLV's leading tackle at linebacker, sophomore Gabe McCoy, has 72 tackles and three tackles for loss.
Advantage: UNR
SECONDARY
Teams have lit up UNR to the tune of 8.9 yards per passing attempt. Opponents also have passed for 24 TDs against the Wolf Pack with only eight interceptions. The Rebels allow 7.4 yards per attempt.
Advantage: UNLV
SPECIAL TEAMS
UNR sophomore Quinton Conaway and UNLV junior Evan Pantels have identical punting averages at 39.7 yards. Rebels kicker Daniel Gutierrez has made five of six field-goal attempts, and Wolf Pack sophomore Spencer Pettit has made seven of 10.
Advantage: UNLV
INTANGIBLES
A win against a 2-9 team gives UNLV the Fremont Cannon and a bowl game invitation, but its battles with UNR are never that simple. Weirdly enough, even though the Rebels are 2-8 in their past 10 meetings against the Wolf Pack, those two wins were in Reno.
Advantage: UNLV
HANDICAPPER'S TAKE
Bruce Marshall (goldsheet.com): UNR 38, UNLV 31 — Among spread trends in 2017, UNLV's 5-0 record vs. the line on the road is one of the more surprising. But there's a lot of hate between these rivals, and UNR would love to ruin the Rebels' bowl hopes. The Wolf Pack have been playing much better since mid-October, and UNR's spread offense is capable of outscoring UNLV.
Contact Ben Gotz at bgotz@reviewjournal.com. Follow@BenSGotz on Twitter.