UNLV working to put more pressure on quarterbacks
Updated August 9, 2018 - 8:27 pm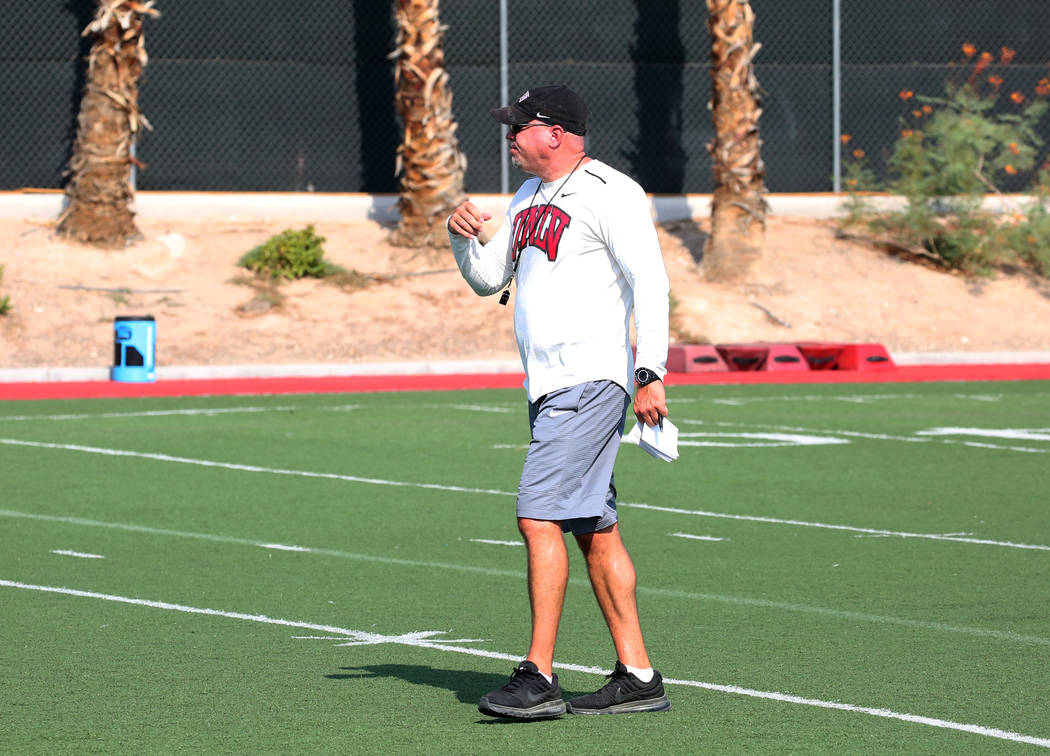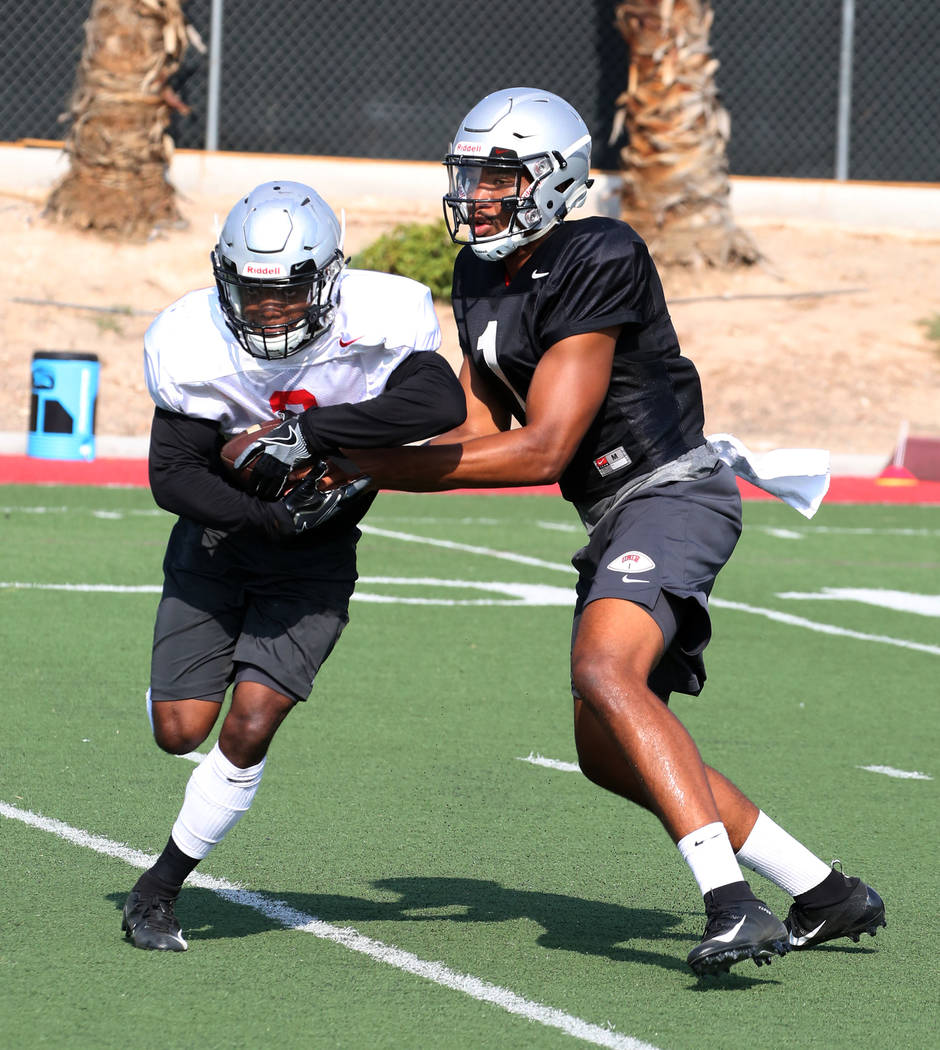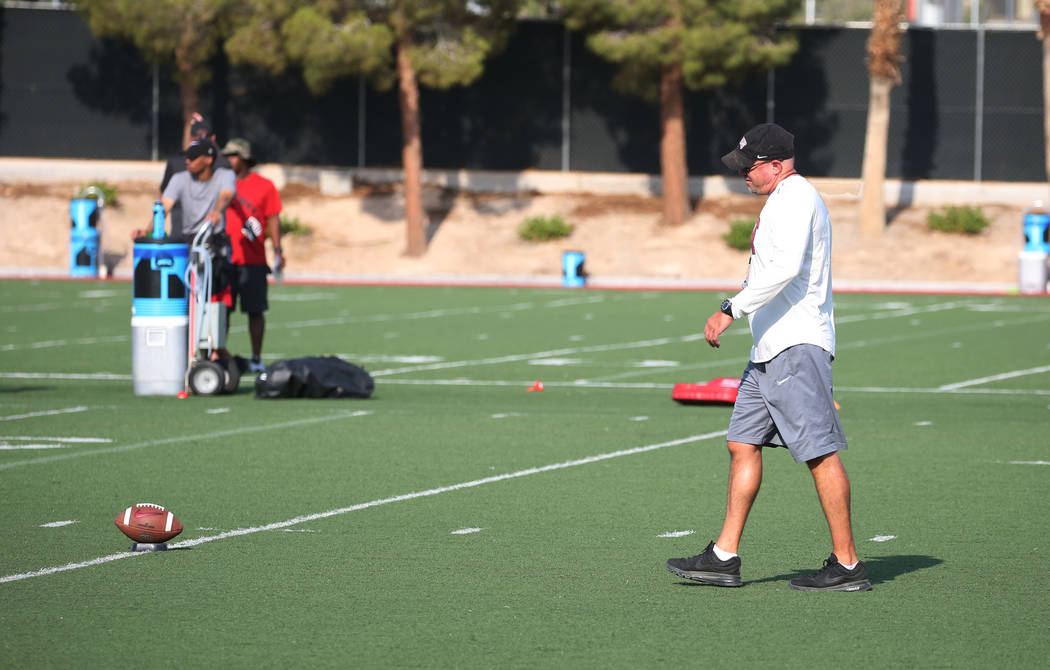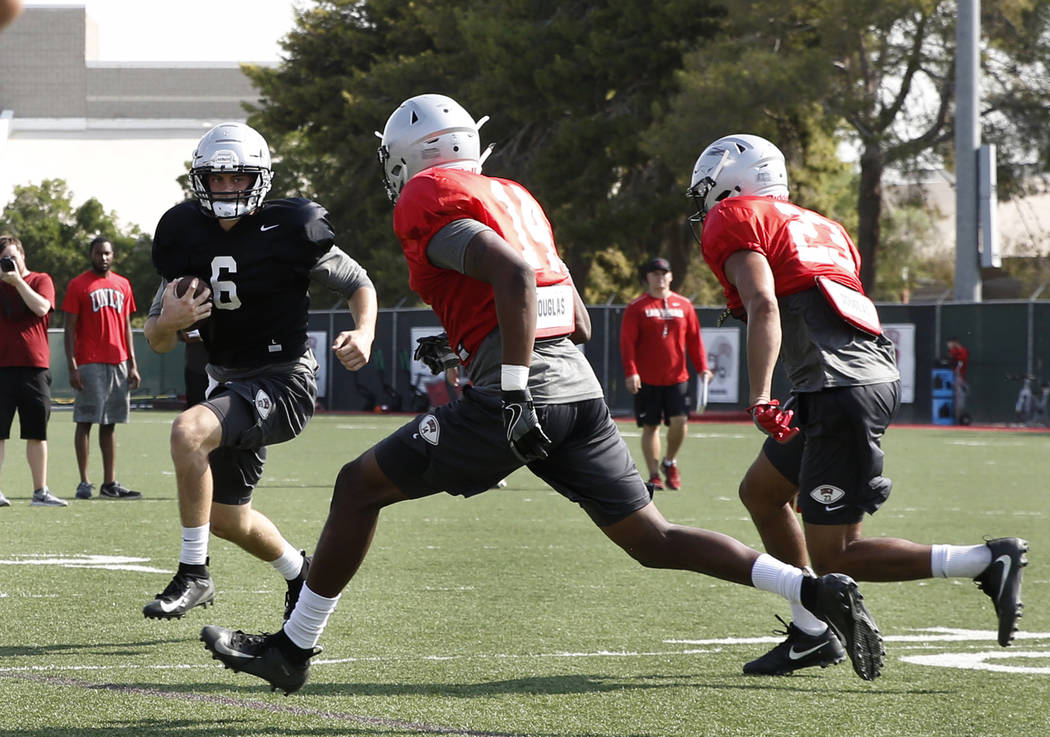 When a pass defense breaks down, the easiest thing to do is blame the secondary, especially a cornerback burned in man-to-man coverage.
Pass defense, though, is an 11-man effort. Just like safeties are expected to help on run support, the defensive front needs to do its part to make life easier for defensive backs on pass plays.
UNLV's defensive front simply didn't do the job last season, and under the direction of new coordinator Tim Skipper, those players are working to show more has changed than simply who oversees that side of the football.
"No. 1, we're a little more athletic in that area, and No. 2, we've got more bodies rolling in," coach Tony Sanchez said. "Part of being a good pass-rushing team is being able to roll guys in. One of the things when you play a Power Five school … we played Ohio State last year and they're hockey changing. They're rolling in an entire new set of line throughout a series.
"We don't have that (lack of depth) as much this year. It's still yet to be seen. We've got to get in games, but I think us keeping fresh along with the scheme is going to make us a better pass-rush team."
The first true indication of whether UNLV can generate an effective pass rush won't be known until the Sept. 1 season opener at Southern California and maybe not even then considering the competition of facing an elite program. If the Rebels get to opposing quarterbacks in the succeeding weeks, they will greatly improve their chances of making a bowl.
There were many reasons UNLV went 5-7 last season and fell a victory short of qualifying for the postseason, but the lack of a pass rush was near the top of the list. The Rebels registered 11 sacks, with only Air Force's 10 lower in the Mountain West.
With opposing quarterbacks having time to throw, they completed 61.8 percent of their passes against UNLV for an average of 219.3 yards per game.
"When receivers have got five, six seconds in their routes, it's just hard to cover," defensive end Jameer Outsey said. "The more we can hurry up and get to the quarterback, it will help the DBs out. It will help everybody out. When the ball comes out quicker, it's better for everybody."
Getting sacks is just part of it. Quarterback pressures can be just as valuable.
"Just rattle him," Outsey said. "If he gets the ball off, you give him a little tap on the back letting him know like, 'I didn't have the extra second and a half to think.'"
How UNLV plans to put more pressure on quarterbacks remains to be seen.
The Rebels use a four-man line, and ideally a team would generate pressure from that group rather than blitz and put cornerbacks in single coverage. If there isn't enough pressure coming from that group, then there might be no alternative but to take chances with at least occasional blitzes.
But there also is the benefit of mixing in blitzes even with a strong four-man rush, if for no other reason than to keep the offense guessing.
"He needs to know that we are there," Skipper said of opposing quarterbacks. "That's the bottom line, however we do that. If it needs to be a four-man rush, three-man rush, bring five, bring six, whatever, he needs to feel that we are there."
More Rebels: Follow all of our UNLV coverage online at reviewjournal.com/Rebels and @RJRebels on Twitter.
Contact Mark Anderson at manderson@reviewjournal.com. Follow @markanderson65 on Twitter.
2017 MW sack leaders
1. Fresno State 34
2T. Boise State 33
2T. Wyoming 33
4. Colorado State 27
5T. Hawaii 24
5T. Utah State 24
7T. San Diego State 23
7T. UNR 23
9. New Mexico 21
10. San Jose State 13
11. UNLV 11
12. Air Force 10