UNLV's Tony Sanchez doesn't fault Kenny Keys for targeting penalty
September 14, 2016 - 12:20 am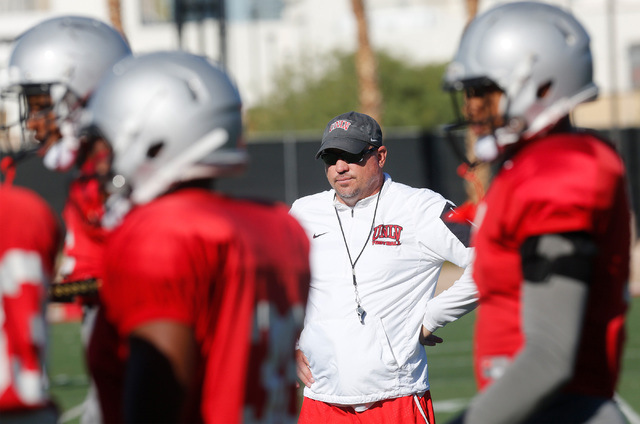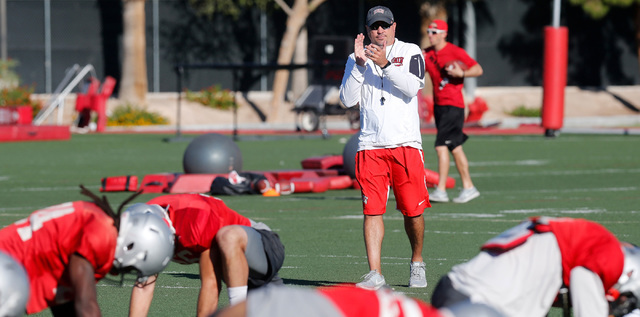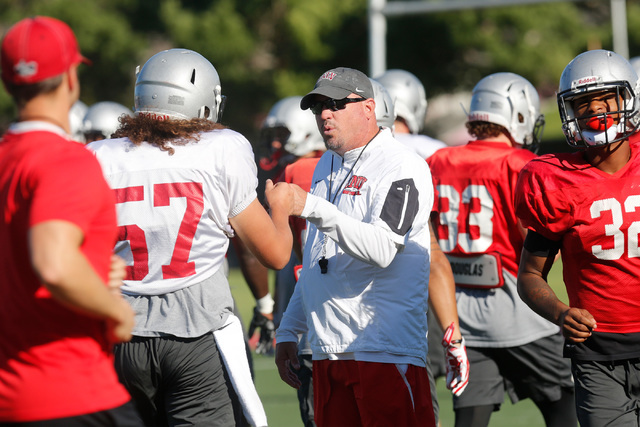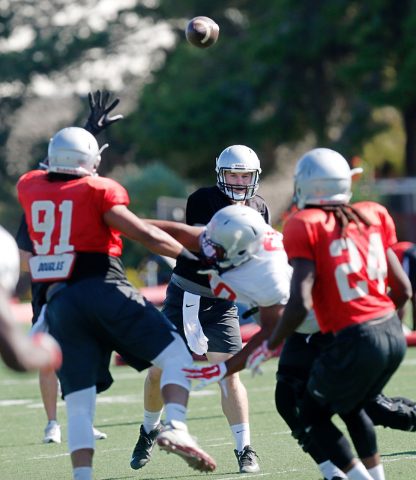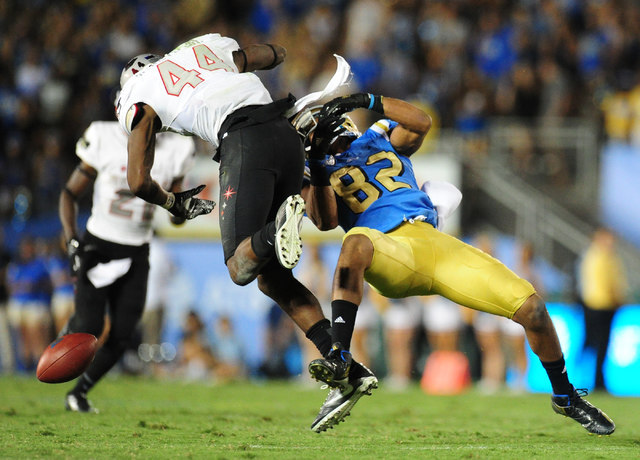 When Kenny Keys returned to the sideline Saturday night at the Rose Bowl after getting flagged for a targeting penalty in the fourth quarter that proved to be the turning point in UNLV's 42-21 loss to UCLA, Rebels coach Tony Sanchez told the senior safety he didn't do anything wrong.
Three days after Keys appeared to catch the chin of Bruins receiver Eldridge Massington with his helmet while breaking up a third-down play that would have given the ball back to the Rebels with a chance to tie, Sanchez said he felt the same way.
"I don't blame the officials for throwing (the flag) because that's the letter of the law now. The game's changed so much. Three years ago, that's not a penalty. Nowadays it is," he said Tuesday at his weekly news conference at UNLV. "You've got a bang-bang play. It's not just the ball in the air. It's the game in the air. He's full speed trying to get to that intercept point. He didn't hit him directly with the helmet. It was more of a shoulder that led up into the helmet.
"I told him I don't know how to coach it any differently. You try to get your hands in there, but when you're going a million miles an hour and you're trying to get to that ball like your life depends on it, what do you do?
"He didn't really do anything wrong. At the same time, the officials didn't, either. It is what it is. It's just the difference in the game. That's a real hard thing."
Keys, a senior free safety, was ejected from the game and, per NCAA rules, will be suspended for the first half of Saturday's game at Central Michigan.
"I felt like they made the decision really, really fast," Sanchez said of the officials' replay review. "I watched it back. To be honest with you, I didn't see any intent. He didn't leave his feet and dive into him with his head. He did lean over, he did throw the shoulder, and there was a little bit of head to head. Based on the rule, you can't get upset about it. That's the game we play right now."
After getting awarded a first down, UCLA scored a touchdown four plays later to extend its lead to 35-21 and wasn't threatened again.
HIGH HOPES
Sanchez said being in striking distance of UCLA in the fourth quarter showed a tremendous amount of growth by the Rebels since last year's 37-3 loss to the Bruins. He also said his ultimate goal is to have UNLV on the same level as UCLA.
"Call me unrealistic or not, but some people look at mountains and say, 'That looks too hard. I don't want to climb it,'" he said. "I've always said, 'I wonder what the view looks like up there and let's go!'"
MOUNTAIN WEST VS. POWER FIVE
Mountain West teams are 2-7 against squads from Power Five conferences this season, with the seven losses by a combined score of 340-96, an average of 48-14. Boise State and San Diego State pulled out the two wins Saturday, with the Broncos beating Washington State 31-28 and the Aztecs holding off California 45-40.
INJURY REPORT
Sophomore wide receiver Brandon Presley will miss his second straight game with a foot injury, and Sanchez said it looks as if it will be "a couple more weeks" before Presley returns.
Junior Kurt Palandech will remain the No. 3 quarterback at Central Michigan behind starter Johnny Stanton and backup Dalton Sneed because of a lingering sore shoulder.
"He's not 100 percent throwing the football. He's our No. 2, but Dalton's got that role right now and he's doing a great job with it," Sanchez said. "It has nothing to do with Palandech's inability to compete. He's available. We're just trying to get him 100 percent."
Contact reporter Todd Dewey at tdewey@reviewjournal.com or 702-383-0354. Follow him on Twitter: @tdewey33
Visit our GameDay page for full coverage of the UNLV-Central Michigan game.