Vick puts team on back during Eagles' big rally
December 21, 2010 - 12:00 am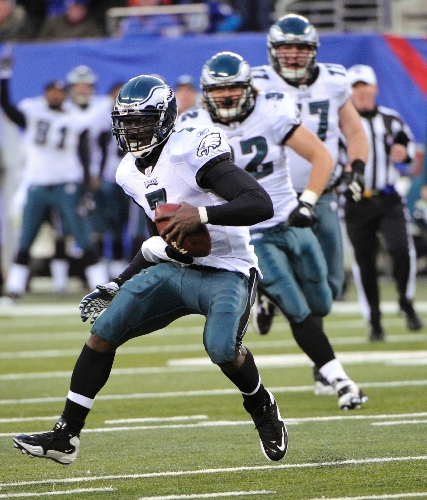 PHILADELPHIA — With Michael Vick, the Philadelphia Eagles always feel they're in the game.
It's only fitting Vick has become Captain Comeback. After all, his remarkable comeback to the NFL is one of the most compelling stories in sports.
In his latest dynamic performance, Vick rallied the Eagles from a 21-point deficit with 8:17 remaining, and DeSean Jackson completed the stunning rally with a 65-yard punt return on the final play to give Philadelphia a 38-31 win over the New York Giants on Sunday.
The win gave the Eagles (10-4) sole possession of first place in the NFC East and bolstered their chance for a first-round bye in the playoffs.
"Determination and poise is hard to coach and this group has got that and they showed that yesterday, both coaches and the players," coach Andy Reid said Monday. "They all worked together to figure it out and get it right and we were fortunate enough to have enough time. That big heart, that's hard stuff to coach. You either have that or you don't and this group seems to have that and they showed it last night with one of the all-time great games in NFL history."
Jackson's spectacular return beat the Giants (9-5). But it was Vick who made it possible by leading the Eagles to three straight touchdowns to tie it up after they fell behind 31-10.
For 3½ quarters, Vick was battered, frustrated and contained. The Giants took away his deep passes, gave him no room to run and hit him every chance they got.
Then No. 7 broke loose. He scrambled like his "Superman" days in Atlanta, and his passes were right on target.
"Oh my goodness," rookie linebacker Jamar Chaney said. "He lets us know that we can come back from behind. Michael Vick is definitely a great leader."
Vick has led the Eagles on fourth-quarter comebacks in their last four wins. He's engineered second-half comebacks in five of the last six victories.
"He had the attitude like, 'Hey guys, I'm going to score. I'm going to get the job done. If you're going to be with me, come with me. If not, I'm gone, no matter what,' " running back LeSean McCoy said. "Once you hear stuff like that, I mean, you've got to go with him, you know?"
Vick completed 5 of 10 passes for 108 yards, and ran four times for 94 yards in the last three scoring drives that set up Jackson's clutch return. He finished with 242 yards passing and 130 more rushing.
First, Vick fired a 65-yard TD pass to Brent Celek. Then he used his legs to make big plays on the next two drives. He had runs of 35, 33 and 22 yards. His 33-yard scramble came on third-and-10 from the Eagles 12 with 2:50 left.
"I believe in myself. I believe in my teammates. I believe in the guys around me," Vick said.
The Eagles became the ninth team in NFL history to win after trailing by at least 21 points in the fourth quarter and the first since 2006. They're the first team to trail by 21 with under eight minutes left and win in regulation.
Vick, who began the season as the backup to Kevin Kolb, is having the best all-around year of his career, including the three times he went to the Pro Bowl with the Falcons.
He has 2,755 yards passing, 20 touchdowns and only five interceptions. He also has run for 613 yards and eight scores. Vick's completion percentage (63.2) and passer rating (103.6) are career bests. He is tied for his career high in TD passes and TD runs. And, he's done it all despite missing three full games, not playing the first half in one and getting knocked out after one quarter in another. He has started and finished nine games, in which the Eagles are 8-1.
GIANTS SAFETY ROLLE: DEFENSE AT FAULT FOR EAGLES' COMEBACK
EAST RUTHERFORD, N.J. — Giants safety Antrel Rolle said if there was anyone to blame for his team's monumental collapse against the Eagles, it was New York's defense.
Rolle downplayed Giants rookie punter Matt Dodge's mistake of failing to get the final punt out of bounds, as coach Tom Coughlin ordered. That led to DeSean Jackson's stunning 65-yard punt return as time expired, leaving New York with a 38-31 loss in a game it led 31-10 with less than eight minutes to play.
"We're in this hole, and it's not quite a hole because we still control ourselves," Rolle said, noting the Giants (9-5) control their playoff destiny. "All we have to do is go out and win. We win and we're in. We know what went wrong, and let's just keep fighting."
THE ASSOCIATED PRESS