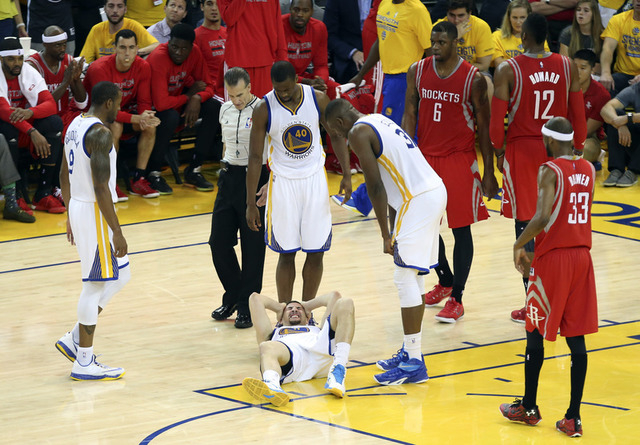 The Splash Brothers turned into the Crash Brothers in the final two games of the Western Conference finals.
After NBA Most Valuable Player Stephen Curry had a scary fall in Game 4 in Houston, fellow Golden State Warriors guard Klay Thompson took a nasty knee to the head from Houston Rockets forward Trevor Ariza on Wednesday in Game 5.
Thompson was cleared to play after being taken to the locker room to have his bleeding ear stitched up, but didn't return to action as Golden State maintained a comfortable lead the rest of the night on the way to its 104-90 victory over the Rockets.
Following a postgame TV interview in which Thompson said he felt dizzy, the Warriors released a statement saying Thompson didn't show any concussion-like symptoms immediately after the injury, but did develop concussion-like symptoms after the game.
Thompson will have a week to recover as the NBA Finals don't start until June 4.