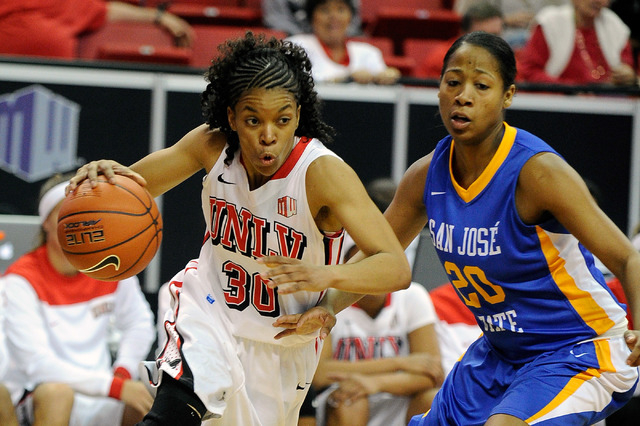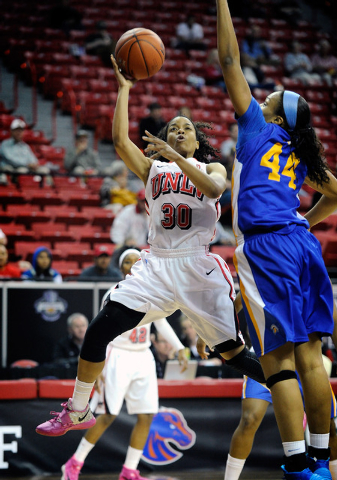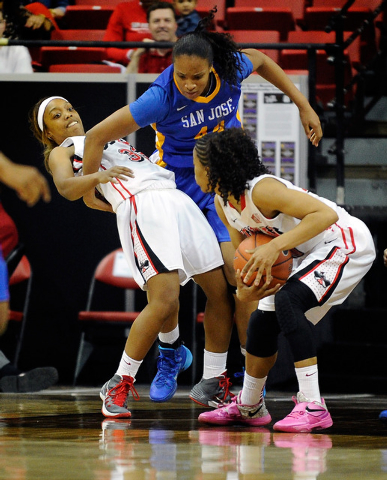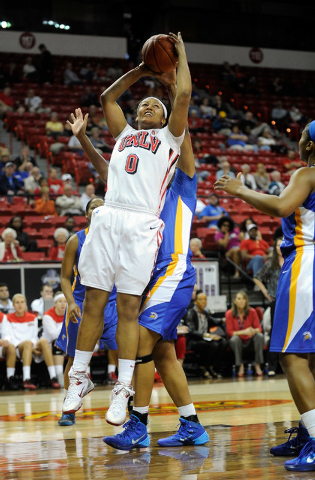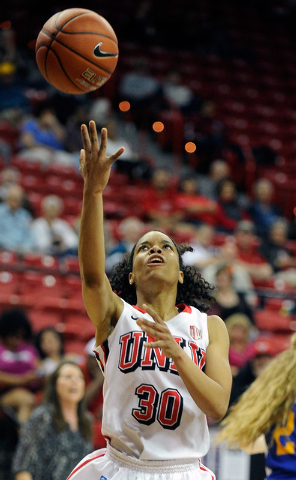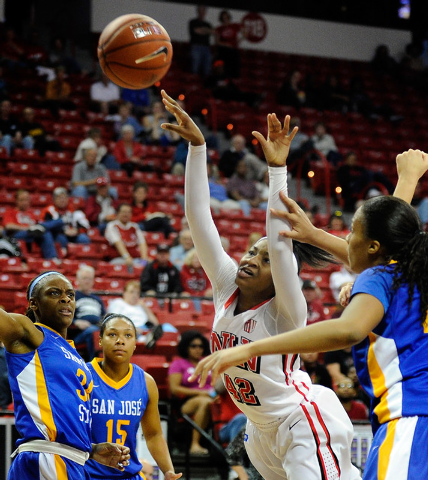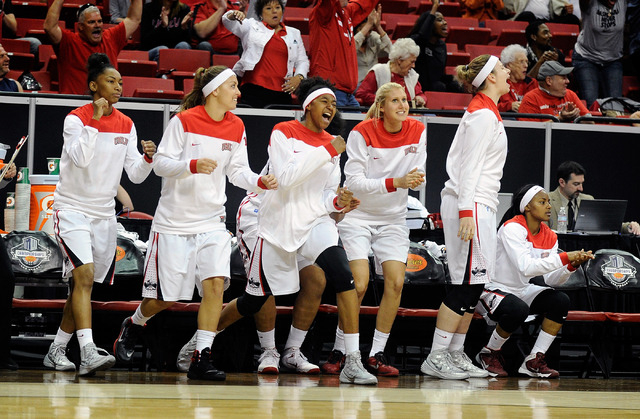 Mia Bell walked onto the podium with ice on both knees, and Aley Rohde sat down with a big ice pack over what is believed to be a torn left labrum.
They and their UNLV teammates were in quite a battle Monday, doing all they could to avoid another disappointing early ending in the Mountain West tournament.
The Lady Rebels almost were crushed again. They withstood first- and second-half runs by San Jose State that almost ended their basketball season. But UNLV rallied to beat the Spartans 78-75 for its first conference tournament victory since 2009.
Seventh-seeded UNLV (13-18) plays No. 2 Fresno State (19-10) at 6 p.m. today in a quarterfinal at the Thomas &Mack Center. The Bulldogs easily won both regular-season meetings.
At least the Lady Rebels get to play another game. They came close to losing their third tournament game in a row as the higher seed.
"We didn't want to deal with that again — sitting in the locker room for 30 minutes, hearing them cheering, us down," said Rohde, who scored a team-high 16 points on 6-of-6 shooting.
Tenth-seeded San Jose State (11-19) almost put UNLV down for good with two big runs.
In the first half, the Spartans used a 3-point barrage to build a 36-23 lead with 4:29 left. They made eight 3-pointers against UNLV's zone defense. Lady Rebels coach Kathy Olivier stayed in the zone to protect her players from foul trouble.
But Olivier switched to man-to-man defense in the second half, and the Lady Rebels went ahead 48-46 before the Spartans reeled off 10 consecutive points.
As in the first half, UNLV didn't panic.
"You have to keep yourself together," Rohde said. "Basketball is a game of runs. It's going to happen. It's inevitable. As long as you keep yourself together, work as a team … then you'll take care of the business you're trying to take care of."
UNLV did just that in the crucial closing minutes.
Down 71-67, Danielle Miller made a 3-pointer with 3:01 left to pull to within one. She put the Lady Rebels ahead 72-71 on a layup with 56 seconds left.
With San Jose State back in front by a point, Miller made two free throws with 39.9 seconds remaining for a 74-73 lead.
"I'm feeding off Mia the entire time," said Miller, who scored 14 points. "I was in the right place at the right time three or four possessions within that game."
Bell then came through with the game's key defensive play, jumping into the passing lane to intercept a pass by the basket.
"I saw opportunity," said Bell, who scored 10 points. "I just felt like I had to go for it."
She then stepped to the free throw line and made both shots for a 76-73 lead with 15.9 seconds remaining. Bell earlier missed two of three free throws after being fouled on a 3-point attempt.
"The two I missed, they both went in and out," Bell said. "It wasn't like in my mind, 'Oh, God, I have to make these two free throws.' I wanted this game. That's all I was thinking about: 'Take your time and make them. ' "
After a San Jose State basket, UNLV's Briana Charles made two more free throws with 9.5 seconds left for a 78-75 lead.
The Spartans' Classye James missed a 3-pointer at the buzzer. UNLV could have taken the ball out of her hands by fouling, but Olivier said she never seriously considered that option.
"I get nervous about that," Olivier said. "I don't like giving teams opportunities to put points on the board. It crossed my mind. I thought, 'Oh, I'm not even going to go there.' Our team was really dialed in to get a stop."
The Lady Rebels now move on.
They're not ready for what has been a disappointing season to end.
"I feel strongly that this team can beat anyone," Olivier said. "I know that we just haven't played consistent. When we're all on the same page, striving for that one goal, that same goal, we're a much better team."
Contact reporter Mark Anderson at manderson@reviewjournal.com or 702-387-2914. Follow him on Twitter: @markanderson65.