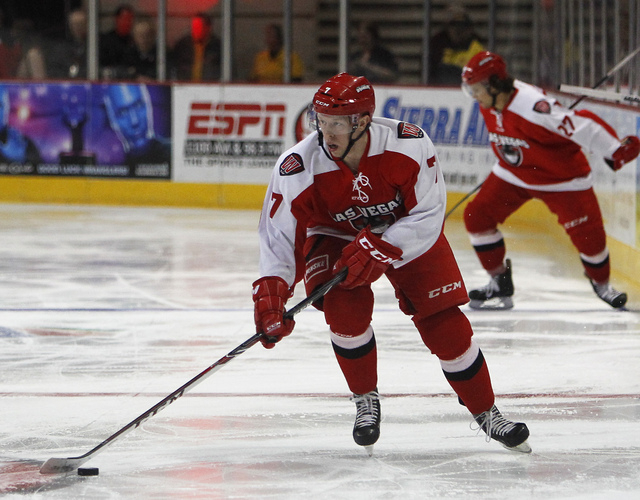 Almost a year to the day after he had surgery to remove his gall bladder, a kidney, some lymph nodes and 35 percent of his liver, stage four cancer survivor Chris Kushneriuk made his long-awaited return to professional hockey with the Wranglers.
Playing his first ECHL game since 2012 — when in the summer after his rookie year with Wheeling and Bakersfield he was diagnosed with a rare form of testicular cancer — Kushneriuk made his emotional debut for Las Vegas on March 5 in Idaho.
"It was hard not to get caught up in it," the 27-year-old from Ottawa, Canada said. "There was so much excitement and I was a little bit anxious. It was just that feeling of 'We did it!' It was such a powerful moment."
In the third game of the series against the Steelheads — who, fittingly, were hosting a cancer awareness weekend — Kushneriuk punctuated his improbable comeback by scoring his first goal since his body was ravaged by the disease.
"That felt really good. I'll never forget that," he said. "It was in similar fashion to how I got all my other ones — around the net, getting dirty and finding a loose puck."
The gritty Kushneriuk was bothered by back pain throughout the 2011-12 season, but chalked it up to the normal wear and tear of pro hockey. However, as the disease progressed, the pain intensified to the point where he couldn't get out of bed.
In June 2012, Kushneriuk received the grim diagnosis and was told the cancer had spread to his abdomen and liver.
"I knew I was in for a battle," he said.
He immediately had surgery to remove a testicle, but when the cancer became resistant to chemotherapy, Kushneriuk learned in November 2012 that he had six months to live.
With no viable treatment available for him in Canada, Kushneriuk sought help in the United States from Dr. Lawrence Einhorn, who had successfully treated cyclist Lance Armstrong.
"He actually told me the day he met me, 'We're going to get you back on the ice again,'" Kushneriuk said. "He didn't know if he was actually going to be able to do that, but he knew I wanted to be around good, positive people who believed we could get through it."
However, before Kushneriuk could be admitted to the Indiana University Cancer Center, he had to come up with a large chunk of cash for the costly treatments, which totaled about $340,000.
Kushneriuk's father, John, who was unemployed at the time, handed over his life savings of about $145,000 to get the process started.
The hockey community then stepped up in a big way, raising more than $120,000 through efforts by NHL players, the ECHL's Bakersfield Condors and Wheeling Nailers and Pittsburgh's Robert Morris University — where Kushneriuk was captain and twice named the team's most inspirational player.
His alma mater started a "Krush Cancer" initiative and dedicated its 2012-13 season to him. The Colonials then compiled their best Division I season ever.
NHL players, including Sidney Crosby and Mike Fisher, donated auction items such as autographed guitars by Fisher's wife, singer Carrie Underwood, and took part in charity games for Kushneriuk during the NHL lockout.
"At that time, I was looking for some kind of inspiration, and that was very inspiring to me to see how people came together to help me out," Kushneriuk said. "That was very powerful."
Under the care of Einhorn, the world's foremost expert in testicular cancer, Kushneriuk had two extremely painful but successful stem cell treatments, or bone-marrow transplants.
Following his subsequent surgery and blasts of intensive chemotherapy — which were followed by three months of oral chemotherapy — the 6-foot, 190-pound Kushneriuk withered to less than 150 pounds as his body devoted its energy to regenerating his liver.
"The toughest part was the first six weeks after. You lose a lot of weight," he said. "It wasn't pleasant for someone like me who's used to being able to throw my weight around."
Kushneriuk began working out again last summer, but wasn't fully cleared to resume his hockey career until December, when he reached his one-year mark of having clean blood work — which put his chance of relapse at less than 2 percent.
"When I got to that point, it was such a relief," he said. "At that point, I could turn the page on that chapter of my life and really focus on my training."
Kushneriuk, who told Las Vegas coach Mike Madill about his comeback plans last summer, said hockey was a driving force in his clash with cancer.
"That was the biggest motivating factor because I remember every day I was sick, I was just hoping to get another chance to do it. I realized that was my passion," he said. "Every day, it's almost like a new beginning for me. I think people undervalue peace of mind a lot in their everyday living and being able to wake up every day refreshed, with a new opportunity to come here and do what I love.
"That's something I'll always be grateful for and will never take for granted."
Not a spiritual person before his diagnosis, Kushneriuk said he got down on his knees in the doctor's office after being told he had cancer and that his faith carried him through the harrowing ordeal.
"I reached out to God to help me," he said. "I knew that on my own, I wouldn't be able to do it, but with him, I'd have the strength to get through it."
His outlook on life also has changed.
"The things that I valued then, I don't value now," he said. "I used to be very into partying, and when that happened, I never once reflected about drinking and stuff. It was always the fun hockey memories, the fun family memories and good times with friends that I was reflecting on. That showed me this is more what life's all about."
Kushneriuk, who has two goals and an assist in 10 games for the Wranglers (18-38-7, 43 points), will help lead Las Vegas against league-leading Alaska (42-17-6, 90) today in the opener of a three-game series at the Orleans Arena.
He hopes his message of recovery and hope touches others affected by cancer.
"When I went through it, I drew a lot of hope and inspiration from people who went through similar circumstances, like Lance Armstrong," he said. "And just knowing that people in pretty severe situations could get through it."
Kushneriuk already has inspired his Wranglers teammates.
"I've been in this game a long time and he's got to be one of the biggest inspirations to me," forward Adam Huxley said. "When you have a losing streak or a banged-up knee, that puts your life in perspective."
Contact reporter Todd Dewey at tdewey@reviewjournal.com or 702-383-0354. Follow him on Twitter: @tdewey33.