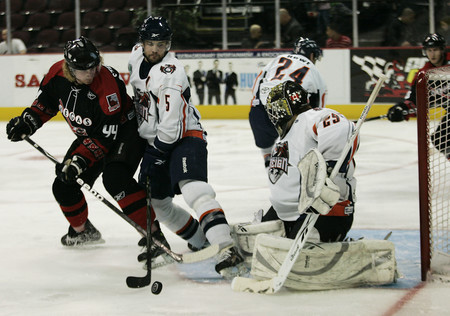 The Wranglers earned a point for the ninth straight game, but that was little consolation Friday night. Not after the way they threw away their season-best six-game winning streak.
Las Vegas' streak ended in stunning fashion with a 3-2 overtime loss to Ontario (Calif.) in front an announced crowd of 4,932 at the Orleans Arena.
The Reign tied the game with 1:08 remaining in regulation and won with 35 seconds left in overtime, dealing Las Vegas its first defeat since Dec. 18 and its first home loss since Nov. 13. The Wranglers (15-14-4) had won their last eight home games.
"We got a point, which is positive, but I'm not satisfied with giving another team two points, which is what we did," Las Vegas coach Ryan Mougenel said. "We let that one slip away."
Ned Lukacevic scored both goals for the Wranglers, tying it 1-1 late in the first period and putting them ahead 2-1 at the 3:49 mark of the second.
That's how things stood until late in regulation, when defenseman David Walker of Ontario (14-17-5) beat Las Vegas goalie Michael Ouzas with a wrist shot from the top of the left circle.
The puck sailed over the left shoulder of Ouzas, who stopped 27 of 30 shots.
When Las Vegas failed to clear the puck from its end late in overtime, Ontario capitalized. Jon Francisco took a shot from the point that sailed through traffic and appeared to deflect off Ouzas' stick into the back of the net.
Ouzas said he was screened on the tying and winning goals.
"I didn't get a good view of (the winner), but it was still a bad goal," he said. "It cost us the game. I've got to make that save."
Ontario's Tim Kraus scored with 7:24 left in the first period, but Lukacevic tied it less than five minutes later and put Las Vegas ahead early in the second, knocking in his own rebound on a power play.
Curtis Darling stopped 37 of 39 shots for Ontario, which was outshot 39-30. The Wranglers went 1-for-6 on the power play, while the Reign went 0-for-3.
Contact reporter Todd Dewey at tdewey@reviewjournal.com or at 702-383-0354.
ONTARIO — 3
LAS VEGAS — 2
KEY: The Reign tied it 2-2 with 1:08 remaining in regulation and won it with 35 seconds left in overtime on a goal by Jon Francisco from the point.
NEXT: Reign at Wranglers, 7:05 p.m. today, Orleans Arena