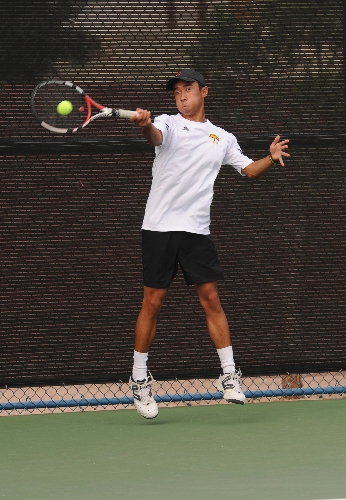 Kris Yee hadn't played a set of high school tennis before some coaches were ready to hand him the state boys singles title.
They must have known something.
Yee, a junior who plays for Clark, is one of the favorites to capture the singles crown at this weekend's state tournament at Caughlin Club in Reno.
The team competition begins today and concludes Friday with the singles and doubles tournaments running Friday and Saturday.
Yee didn't participate in high school tennis either of the last two years but decided to play this season as he attends a tennis academy for four hours each morning and does schoolwork online.
"I didn't really know I was missing out on anything," said Yee, who lives in an area zoned for Clark. "I thought it would be fun, and it was."
Fun and rewarding.
Yee helped the Chargers to a third-place finish in the Southwest League and a 10-3 overall record.
"On the court, he's terrific, but he's a great person off the court, too," Clark coach Clarence Chun said. "He helps the other players on the team with their game, and not just the boys. He works with the girls and helps them, too.
"He just walked in and fit right into our Clark family."
Yee rolled through last week's Sunset Region tournament, dropping just seven total games in his five matches. He downed Max Novak of The Meadows 6-2, 6-4 in the region final.
Yee is bidding to become the Chargers' first state champion in boys singles since Chris Entzel won three straight titles from 1984 to 1986.
"I was hoping to come in and have a chance to win state," Yee said. "I'm taking it seriously. It's easier to play my best when I take it seriously and face it head-on."
Yee's stiffest competition might come from either defending champion James TenBroeck of Douglas or another high school tennis newcomer – Canyon Springs' Jeff Vongman, also a junior who is home-schooled. Vongman lost only 11 games in five matches en route to winning the Sunrise Region title. Region runners-up Mitchell Smith of Coronado and Novak could also challenge for the crown.
"He's very confident in his abilities as a tennis player," Chun said of Yee. "He's a thinker. He looks at his opponent and figures out what will work best in that match."
And while some coaches might still consider Yee a sure shot to win, the Clark junior isn't preparing any victory speeches.
"If you get your head caught up in that, you lose focus on what you're trying to do," Yee said. "I still need to take it seriously like I did last week."
It might also be the only chance Yee has to win state. He hasn't decided whether he'll play for Clark next season.
"I still want to be more focused on college and maybe take more time for training to play in college," said Yee, who has been contacted by approximately 30 colleges. "I'm not entirely sure. I might or I might not."
In today's boys team play, defending state champion Palo Verde faces Northern Region champion Reno, and Sunrise champ Coronado takes on Galena.
In the girls team semifinals, The Meadows, fresh off its first Sunset Region title, battles Northern champ Reno, and Coronado faces South Tahoe.
Among the top seeds in the girls singles competition are Sunset champion Tiffany Tavares of Spring Valley and Sunrise champ Gabby Smith of Coronado.
The boys doubles top seeds from Southern Nevada are Sunset champions Kyle Del Rosario and Cody Miller of Bishop Gorman and Sunrise champs Dylan Hansel and John Qualls of Foothill.
In girls doubles, the top seeds from Southern Nevada are Sunset champions Amanda Brazell and Taler Brazell of The Meadows and Sunrise champs Danae Ingwaldson and Aphrah Brokaw of Liberty.
Contact reporter Bartt Davis at bdavis@reviewjournal.com or 702-387-5230.
In-depth high school sports coverage