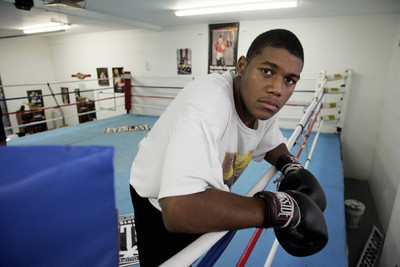 Super heavyweight Michael Hunter, a 19-year-old Palo Verde High School graduate, apparently has gone underground since his Olympic dreams were dashed last month.
And his silence has his Las Vegas trainers, Bobby Chiodini and Mike Newson, concerned.
Hunter lost to Venezuela's Jose Payares 10-3 in the semifinals of the Americas qualifier in Guatemala on April 29. Had Hunter won the fight and reached the finals, he would have punched his ticket to the Beijing Games.
"I haven't talked to Mike since he left for Guatemala," Chiodini said Friday. "I'm worried."
Chiodini said he thinks Hunter is on the verge of turning professional and is keeping his plans secret. Chiodin's attempts to reach Hunter have been unsuccessful.
"I'm concerned because I'm worried what's going on in his head," Chiodini said. "Why hasn't he called me or Mike? You have to wonder who got to him. If he's not talking to us, that tells me someone else has gotten control of him."
Chiodini and Newson were not allowed to accompany Hunter during his ill-fated Olympic quest. Hunter had spent most of the last eight months training in Colorado Springs, Colo., with the USA Boxing coaching staff.
Chiodini said the Hunter who competed for an Olympic berth was not the same Hunter they had trained at Genesis Gym.
"You have to wonder what the Olympic coaches were doing," Chiodini said. "How much bonding went on? How much did they care the way we care about Mike?
"When I heard what happened (in Guatemala), I was shocked, absolutely shocked. He's a superb fighter. No way should he have lost."
Hunter might have had an excuse for losing. He reportedly took ill while in Guatemala, though USA Boxing never reported the extent of his ailment.
Chiodini remains confused. He has talked to Hunter's mother but has had no luck reaching her son.
"It's frustrating. It's disappointing," Chiodini said. "It's not like Mike to act like this. If he's going pro, I understand because that's realistically his only option at this point. I just wish he'd talk to us."
• COTTO-MARGARITO TICKETS — Tickets for the July 26 world welterweight title fight between WBA and IBF champion Miguel Cotto and Antonio Margarito will go on sale at 10 a.m. Thursday at the MGM Grand Garden box office, all Ticketmaster outlets and online at ticketmaster.com.
Prices are $700, $500, $400, $300, $200 and $100.
Top Rank president Bob Arum, who is promoting the fight, said he has received 6,000 requests for seats from Cotto's fans in Puerto Rico and expects a sellout.
• LATEST ODDS — Cotto opened as a minus-220 betting favorite at MGM Mirage books, with the take-back on Margarito at plus-180.
In the other big upcoming fight in Las Vegas, Manny Pacquiao is a minus-400 favorite to defeat WBC lightweight champion David Diaz (plus-330) on June 28 at Mandalay Bay.
Contact reporter Steve Carp at scarp@reviewjournal.com or 702-387-2913.