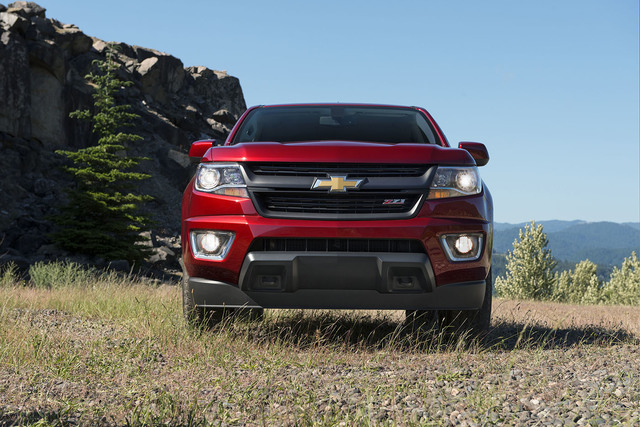 North America's largest automotive category grew stronger with the launch of the Chevrolet Colorado and the closely related GMC Canyon.
The return of both General Motors' trucks signals resurgence in what was a mostly dormant class, namely the midsize pickup.
The Colorado and Canyon, which were retired, seemingly for good, after the 2012 model year, are back with a new global platform, more power and standard features plus greater hauling and towing capacities.
The Colorado is only about 5.5 inches narrower than the Chevrolet Silverado with a distance between the front and rear wheels that's about 14.5 inches less. That means the Colorado is also shorter and therefore a bit easier to park, and it will also leave more room in the garage.
For the Colorado, the stylists have created a truck combining efficiency and sportiness in extended-cab or crew-cab variations (a regular-cab style isn't offered). Body lines are crisp and taut; the integrated fender flares have shed the awkwardness that marred previous Colorado iterations.
Huge strides have also been made inside. The oversized controls can be operated without removing work gloves. And the latest in standard and optional touch-screen displays, similar to the ones used in GM's full-size pickups, are available.
For lighter-duty use, a 2.5-liter, four-cylinder produces 200 horsepower and 191 pound-feet of torque while the optional 3.6-liter V-6 makes 305 horsepower and 269 pound-feet.
The 2.5 can be connected to a six-speed manual transmission on certain extended-cab versions, making it the only Chevy pickup that lets you shift for yourself. A six-speed automatic transmission is standard in crew-cab four-cylinder Colorados along with extended- and crew-cab V-6-powered models.
Four-wheel-drive is optional with either cab style, however the V-6 is required if a 4×4 crew-cab is your selection.
Fuel economy is decent at 20 miles per gallon in the city and 27 highway.
For payloads, extended-cab Colorados come with a 74-inch box; crew-cabs are available with a standard 62-inch or optional 74-inch bed. For 8-foot building materials, the tailgate will have to be down.
Getting in and out of the bed is easier with the recessed corner-step rear bumper borrowed from GM's full-size trucks.
A factory-installed spray-in bed liner can also be specified while the tailgate comes with a standard locking feature.
A properly hitched V-6 can pull up to 7,000 pounds, or double the capacity of four-cylinder models.
Those numbers compare to 6,500 pounds for the midsize Toyota Tacoma V-6 and 3,500 for the four-cylinder version.
Colorados are available in Base, WT (Work Truck), LT and Z71 trim levels. The extended-length Base, which starts at $21,000 including destination charges, comes with air conditioning, rearview camera, floor console and a six-speaker audio system, however, the back seat and carpeting are deleted. They're brought back for the WT while additional trim and other dress-up content is added.
The LT is fitted with cruise control, a power driver's seat, 8-inch touch-screen with wireless Bluetooth connectivity, a built-in Wi-Fi Internet "hotspot" and 18-inch alloy wheels (16-inch steelies are standard).
Atop the Colorado food chain, the Z71 trim adds heated front seats, sliding rear window and a remote vehicle starter.
Fitted to 4×4 models is an off-road suspension, a shield for the dual-range transfer case, a locking rear differential and all-terrain rubber.
With Ford's small Ranger well into retirement and the Tacoma and Frontier well-aged, GM's Colorado and Canyon duo appears to have plenty of running room. That's good news for truck buyers on a budget, or for those who want, or need, plenty of capability in a compact package.