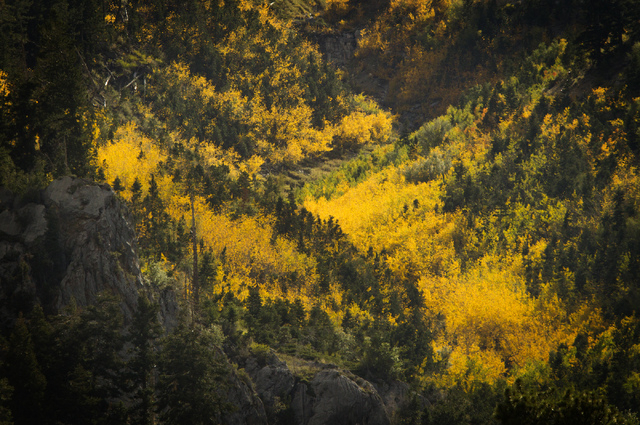 Everyone knows what fall means in Las Vegas: no more triple-digit temperatures.
Along with not burning the skin off the palms of our hands every time we touch the steering wheel, there are plenty of reasons to love a Las Vegas autumn. We took to Facebook to find out what Las Vegans love about fall. Here's what you had to say:
1. You can still find open pools, and usually they're heated.
If not, we just freeze while our friends from out of town enjoy the water.
2. Hair-dryer wind has given way to regular wind.
Instead of feeling like we're walking around all day with a hair dryer pointed right at our face, we're starting to experience wind the way most of the nation experiences it.
3. Mount Charleston
The leaves have changed on Mount Charleston and the first snow might hit next weekend.
"Need I say more?" asked Ken Kronebusch on Facebook. Point taken.
4. College basketball
The season starts in November, and the Rebels have some prospects for the next few years that should keep things interesting. They just picked up Goodluck Okonobo, a 6-foot-9-inch forward from Wilbraham & Monson Academy in Wilbraham, Mass. who is ranked the No. 32 senior in the nation on Rivals.com.
5. Autumn in the desert is beautiful
Watching a sunset over the mountains gives you a new appreciation for why Pocahontas exhorted Cpt. John Smith to "paint with all the colors of the wind."
6. Halloween in Las Vegas
You'd be hard-pressed to find a better place to celebrate a holiday that's really just an excuse to dress up in clothes you wouldn't normally wear in public and party. It's like an entire day dedicated to the Strip.
7. Pumpkin everything
OK, this is more of a reason to love fall everywhere, and we're no exception. Pumpkin pie, pumpkin spiced lattes, pumpkin cookies. You name it, and there's probably a pumpkin-flavored version of it.
What would you add to the list? Let us know on Facebook or Twitter, or tag us in your photo on Instagram.
Find us on social media:
– Twitter
– Facebook
– Google+