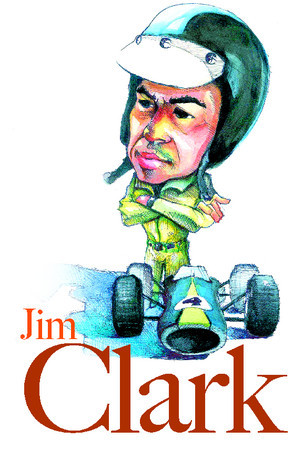 He was a computer's brain wedged between a daredevil's desire and a church minister's gait. A thinker, a racer and a calculator but, always and forever, a gentleman.
When Jim Clark slipped the surly bonds of Earth on that April afternoon in 1968, the racing world not only lost a great champion, it lost a trailblazer — and it lost a whole lot more of its innocence.
"Stunning," said Formula One champion Jackie Stewart, remembering when the word of Clark's death on slick tires and the wet roads of a Formula Two race in Hockenheim, Germany, reached him. "He was the driver's driver. For everybody he was the complete racing driver."
And he was so much more.
Even today, it still doesn't add up. Clark's incomprehensible death at age 32 not only meant the end of a career, it meant that everyone was vulnerable.
"If it could happen to him," Grand Prix driver Chris Amon said, "what chance did the rest of us have? It seemed we'd lost our leader."
In many ways, Clark went well before his time, however the legacy would never fade.
Born on the family farm in the lush countryside of Kilmany, Scotland, Clark was the youngest child and the only boy among five children. More keen on sports than school, it was no surprise when a very young Jim Clark decided to leave school to help his father run the farm, just as generations before him had done.
An unexpected turn of an engine would fuel an unquenchable fire.
It was almost by an accident that Clark would sit behind the wheel of his first car. A town friend, Billy Potts, needed a driver for his Austin Healy 100M in a Scottish Rally. Clark, who had received his driver's license only a couple of months before, was glad to be asked.
"For the first two days, Jim just sat in the passenger seat," Potts told Clark biographer Philip Turner in 1993. "But on the third day … I asked him if he'd like a shot. We swapped over and (just then) an XK 120 came whizzing past us and down went Jim's foot … After two minutes I could sit back and relax and watch a master at work.
"He had never driven the car before and he'd done very little competition motoring, and yet he had the full mastery of that car within a few minutes."
They would pass the XK 120 in due time at well over 100 mph. A beaming Clark would turn to his friend only to say, "By heavens, that's the fastest I've ever driven in my life."
That chance meeting would place him behind the wheel on a regular basis. Only death would eventually pull him out.
Clark's first competitive win came in 1957, at age 21, in another friend's Porsche. Soon, he would compete in Jaguars in Belgium, Triumphs in Scotland and a Lotus in a Formula Two race at Brands Hatch in England.
His first big-time opportunity came when Lotus' manufacturer Colin Chapman spotted him at an English race and asked him to come aboard for testing. A youthful, subdued, but ever-charging Clark quickly turned heads as he turned lap times that were nearly as fast as those from Graham Hill, a top-notch Grand Prix driver of the day. Two years later, while regularly winning or placing, Clark received an offer to drive Formula One for Aston Martin.
However, when the deal fell through, Clark was once again picked up by Chapman.
The combination of Chapman's engineering brilliance and Clark's innate driving skill dominated Formula One for the next eight years.
Together, they won 25 of 72 championship races (Clark also competed in lesser-class, nonpoint events) and take 33 poles.
"The Flying Scotsman" even extended his success to other forms of racing. He captured the British and European Touring Car championships, raced in Formula Two, competed in various rally events and even gave NASCAR a try (finishing 31st in a Ford Fairlane at Rockingham, N.C. in 1967). His crowning achievement, however, came in 1965 when he became the first non-American to win the Indianapolis 500 since 1916.
He was not only a driving force, but a tour de force. But always oh-so humble.
"It was hard to tell he had the fame he had so quick," driver Graham Hill said. "He never changed."
But everything changed in the spring of 1968.
Taking the checkered flag at the South African Grand Prix in January, Clark, with his 25th victory, surpassed the great Juan Manuel Fangio for all-time wins.
It was the latest in a string of three consecutive Grand Prix triumphs, a crowning achievement for an established, popular star of the sport. It would also be his last.
On April 7, due to mix-up, Clark was scheduled to compete in two non-GP races at the same time, one in Hockenheim, the other at Brands Hatch. Although he wanted to race in England, Clark honored a commitment to compete in a Formula Two event in Germany instead.
On a wet, slippery track, in a car he didn't like and in a race he didn't want to be in, Clark crashed head-on into a row of fir trees at 150 mph. He was instantly killed.
A legend had been stopped cold.
"When you watched him, you knew that a master was at work," said driver Stirling Moss at the time. "He will be missed by his friends, for his company; by his competitors, for the targets he set them; and by the spectators, for his artistry."
Mostly, he was a man to love.
Drivers and engineers remember his sportsmanship and towering ability. Friends remember a man who was shy in front of the cameras but ferocious on the track. He was more than just a sports hero. He redefined his sport.
His good humor and skill were indestructible, even if he wasn't.
Steven Reive is a feature writer with Wheelbase Communications. He can be reached on the Web at: www.wheelbase.ws/mailbag.html. Wheelbase Communications supplies automotive news and features to newspapers across North America.