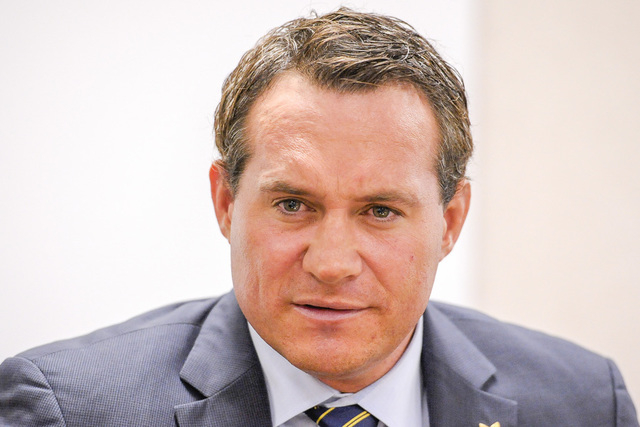 Attorney general candidate Ross Miller said Tuesday that if elected Nov. 4 he would set up a strike force to go after Internet crimes against children, particularly those involving sexual abuse.
Miller said senior citizens also need more protection against people trying to scam them out of their money.
"We've become a bit of haven for con artists," Miller said in an interview with the Las Vegas Review-Journal editorial board.
Miller, a Democrat who's now secretary of state, said his experience as a Clark County prosecutor is the driving force behind his efforts to "go after the bad guys" if he becomes the state's top law enforcement officer.
He unveiled details of his Internet crime plan last week to install new safeguards to protect children from predators. It includes streamlining responsibility for Nevada's sex offender registration to ensure no criminals slip through the cracks; fully implementing the Adam Walsh protection act, including closing loopholes that allow sex offenders in schools to avoid registration; and strengthening state penalties for crimes relating to child pornography
Miller is running for attorney general against Republican Adam Laxalt, an attorney and former Navy judge advocate general who served in Iraq.
Asked what the biggest difference is between him and Laxalt, Miller said, "Experience."
Miller said he handled everything from murder to sexual assault cases when he was a prosecutor. As attorney general, he said he has aggressively pursued lawmakers and officials who have violated campaign finance laws.
"You need an attorney general who's ready on Day One," Miller said.
Asked whether he believes Nevada's Open Meeting Law is strong enough to prevent public officials from meeting privately, Miller said it's a question of enforcing the law more often than in the past.
He praised Attorney General Catherine Cortez Masto for recently investigating the Washoe County School Board for meeting in secret to fire Superintendent Pedro Martinez. In the end, the six school board members who violated the Open Meeting Law were fined $250 each, basically a slap on the wrist.
Miller said he has a good working relationship with GOP Gov. Brian Sandoval, who would be his biggest client if elected.
A few years ago, former Gov. Jim Gibbons, a Republican, asked the attorney general to join in state lawsuits against President Barack Obama's Affordable Care Act. She refused, saying she couldn't find any solid claim against the law. Many other Democratic attorneys general across the country also refused similar requests from Republican governors.
Miller said he would have taken on the case since Nevada law clearly says the attorney general "shall" take action at the governor's request.
"I think the mandate is pretty clear," Miller said. "If the governor directs you to file a lawsuit, you're obligated to do so."
Contact Laura Myers at lmyers@reviewjournal.com or 702-387-2919. Find her on Twitter: @lmyerslvrj.