Aliante neighborhoods mature and grow
November 8, 2008 - 10:00 pm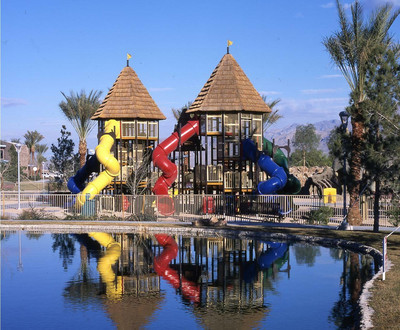 In the spring of 2003, what was once about 1,900 acres of barren desert land in North Las Vegas began to change. The master-planned community of Aliante would be developed on that acreage.
The Aliante story really began in May 2001, when North Valley Enterprises LLC, an affiliate of American Nevada Co. and Pulte Homes/Del Webb, purchased the site in a Bureau of Land Management auction. The parcel was the largest ever released under the Southern Nevada Public Land Management Act and North Valley Enterprises' successful bid was the highest amount ever paid for such a parcel at that time.
As development began, Aliante attracted home builders who wanted to build homes in an environment where residents could live, work and play within the development.
The planned recreational amenities for Aliante included the 20-acre Nature Discovery Park, the 18-hole championship Aliante Golf Club, two additional city parks, more than 24 miles of lighted trails and linear parks, and abundant open space areas throughout the community.
At the opening of the Aliante Golf Club in December 2003, North Las Vegas Mayor Michael Montandon said, "For the elected officials of North Las Vegas, this is like a dream come true. We spent a great deal of time envisioning the entire Aliante community and working with North Valley Enterprises to make it the best that it could be. We just couldn't be more proud of what we are seeing happen here."
By 2005, Aliante was ranked as the No. 1 one master-planned community in Southern Nevada for new home closings and also No. 1 during the first quarter of 2006 according to Salestraq. In addition, Aliante was ranked as the fourth top-selling master plan in the entire United States in 2005, according to Robert Charles Lesser & Co. LLC.
Today, the development of Aliante is nearly completed, with more than 6,000 homes having closed escrow. Aliante provides residents with shopping, dining and service businesses in their own community, while many more retail centers, restaurants, recreational opportunities and professional service businesses are within a short drive.
On Nov. 11, the Aliante Stations will open, bringing more dining and entertainment attractions to the community.
"In designing Aliante, we wanted to create a real showpiece in North Las Vegas and by all accounts, our efforts were very successful," said Dan Naef, senior vice president of North Valley Enterprises LLC.
"We are now in our final phase of development, meaning the neighborhoods and community amenities in Aliante are substantially completed, but the good news for prospective homebuyers is that during the final phase, excellent values are being offered on a wide selection of new homes still available for sale.
"For the homebuyer seeking a well-built home, a complete living environment and exceptionally competitive pricing, there has never been a better time to buy at Aliante than right now."
Three new neighborhoods are currently being offered by homebuilders within Aliante.
Fields at Aliante, by Astoria Homes, offers four and five bedroom designs that range from about 2,228 to 3,374 square feet and priced from the low $300,000s.
Autumn Ridge, by Pardee Homes, is a gated neighborhood that offers a selection of one- and two-story homes ranging from about 2,695 to 4,245 square feet and priced from the $400,000s.
Springdale, by Pardee Homes, is a gated neighborhood that offers a selection of one- and two-story homes ranging from about 2,754 to 3,289 square feet and priced from the low $300,000s.
Aliante is bordered roughly by Grand Teton Drive, Centennial Parkway, Decatur Boulevard and Clayton Street. Interstate 215, the Las Vegas Beltway, intersects Aliante, providing easy access to Interstate 15 and U.S. Highway 95, as well as access to major destinations in the valley.
Proposed plans for Aliante include two elementary schools and a middle school, all of which would be built by the Clark County School District. The community's first school, the Theron H. and Naomi D. Goynes Elementary School, opened in August 2005. A new fire station was opened in April 2004 and the Aliante Library opened in May 2006.
Visit astoriahomes.com/communities/index_aliante.asp or pardeehomes.com/aliante for more information.