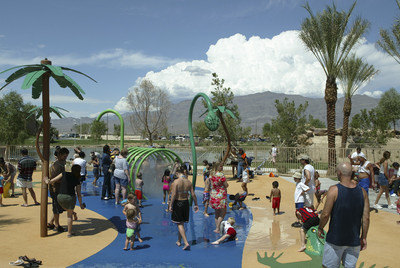 The Aliante neighborhood's Discovery Park offers amenities that draw in visitors even in the hot summer months. Dan Naef, senior vice president of Aliante developer North Valley Enterprises LLC, said this time of year one of the most popular areas of the 20-acre park is the children's wet play area, which has a huge water-spraying serpent in its center. Nearby are numerous shade structures, picnic tables and benches, where parents who prefer to stay dry can relax as their children enjoy the cool water sprays and mists in the area.
"Nature Discovery Park was designed to provide enjoyment for area residents year-round, which certainly includes the summer season," Naef said. "It is amazing to see how many parents and kids stop by everyday to enjoy the wet play area, as well as the other recreational amenities in the park."
Adjacent to the wet play area in Nature Discovery Park is a special zone that was developed to educate children on aspects of paleontology and dinosaurs in an active play environment, Naef said. This area includes a "dino dig" site, a dinosaur "egg hatching" area, and a "mud bank wall" with a replica of half-exhumed ribs and a portion of a huge Tyrannosaurus Rex. Children can enter and exit the "dino dig" area through a 26-foot-high, fossilized look-alike Triceratops head. Nearby is a huge play structure with thatched roofs designed to depict archeologists' "living quarters." They are located more than 38 feet above the excavation site and feature a series of curving slides that can quickly deliver the "workers" back down to the site.
"After completing their daily 'work' in the Dino Dig area, the kids are ready to cool off in the wet play area," Naef said. "It's a play experience that is truly unique in Southern Nevada and we're very happy to provide it for the community."
Five neighborhoods are offered by three home builders within Aliante.
Prominence at Aliante by Astoria Homes is a gated neighborhood of two-story homes ranging from 2,830 to 4,449 square feet and priced from the low $400,000s.
Fields at Aliante, also by Astoria Homes, offers four- to five-bedroom designs from 2,228 to 3,374 square feet priced from the low $300,000s.
Sun City Aliante by Del Webb is an age-qualified community of single-story homes from 1,155 to 1,716 square feet priced from the mid- $200,000s. Autumn Ridge by Pardee Homes is a gated neighborhood of one- and two-story homes ranging from 2,695 to 4,245 square feet priced from the $400,000s. Springfield by Pardee Homes is a gated neighborhood of one- and two-story homes of 2,754 to 3,289 square feet priced from the upper $300,000s.
North Valley Enterprises LLC is an affiliate of American Nevada Co. and Pulte Homes. Set upon more than 1,900 acres, Aliante is bordered rby Grand Teton Drive, Centennial Parkway, Decatur Boulevard and Clayton Street. Interstate 215, the Las Vegas Beltway, intersects Aliante, providing easy access to Interstate 15 and U.S. Highway 95.
Information about new homes and neighborhoods, and the soon-to-open Aliante Resort can be obtained at the Aliante Information Gallery, which is open daily from 10 a.m. to 6 p.m. Information can also be obtained at aliantehomes.com or by calling 866-787-2951.