October 16, 2010 - 11:00 pm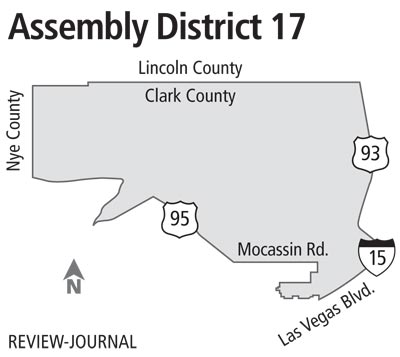 Voters in Assembly District 17 have been some of the hardest hit by foreclosures statewide.
According to Kelvin Atkinson, a Democrat and the incumbent assemblyman, one out of every 22 homes is foreclosed in the district, which incorporates Alexander Road to Centennial Parkway and Valley Drive to Nellis Air Force Base.
That's why the assemblyman, who has served since 2002, is focusing on foreclosure rates, a fair and balanced tax structure, job creation and education as he campaigns for re-election.
"We see that every night we walk, every 20th house or so is vacant," Atkinson said. "We know that's an issue. When the state was booming, I had one of the top housing districts. We've really flipped, and it's been a challenge to make sure those foreclosed homes are kept."
He added that he wants to see smaller classroom sizes and make sure that money actually reaches student programs.
"There's a big concern for accountability," Atkinson said. "We also need to continue to work on efforts to make sure our classroom sizes stay manageable. There's no money for education, and that's the challenge of a tough budget."
Atkinson, who chairs the transportation committee, spearheaded a bill that is expected to bring 8,000 construction jobs to the state.
But his Republican challenger, Kenneth King, claims the bill will cost taxpayers in order to come up with bond money to start the projects.
King touts a blue-collar work ethic as an electrician determined to attract business and create jobs to solve the foreclosure crisis.
"If we fix the job problems, people will have the money to make their mortgage payments," said King, a U.S. Navy veteran. "People stay awake at night worrying about making their payments just as much as they worry about feeding themselves. Get them jobs, and they'll have the money to pay the bills."
King, whose campaign aligns with the Clark County Republican Party platform, proposed a study of rebounding education systems throughout the nation, including Florida school systems that have drastically increased in the past decade.
"The definition of stupidity is doing the same thing over and over again and expecting a different result," King said. "We need to try something new. We've got examples to look at. We shouldn't throw money at what we have and wonder why it's failing."
Contact Kristi Jourdan at kjourdan@reviewjournal.com or 702-383-0279.
2010 GENERAL ELECTION VOTER GUIDE
ASSEMBLY DUTIES
The duties of Assembly members include passing legislation, reviewing, amending and approving the state budget submitted by the governor, and reviewing the performance of state agencies. They serve two-year terms. Candidates who prevail in this year's election will be paid $8,760 for the first 60 days of the 120-day regular legislative session. They also will receive $161 a day for living expenses and reimbursement for housing, travel and other expenses.